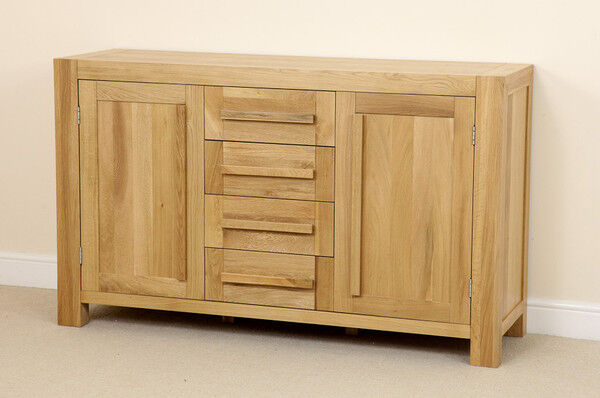 A sideboard, also called a buffet, is a free standing kitchen or dining room cabinet. Sideboards first became a common piece of furniture before the time of standardised and fitted cupboards. Traditionally, a sideboard sits up against the wall of a dining room or an eat-in kitchen. It has drawers and cupboards for dishes, cups, glasses, and cutlery, and the top is used to set out food in serving dishes for family meals. Even though most households today have a full set of kitchen cabinets, modern families also tend to have more kitchen and dining accessories and more need for storage than was typical in the past. Additionally, the need for a place to set serving dishes has not changed. For those reasons, there's still strong demand for sideboards. They have a place in the modern dining room, just as they have had a place in dining rooms for hundreds of years. Today, sideboards are also being used as media and technology centres in dens and living rooms. A sideboard is a practical addition to any home.
New Sideboards
New sideboards are available in many sizes and designs, and can fit into almost any decorating scheme. It's not difficult to find a new sideboard to fit any taste or budget. For a futuristic look, search for a plain, rectangular black or white sideboard faced with plastic or metal, and fitted with chrome or steel hardware. These modern-style sideboards and buffets are available at a variety of price points, and the quality of the materials, the design and the construction varies. They are usually built of a wood composite and finished with a veneer. Sideboards and buffets are also available with wood veneers over composite bases. The issues with plastic and wood veneers are the same; they can be visibly and permanently damaged by bumps, scratches or burns. However, if they're handled carefully, they can last for many years. Solid wood tends to be more durable than a veneer. Bumps and scratches do not reveal a different material under the top layer, and they can be sanded, painted and repaired. Wood sideboards are available in inexpensive, mass produced flat-packed pine, and in expensive, highly crafted hardwood. However, every solid wood sideboard will have the material's natural workability, durability, and beauty.
Used Sideboards
Buying a used sideboard isn't just a way to save money. It brings a wealth of older styles into play, and those styles may be expensive or difficult to find in new units. Used furniture can offer variety and quality at a low price. Antiques aren't as expensive as many people assume, and the best quality pieces from the past century will become tomorrow's sought after antique furniture. Even worn and damaged furniture can be a good buy if it's made out of high quality materials and features expert craftsmanship and distinctive design. Whether it's used in a shabby chic decorating theme or repaired and renovated, it has a charm all of its own.
Sideboard Styles
Both new and used sideboards and buffets are available in a variety of styles, and there's a brief explanation of many of those styles below. Refer to this table for sideboard categories, listed in eBay's left hand column, and search terms.
| | |
| --- | --- |
| Modern | Modern design is sleek and simplified. The sideboards in the modern category are mostly rectangular, glossy, black or white units. However, some sellers also place wooden Danish and Scandinavian Modern pieces into this category, and others simply interpret it as 'new.' |
| Traditional | Here, there's a variety of new, used and antique sideboards in solid wood and wood veneer. Some are antiques or reproductions, but most are new sideboards with a classic look. |
| Contemporary | The contemporary category contains a mix of cleanly designed wood and wood veneer sideboards, and a few mid-twentieth century modern pieces. |
| Vintage/Retro | The vintage and retro category is where most of the high quality twentieth century modern pieces can be found. There are a few older pieces listed in the category, as well. |
| Country and French Country | Most of the sideboards here are finished pine or painted white. Some feature decorative edge details and ornate panelling. Quite a few could be described as 'shabby chic.' |
| Farmhouse | Many of the sideboards in this category are similar to the ones listed as 'country.' There are a few with a rougher, more rustic look, as well. |
| Antique Style | This category features both antiques and reproductions. |
| Asian/Oriental | This style typically features simple designs with large, geometrically shaped hinges and handles. The finish is usually glossy wood or glossy black. |
| Art Deco Style | Art deco is an early twentieth century style characterised by bold, streamlined geometry and complex, decorative wood veneers. Most of the items in this category are antiques or near-antiques. |
| Scandinavian/Nordic | This category contains both recent and twentieth century modern-style pieces. Most are simple designs in solid wood or with wood veneers. |
| Victorian Style | Victorian sideboards tend to be large and constructed of dark stained wood, with many decorative details. This category has both antiques and reproductions. |
| Art Nouveau | Characterised by sweeping lines, organic forms, and integrated stained glass or art tile, Art Nouveau was popular in the late nineteenth and early twentieth centuries. There are both antiques and reproductions in this category. |
It's important to remember that the seller categorises the items for sale. Thus, there is going to be some confusion about which categories sideboards, especially used and antique sideboards, belong in. Some sellers check off as many categories as they can justify, trying to maximise the number of potential customers who will see their listing. Others are selling a piece of furniture that they bought used or inherited, and they simply don't know enough about furniture design to approximate the style or period of the piece.
Fitting a Sideboard to a Particular Room
Finding the right sideboard isn't just about style, materials and cost. It will also need to do its job, and it must fit into the space available. Sideboards usually sit next to tables, and so the amount of space available to sit and walk between the table and the sideboard is an issue. Of course, the sideboard will also need to be a length that works with the table and the room's proportions. To comfortably sit at a table next to a sideboard, it's necessary to have approximately a metre, or three feet, of space available. Just move the table as close to the opposite wall as is comfortable for seating and movement, and then measure the distance from the edge of the table and the wall that the sideboard will rest against. Subtract a metre from the total, and that's the approximate maximum width of the sideboard. It's also a good idea to look for a sideboard with storage that will fit the size and volume of the items that need to be housed there.
Finding the Perfect Sideboard on eBay
To locate eBay's new and used sideboards and buffets using the category tree, start by clicking on Home and Garden, then select Furniture, then click on Sideboards, buffets and trolleys, and finally, choose Sideboards and Buffets.. In the Sideboards and Buffets category, there are a number of options in the last column that can further refine the search, including Condition, Colour, Style, and Material. For example, it's possible to limit the search to new or used sideboards. The left hand column also features options for sideboard width and height. Scrolling down to the bottom of the left hand column will reveal the options for location and distance, which can help with finding used and antique sideboards that won't need to be shipped a long distance. Be aware that selection options from the left column will eliminate all of the results that aren't marked with the criteria chosen. That means there may be other interesting items that can't be pinpointed that way. It's always a good idea to do a few keyword searches from eBay's front page to try to capture some of those lost results.
Conclusion
A sideboard can really fill a functional gap in a home. It stores kitchen linens, cutlery, glasses and dishes while providing a surface to set serving dishes of food onto during family meals. Alternatively, a sideboard can be used to store entertainment media in a living room or den. Sideboards that will harmonise with almost any decorating theme or style are available on eBay.