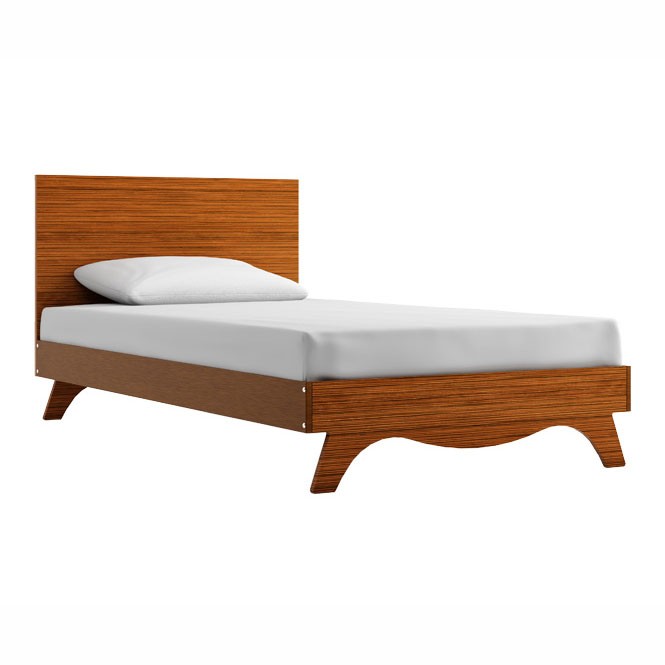 The purchase of a bed is very important, as it will play a large part in dictating the quality and quantity of sleep. Sleep deprivation can lead to a number of related ailments including stress, lack of concentration, and anxiety. Insufficient sleep may also affect a person's social and professional life. Most beds consist of a base and a mattress, and it is the mattress that is the most critical component of a good night's sleep. Many people are suffering from back and neck problems because of an inappropriate mattress, and they may not actually realise it. A mattress's primary responsibility is to provide support and comfort. It should be firm enough to take the person's weight off the lower back, yet it should provide enough comfort to creat a relaxing sleeping surface. Unfortunately, too many people are buying the wrong mattress because of the price, or they are sleeping on defective mattresses because they simply can't afford a new one. A single mattress is usually three-feet wide, and they are usually available in a wide range of styles, designs, and support systems. The decision on which is the most suitable mattress is up to the individual, as different support systems deliver very different sleeping surfaces. There are thousands of mattresses on the eBay website to choose from, and locating the most appropriate is a very simple process. There are some used mattresses available that are in excellent condition, so, if on a tight budget, it will be possible to get the mattress that is really needed.
Deciding on the Best Type of Single Mattress
People usually know when it is time to replace a mattress, as they begin to wake up with aches and pains after a night's sleep. They may find themselves waking up several times through the night, or they could be struggling to stay awake at work. When the time comes, it is essential that people ascertain what the best bed is for their own particular needs. The only way to do this is by testing a few out. This can be done in most bed and furniture stores, or it can be done on the beds of friends and family. Once the ideal mattress has been chosen, a search can be conducted on eBay which will deliver several matching results. One of the most important features of any mattress is the support it provides to the lower back. Many people are told that only a firm mattress should be used by a person suffering with back-pain; however, some recent studies have suggested that a medium-to-firm mattress provides the best results. There is a fine balance to strike between comfort and support for the back, so the only way to be certain that a mattress is suitable is by trying several out and selecting the best one; this is often a matter of personal preference.
Spring Mattresses
Most mattresses sold in the UK are made with spring interiors. Their springs provide the support, and they are stuffed with a filling to aid comfort and protect the user from the harshness of the metal springs. However, the different types of spring interior offer very different sleeping experiences.
| | |
| --- | --- |
| Open Coil | An open coil mattress is usually the cheapest available. It consists of individually constructed springs which are held together in rows by lengths of wire. |
| Continuous Coil | A continuous coil mattress delivers a more responsive sleeping experience. The springs are woven from one single piece of wire, so they work together in reacting to the weight and shape of the body. There are more springs than on an open coil mattress, and they are usually much smaller. |
| | The pocket-sprung mattresses are usually the most expensive on the market, yet they offer the most supportive and reactive sleeping experience of all the spring interior designs. They consist of several independent springs which are held in place in fabric pockets. They each work on their own, and that delivers support to the areas of the body that really need it. |
Spring Interior Fillings
The filling in a mattress is there to provide support and protection from springs. Many people never consider the filling when buying a new mattress, yet the material used is integral to the overall quality of the sleeping surface.
| | |
| --- | --- |
| Cotton | Mattresses with cotton filling tend to be on the expensive side, but they are soft and luxurious. Cotton is good at absorbing moisture from the body, and it also has good breathing properties which keep the bed cooler during the warmer months of the year. |
| Polyester | Polyester is found in the cheaper mattresses on the market. It is a manmade material, so it is not as effective at regulating the temperature of the bed as cotton is. |
| Foam | Foam is used for its exceptional cushioning properties, however, foam-filled spring mattresses are usually expensive. |
| Hair | Hair delivers a luxurious sleeping experience with plenty of support and protection from the springs. Hair mattresses are very expensive, but they provide a level of comfort not found in most other mattresses. |
| Wool | Wool filling provides a very soft sleeping surface, and its breathing properties provide insulation in the winter and a cooler sleeping surface during the warmer months. |
| Coir | Coir is found in the cheapest mattresses on the market, and it has very limited support properties. Coir is a rather coarse substance that is taken from coconuts. |
Foam Mattresses
A foam single mattress provides a superb level of comfort and support. Unlike most spring interiors, it does not lose its support benefits over time, and it also adapts to the shape of the body. The most effective foam mattresses will cost a little more than those with spring interiors, but they will usually last a lot longer.
| | |
| --- | --- |
| Latex | Most foam mattresses are made from latex, and they provide the perfect combination of support and weight distribution. The distribution of weight can take pressure away from specific areas of the body, and it promotes a better all-round sleeping experience. Latex will automatically revert to its original shape after getting out of bed. |
| Visco-Elastic | Visco-elastic beds are relatively new to the UK market, and they are particularly expensive, however, they provide the most responsive sleeping experience available. As well as using pressure to provide a moulded sleeping area, it also uses the body-heat. |
| Polyurethane | Polyurethane is a cheaper alternative to latex, however, multiple layers are used to deliver a sleeping surface similar to other foam mattresses. |
Selecting the Correct Surface-Type
All single beds have a surface-covering called the 'ticking'. There are two different type of ticking, and they provide very subtle differences to the feel of the sleeping surface. Quilted ticking is mainly decorative, and it connects the surface material to the filling. Quilting provides a flat and smooth sleeping area. Tufting involves the use of long strips of tape which are fed through the length of the mattress and tied at each side with washers or tags.
How to Find a Single Mattress on eBay
There are thousands of single mattresses available on the eBay website, and they can be found in both new and used conditions. Try out a few different mattresses before shopping, to gather some knowledge of what is being looked for. The easiest way to locate a mattress is by performing a quick search in the text-entry box at the top of the homepage. However, it is possible to narrow a search down to a very particular type and size of mattress. Any search by category should start by clicking the All Categories link at the top of the homepage. A drop-down menu will then appear, and the Home, Furniture & DIY link should be clicked. A list of links to sub-categories will then appear on the left side of the web page, and the Furniture link should be clicked. The link to beds with mattresses will then be available on the next screen. Many vendors provide free delivery, and selecting items that are nearby may reduce the delivery time. It is also possible to arrange pick-ups, so buys may be able to buy and take possession of a mattress within an hour. All vendors have feedback scores, so rest-assured that the purchase is being made with a reputable trader.
Conclusion
While advice on the best mattress for the individual should be listened to, selecting the most appropriate single mattress is a matter of preference. Buying a mattress should be taken very seriously, as it will play a large role in determining a person's quality of life. A single mattress should provide comfort, but support for the back must not be disregarded. A person's spine should be straight when sleeping, as this position will ensure that pressure is evenly distributed. Some people may find that the cheapest mattresses are the most suitable for their needs, so price does not always indicate quality and suitability. Put simply, the most important benefit of a single mattress is a great night's sleep.