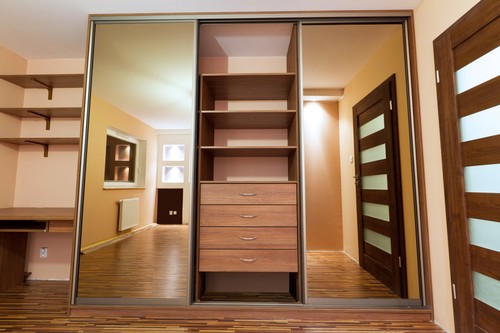 Wardrobes are an excellent solution for everybody who needs more storage for their clothing. They work well in small apartments or older homes that lack the necessary closet space. They can also be statement pieces in a larger apartment or family home. Wardrobes protect the clothing stored from damage, dust, dirt, or insects such as moths. A masterfully-crafted solid wood wardrobe can become an heirloom piece that is passed down from generation to generation.
Buyers interested in purchasing a solid wood wardrobe need to look for one that has sturdy construction, good craftsmanship, and a beautiful finish. One place to find good prices on high-quality, solid wood wardrobes is eBay. eBay is a top shopping destination for buyers in the UK. The website carries a wide range of products and provides buyers with a number of easy-to-use search options. Anybody interested in purchasing furniture from eBay can benefit from the explanations of the processes of searching, selecting, and purchasing a solid wood wardrobe on eBay.
Searching for a Solid Wood Wardrobe on eBay
As a prime shopping destination, eBay features thousands of different products from sellers around the world. Since eBay's selection of products is so large, the website features a search bar, conveniently located on every page of the site. When buyers are starting their search, they should begin on eBay's home page and enter a search term that describes the item they are looking for, such as "wardrobe&". They could also refine their search by adding a descriptive keyword or two, such as "solid wood wardrobe&". This phrase expresses the qualities of the product more precisely and can yield more specific search results.
Saving a Search on eBay
Some buyers may not be ready to purchase their solid wood wardrobe immediately. Instead, they may want to wait for a few days to see what other listings for solid wood wardrobes appear on eBay. eBay allows buyers to save their searches for just such a purpose. When a search is saved, buyers permit eBay to send them notifications whenever new listings for items matching their search are posted. For example, if the search specified "solid wood wardrobe', eBay would let the buyer know as soon as a seller puts up a new posting for a solid wood wardrobe. The buyer could then go to the new listing, read the details about the wardrobe, and view any included photos.
Filtering Search Results for Solid Wood Wardrobes
A simple search for solid wood wardrobes may yield thousands of listings, far too many for buyers to examine in a single shopping session. To make it easier for buyers to locate exactly what they want, eBay has added a number of ways that buyers can filter their searches. For most products, these include shipping options, condition, seller location and distance, and price range. For wardrobes, buyers also have the option of narrowing their search by selecting the material, style, features, brand, main colour, height, and width that they are looking for. When buyers check the appropriate boxes to select each of their choices, eBay automatically refreshes the page with new results based on the new parameters.
Filtering Results by the Condition of the Wardrobe
Under the heading "Condition", buyers may choose one of six different options: new, new other, manufacturer refurbished, seller refurbished, used, or not specified. The chart below supplies information about this terminology.
Condition

Meaning

New

The wardrobe is brand-new, is in perfect condition, and has never been used by another owner.

New Other

The wardrobe is new, but with some sort of reservation, usually explained within the listing details.

The wardrobe might be missing its store labels or tags or may have some small defects.

Manufacturer Refurbished

The wardrobe was returned to the manufacturer due to some defect or damage. The manufacturer has repaired it and is reselling it.

A wardrobe in this condition should be fully functional and should look new.

Seller Refurbished

The wardrobe was pre-owned and may have suffered some wear or damage. The seller repaired any malfunctions or blemishes and is reselling the wardrobe.

The quality of the refurbishing may or may not be equal to that of a manufacturer refurbished wardrobe.

Used

The wardrobe has been previously owned and used within a household.

It may show some signs of wear and tear.

Not Specified

The seller did not supply any information about the condition of the wardrobe.
Buyers should be sure that they have all the information and photos that they need before they purchase a wardrobe, particularly if it is a used one. All the doors and drawers in the wardrobe should function smoothly, and there should be no cracks or heavy exterior damage to the piece.
Filtering Results by the Price of the Wardrobe
Solid wood wardrobes are massive pieces of furniture with the potential to become household heirlooms. They represent a significant investment, especially if they are very large or very beautifully designed and crafted. Buyers on a budget may appreciate eBay"s option to filter search results by price. Buyers can simply type the minimum and maximum number of pounds that they are willing to pay into the provided spaces. eBay then eliminates any search results that do not fall within that price range, allowing the buyer to browse only relevant wood wardrobes that fit their budget.
Filtering Results by Seller
Some eBay buyers create a list of their favourite sellers. They can reference this list while searching for wardrobes by clicking the box beside "My saved sellers". They could also enter the eBay user ID to find a particular seller. eBay supplies one additional option for searching by seller, allowing buyers to show only the results from top rated sellers.. These reputable sellers have received the top rated status through positive customer feedback and other qualifying factors. These sellers are likely to supply buyers with courteous service and high-quality products.
Filtering Results by Location or Distance
Solid wood wardrobes are very heavy pieces of furniture, and as such they are extremely expensive to ship. Instead of paying the extra amount for shipping, buyers should look for listings that include free postage and packing. They could also choose to buy from sellers within reasonable driving distance of their home. eBay allows users to enter their postcode and a specific kilometre radius, such as 250 kilometres. With the 250 kilometres range in place, the search results are limited to sellers who live within that area.
If buyers would like to pick up the wardrobe in person, they should communicate with sellers to ensure that they are comfortable with such an arrangement. Some sellers may prefer to meet at a public location rather than at their home for the completion of the transaction. Buyers who do not mind paying the extra money for postage and packing can broaden their search. eBay allows buyers to select the region they prefer. They can choose to look for wardrobe listings within the United Kingdom only, in the European Union, or worldwide.
Contacting Sellers and Return Policies
At some point, buyers may need to get in touch with sellers to ask a question about the wardrobe or to request additional photos. One way to do this is to click on the "Ask a Question" link on the listing page. Buyers can also go to the seller's profile page and click "Contact Member" to communicate with the seller. Some sellers do not allow returns under any circumstances. Others include return policies within their listings. If the wardrobe listing includes a return policy, buyers should read it carefully and ensure that they are comfortable with its terms in case a return becomes necessary.
eBay Shops
If buyers cannot find the type of wardrobe they are looking for on eBay's main website, they could check eBay shops.. This portion of eBay's website features a retail atmosphere with no auction-style listings. When buyers type "solid wood wardrobe" into the search bar, they can see a list of the eBay shops that carry that particular kind of wardrobe. They can click each shop's link to peruse the available products.
Conclusion
A solid wood wardrobe is a beautiful addition to any room. Although wardrobes are traditionally used in the bedroom for clothes storage, they can also be featured in other rooms of the house. A wardrobe in the hall could hold coats and jackets, while a wardrobe in the living room or parlour can be used to store books, music, movies, or games.
Buyers should choose a sturdy, well-constructed wardrobe. If there are children in the home, the parents should make sure that the wardrobe is stable and weighted toward the bottom, making it more difficult to tip over. The finish of the wardrobe should coordinate with the other wooden furniture in the room. The interior of the wardrobe should be clean and smooth to prevent clothes from being snagged. If buyers shop for their solid wood wardrobe on eBay, they are likely to find the style and quality they need at an affordable price.