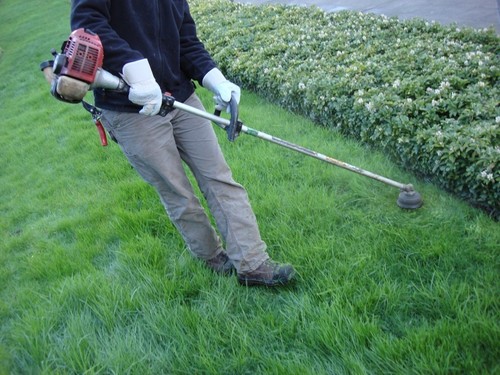 While garden strimmers are commonly sold in retail outlets all over the country, one online source of garden strimmers has become a highly popular choice among the growing number of online shoppers. That source is eBay; the well-known virtual market place where just about every item can be bought or sold - either directly or by auction. Garden strimmers are no exception. In fact, they are popular enough to occupy a whole category of eBay's Gardening and Power Tools section, which is further divided into sub-categories representing the different types of garden strimmer.
About eBay
eBay is an online market place that enables millions of people to buy and sell items online. It is a highly organised and successful enterprise that operates worldwide under a large number of country-specific eBay websites, such as eBay.co.uk for the British arm of eBay. This is important. Anyone wishing to buy an item on ebay naturally prefers it if the item is being sent from not too far away, and preferably within the same country. It reduces waiting time and delivery costs and makes for easier communication between both parties. This is especially true for bulky items like garden strimmers. Those based in the UK should make eBay.co.uk their 'default' eBay site.
Registering on eBay
Only registered members can buy or sell items on eBay. Registering is a very simple and straightforward process. Clicking the 'register' button that is quite prominently displayed on the eBay home page produces an online form that has to be filled in with all the expected personal details such as name and address and more. The information is held securely by eBay and accessible to the member in their new eBay member account, which is password protected.
eBay's Strimmer Categories
The strimmer category's subcategories on the eBay.co.uk site are as follows:
| | |
| --- | --- |
| Brand | Famous brands are strongly featured in typical strimmer listings so the list can be filtered to include or exclude some well-known brands. |
| Power Source | Garden strimmers come in three types, each with a unique power source: electric (corded), battery-powered (cordless) and petrol-driven. Each type has its own characteristics that may or may not be suitable depending on what kind of jobs the strimmer is expected to do. Petrol-driven strimmers, for example, are powerful and excellent for clearing overgrown, tough vegetation, but they lack the convenience of lightweight battery-powered strimmers and mains-powered electric (corded) strimmers. Light trimming of lawn edges and borders is no problem for any type of garden strimmer, but if it's the only type of work that the strimmer is expected to do, then an inexpensive electric or battery-powered strimmer would make more economic sense than an unnecessarily powerful petrol-driven model. |
| Condition | Strimmers can be displayed according to whether they're being sold as new, refurbished or second hand. Refurbished models can be further grouped into those that are refurbished by the manufacturer and those that are refurbished by a third party. Manufacturer-refurbished models can guarantee a minimum quality standard and tend to be more expensively priced than other refurbished models. Another option includes or excludes strimmers that are faulty and beyond repair, but that are being sold or auctioned for parts. |
| Price Range | Here, the lowest and highest value in pounds can be entered in order to exclude strimmers that are too expensive or too cheap (and, presumably, too low in quality). |
| Power Rating | The list can be tailored to include strimmers within a certain power output range. Electric strimmers are rated in watts, ranging from less than 500 watts to 1,500 watts. Petrol-driven strimmers are power-rated in terms of the capacity of their engine in cubic centimetres (cc) from under 50 cc to 100 cc. Ticking the relevant checkboxes will return relevant results. |
| Seller | This option excludes all garden strimmer results except those from sellers who have achieved eBay's 'Top-rated seller' status. Online sellers need to build a good reputation by providing high-quality service consistently. 'Top-rated seller' status is an indication that buying a garden strimmer from any such seller will more likely be a smooth and quick transaction. The selection can also be expanded to include any personally-preferred sellers that may not yet have achieved 'Top-rated seller' status but who have provided good service in previous transactions. |
| Buying Formats | Strimmers may be sold via auction or in the normal way. The list can be filterd by ticking the checkbox to select auction, or Buy it now to show only strimmers that are being sold via auction or are ready for immediate sale. Many users find auctions attractive because of the opportunities for bargains that can be had if a particular strimmer hasn't had many bids and the auction is about to end. Many other users, however, only want to buy a strimmer with the minimum of fuss and the Buy it now option is the only method that they'll consider. |
| Show Only | This option returns a strimmer list that can be filtered in many ways. It can, by selecting options, show only garden strimmers that are, for example, delivered free, delivered using express delivery, can be paid for by Paypal, and other choices. |
| Location | The UK-based branch of eBay is obviously focused on sales within Britain, but the option to search further afield is provided too. The options in this sub-category are: 'UK Only', 'European Union' and 'Worldwide'. |
| Distance | Generally speaking, when buying an item such as a garden strimmer, a local seller is preferable to one at the other end of the country. This filter option enables the searcher to locate strimmers that are being sold as close as 10 miles away. Personal pick-up or delivery is often arranged between both parties in those cases as it makes for a quick and simple transaction. |
Payment and Delivery
Having registered with eBay, if not previously a member, found a suitable garden strimmer and committed to buying it, either by clicking on the 'Buy it now' button or by bidding and winning it in an auction, all that remains to do is pay for it and wait for it to arrive. The seller's payment instructions will be clearly stated. Most sellers prefer to receive payment by Paypal, which is a well-established online financial transaction business owned by eBay. Delivery of the strimmer, which in many cases will be free, will be via a professional package delivery service. Delivery details can be seen in the eBay listing of the strimmer.
Finding Garden Strimmers on eBay
Even without registering, all the available garden strimmers are there to be browsed at leisure simply by performing searches in the eBay search engine. Entering the search term "strimmer" returns a listing of all the strimmers that are currently being offered for sale either outright or as auctioned items. The list, typically, includes all three main types of garden strimmer: electric corded, battery (cordless) and petrol-driven. Some will be in an ongoing auction while others are waiting to be sold at their advertised price under eBay's Buy it now option. The number of garden strimmers available and listed at any one time can be quite overwhelming at times. The list can easily be filtered, however, so that searching for a particular type of garden strimmer won't be deluged with strimmer types and features that aren't relevant. By ticking one or more of the sub-category check-boxes located on the the left-hand side of the listing, a new list will be shown containing only relevant results.
Conclusion
eBay is, by far, the predominant online market place. Over the years, in order to ensure its survival and success, it has had to constantly prove itself worthy of the trust placed in it by its millions of users worldwide. With strong security features in place, it has managed to do this effectively and, as a result, countless trouble-free transactions are completed on eBay every day.