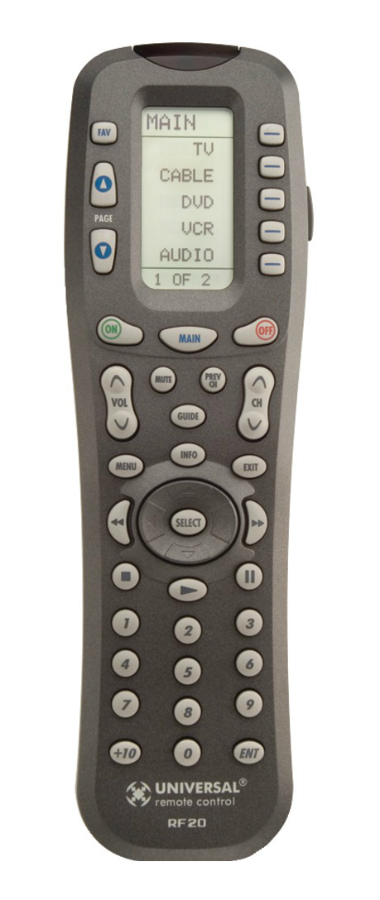 We have all lost the TV remote at one time or another. Whether the remote is lost, never to be found again, destroyed by a small child, or simply no longer functioning properly, a replacement TV remote exists. Generic TV remotes, exact model TV remotes, and universal remotes are all quality options. With modern technology, getting up off the couch to operate a TV is simply an unnecessary action. Shopping for a TV remote through traditional methods, however, requires quite a bit of time and effort.
With online marketplaces such as eBay, individuals are able to shop for a TV remote from the same place they watch TV, on the couch. Understanding the options available, and figuring out how to determine what remote is compatible with what TV, is a helpful activity. Before ever shopping, make sure to become familiar with each of the available choices and the benefits and drawbacks of such options. A little bit of product information can go a long way.
Determine TV Brand and Compatibility
The amount of TV remote controls that are returned due to incompatibility with home televisions sets is impressive to say the least. Figuring out what TV remote is needed for a specific product is not completely intuitive. With just a couple of steps, however, individuals are able to find an exact remote replacement. Even if such a replacement no longer exists, sellers on eBay are likely to have the product desired.
Owner's Manual
The most basic step in identifying what TV remote control should be purchased, is a simple consultation of an owner's manual. If the television which needs the remote is new, consulting the owner's manual usually states the exact model number, and remote, that is required. Those with older television sets should search for the owners manual before ever going out shopping for one. With so many models and variations, the likelihood of buying a TV remote control that doesn't match the TV in question is quite high.
Manufacturer's Website
If a quick canvassing for a TV's owner's manual turns up no results, the website of the manufacturer of the TV might have some valuable information. Most of the time, manufacturer websites have a section dedicated to manuals and technology documentation. Such documentation sections often contain specifications for the TV's and remote specifications as well. Those who desire a remote control that matches their TV model exactly, should consider combing through the information available on such manufacturer websites.
Types of TV Remote Controls
When shopping for a remote control, individuals are known to browse through hundreds, if not thousands, of different remote controls. Luckily, TV remote control options can generally be boiled down into approximately three categories. Name brand remotes are remotes designed with a specific TV model in mind. Generic TV remote controls are designed for a single device and often claim to offer simple installation and programming procedures. Universal remote controls offer to control every device in a home entertainment centre with just one remote. Because of these varied options, choosing a type of TV remote can be difficult.
Name Brand
Searching for the exact remote that came with a television is often difficult without an owner's manual, but it is not possible. Throughout eBay, various sellers offer name brand remotes that match the certain manufacturers specifications. Options such as a Sony TV remote, Samsung TV remote, or other manufacturer specific remote are able to match a TV brand quite easily. Even if the remote itself is not the exact model, a name brand remote that matches the company the TV was made from can do the trick. Make sure, however, that even a name brand TV remote has a manual to make programming a bit easier.
Generic
A generic, single device TV remote, is an option that many individuals tend to overlook. Generic TV remotes are often designed to be used in conjunction with more basic television sets. Such remotes offer a cheaper price than name brand remotes, and tend to be simpler to use as well. TV remote controls that are designed to operate a single device are both convenient and rather inexpensive. Those who want a way to easily operate a TV without too many extra bells and whistles, tend to see generic TV remotes as an adequate option.
Universal Remote Control
One of the more popular options among TV owners, and those with a larger entertainment centre, tends to be the universal remote control. Universal remote controls offer users a single control option for a wide array of devices. Although these remotes are some of the most expensive options available, the convenience of having one device to control all entertainment options entices many consumers. Technology companies such as LG, Lenovo, RCA, and hundreds of fringe and generic companies offer universal options.
Things to Keep in Mind
One of the major drawbacks to universal remote controls is the complicated interfaces that are usually associated with such products. In order to mitigate the complication, detailed guides are often offered with universal remotes. Universal remotes also tend to be much larger than more traditional remotes. Large size does mean they are harder to lose, but universal remotes do have a steeper learning curve. Once the device is properly understood, however, the convenience of operation is quite impressive.
Used TV Remote Control
Saving money on technology that is needed to operate a television is a tempting option. Used TV remote controls offer impressive savings as compared to brand new merchandise. Unfortunately, consumers tend to be quite frustrated by used options that do not offer programming instructions. Although programming instructions can be found on the internet, consumers should search for used options that come with ample documentation.
More generic used TV remotes, tend to be similarly installed across a range of television types. Still, when looking for a used remote, finding one that matches the television in question helps to avoid some complicated installation procedures. More complicated, advanced used options, like universal remote controls should be considered, but without an installation guide, are likely to be somewhat confusing to install.
Opting for More Basic Models
Basic models of TV remote controls do not usually offer as much of an extended value as a more complicated, universal option. Basic TV remote controls, however, are designed to be fairly simple to install and operate. In order to avoid many technology returns, people in the market for a new TV remote control should consider basic remote options as a quality choice. A remote that is small enough to fit in a child's hand as well, is a good rule of thumb to follow when shopping for a TV remote control.
Even universal remotes vary in complication. Individuals who want a universal remote to control only three devices should look for a remote labelled with three device functionality. Possessing a remote as large and complicated as a switchboard, eliminates the convenience remote controls were designed for in the first place. Look for a TV remote control that is designed for ease of use rather than for the amount of devices it can control.
How to Buy a TV Remote Control on eBay
The amount of TV remote controls on the market is astonishing. Finding the right remote for your TV, however, can be an arduous task. Online marketplaces such as eBay, however, are built with the right tools to make shopping for any device easier and less time consuming. With authorised sellers that offer both new and used merchandise, thousands of TV remote control options can be found on eBay. Each seller is described with detailed seller ratings, allowing users to select not only an adequate product, but a seller that matches needs as well.
In order to find a TV remote control on eBay, simply type a search term into the search bar on the eBay homepage. Such a search is likely to turn up hundreds, if not thousands, of results. Those who wish to narrow such search results down can use various filters or take advantage of the advanced search function. Using advanced search helps to consolidate search results to the specified criterion.
Conclusion
Finding a remote control for a TV, requires a certain amount of research and education before a rational decision can be made. Considering options from generic remote controls to universal remotes is needed to make an educated purchasing decision. Even brand name remote controls that match to a television set exactly, can be found through online marketplaces such as eBay. With used options as well, consumers are able to save quite a bit of money when purchasing a TV remote control.
Individuals considering a used, generic, or universal remote option should, however, make sure the product in question comes with a manual. A TV remote control without programming directions tends to be quite complicated to set up. Once a piece of technology is found that offers users a manual and simple operation, consumers should determine a seller to buy from. With thousands of sellers and advanced sellers ratings, eBay tends to be a premier option for those in the market for a new remote control.