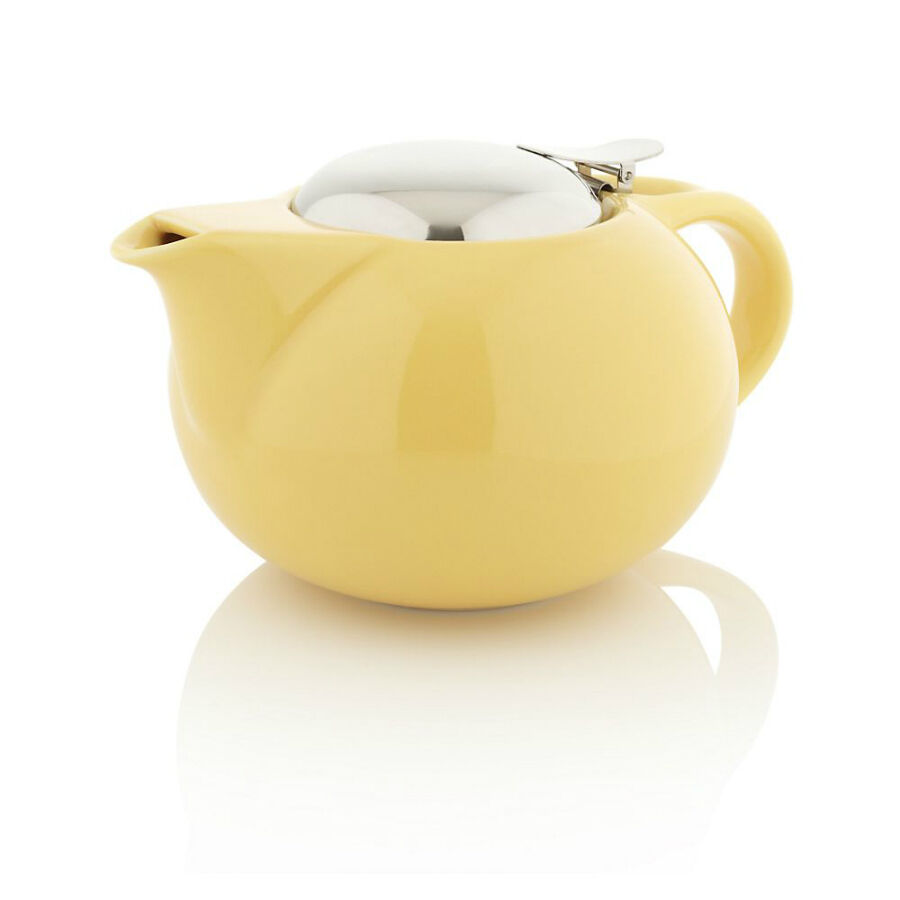 Teapots are a serving device that have never gone out of style, as designs and features are constantly evolving to fit in with the newest fashions. The beauty of teapots is that they're incredibly versatile, fitting in just as well with a modern home or office as in an old fashioned farmhouse. However, teapots don't have to be used solely for tea, with many bars offering teapot cocktails, and many homeowners using teapots as ornaments, decoration statement pieces, and even as watering cans.
Advantages of Buying a Teapot on eBay
With teapots coming in so many varieties, with a range of styles, materials, and features, it's impossible for traditional brick and mortar stores to stock teapots spanning the full spectrum. However, with sites such as eBay which allow for individual sellers to list their unwanted items, the selection of teapots on offer is likely to be wider and more varied. Those looking for vintage teapots especially, those with a little bit of history that haven't been mass produced, are more likely to find something on eBay than in a supermarket. However, eBay is also beneficial for those simply looking for a basic teapot. Not all items for sale on eBay are brand new, with some having experienced prior use before being sold. Teapot materials are usually very durable as they have to withstand the high temperatures of the beverage they were designed to hold, so in many cases used teapots are just as good quality as their newer counterparts. Used items on eBay are often sold at just a fraction of the recommended retail price, offering buyers a unique bargain they can't find anywhere else.
Choosing a Teapot on eBay
What constitutes the 'perfect' teapot is dependent upon individual tastes, but the range of products available on eBay ensures everyone will find something to suit requirements. When choosing a teapot on eBay, be sure to consider the style, the material, and the features to find a serving solution suited to the environment, and for the purpose, it is intended for.
Teapot Style
In the 19th century, teapots were a form of sophistication, and they were also a good indicator of wealth, coming in what are now considered to be old fashioned styles. Today, teapots are somewhat of a trendy and funky item of servingware, and the range of styles available on eBay reflects this dynamic change and evolution.
| | |
| --- | --- |
| Contemporary | Contemporary styles shun the floral and chintz patterns of the past, and are often striped or spotted, or sometimes plain yet colourful, with pastels being an especially popular choice for these serving items. |
| Country | Often made of basic and sturdy materials, such as earthenware or ceramic, country style teapots would not look out of place in an old farmhouse. They are often decorated busily, particularly with florals. |
| Vintage | Vintage may describe country-style teapots, but more accurately describe those used when servingware was a status symbol. Expect intricate detailing, and perhaps expensive materials such as silver. |
| Retro | Retro teapots bring in aspects of the traditional items, but in a rather fun and tongue-in-cheek manner. Art Deco style is particularly popular, with bright colours, plastic coated materials, and unusual shaping. |
| French Style | French style teapots are similar in busy design, but have very specific structures. French teapots are the curved, rounded shape often associated with the item. If there's corners, then it's not French style. |
| Seasonal | Seasonal teapots are very popular, and can be bought designed for all the major holidays in the UK. They're attractive and a good choice for serving guests, but can only really be used for a few weeks of the year. |
| Novelty | Novelty teapots may be full size or miniature for children, and are designed with popular cartoons, book characters, or TV personalities. Children's novelty china sets were common during the 80s and 90s. |
Teapot Materials
Teapots are available in many different materials to suit different environments and different intended purposes. As they're designed to hold hot, even boiling, liquids, the materials are usually very durable and long lasting. The materials on offer range from down to earth, basic, and inexpensive, to sought after, attractive, and costly.
| | |
| --- | --- |
| Glass | Glass teapots are specially reinforced to withstand hot and boiling liquids. They often come coated, either fully or partially, with a different material that doesn't conduct heat for safety and ease of use. |
| Plastic Coated | Plastic is a common material for coating glass or metal teapots as it doesn't conduct heat. Bases and handles are often made of this to prevent burns and scalds and to prevent damage to the table. |
| Metal | Metal teapots may be vulnerable to rusting, although stainless steel is a particularly attractive option. They usually come with plastic coated handles for safety, and some even double as a stovetop tea kettle. |
| Porcelain | Porcelain is a top choice when designing old fashioned teapots, as it was the primary material for vintage items. The porcelain is usually white or beige with busy detailing, especially of floral patterns. |
| Ceramic | Ceramic teapots are similar to porcelain, although the material is a little more sturdy and durable, and not so vulnerable to wear and tear. It can be coloured, so it used for both vintage and contemporary products. |
| Earthenware | Earthenware serving items really take a kitchen back to basics. Very sturdy and durable, these teapots may not be the most attractive on the market, but they are ideal for farmhouse style kitchens. |
| Silver Plated | Silver plated teapots may be some of the most costly, but they're the perfect accompaniment to a vintage and traditional silver tea set that was seen as the ultimate status symbol of the day. |
Teapot Features
Depending on the intended purpose of the teapot, some buyers may prefer to search for items that have special features that will make using and cleaning the product much quicker, simpler, and more convenient. Some of these features also allow for the teapots to be utilised in non-traditional ways, and in some very alternative and creative ways.
| | |
| --- | --- |
| | Those with a hatred for doing the dishes should look out for teapots that can safely be washed in a dishwasher, although there is a chance that any external patterning could wear off. |
| Freezer Safe | If using a teapot as an alternative serving method for cocktails, one that can be stored in the freezer is ideal to allow the beverage to be served chilled. Could also be used to store ice cream. |
| Microwave Safe | This feature is one of the most convenient as it allows for beverages which have been left out to easily be reheated without the need for decanting into other suitable containers. |
| Oven Safe | Some teapots are made from a cast iron material, allowing them to perform the same functions as casserole dishes. They're really just a novel way to present and serve family favourites. |
Considerations when Buying a Teapot on eBay
When buying a teapot in a traditional brick and mortar store, the exact product can be inspected to look for obvious flaws and can also be examined in terms of usability in the home or office. Unfortunately, buyers don't often have this luxury when buying from eBay, so it's important to take some considerations into account to ensure the product received is in excellent condition. The seller can be asked about any flaws, either in the design or in the structure of the teapot, if this isn't made clear within the item listing. While wear and tear of the pattern may be something that doesn't matter, or something that can be easily fixed, damage to the structure of the teapot could mean that there is an increased risk of cracking, breakages, or leaking. Also take into account any matching items available, especially if looking to create a full tea set. Depending on the material chosen, postage rates may be quite high. If possible, search for items locally that can collected directly from the seller.
Find a Teapot on eBay
For a list of all items described as a 'teapot', simply enter the term into eBay's search facility. However, to see a list of items specifically tagged as being teapots, and to allows for effortless filtering and narrowing down of results, it may be simpler to navigate to the listing via the category pages. From the Home & Garden category, select Cookware, Dining & Bar, followed by Tableware, Serving & Linen and finally Teapots. From here, use the left hand menu to filter results based upon style, features, materials, colours, condition, price, and location amongst other options.
Conclusion
eBay is certainly one of the better choices for searching for, and purchasing, a teapot. The range of both vintage and contemporary servingware is unrivalled in brick and mortar stores, and used items are frequently offered at much more affordable prices than other shops, both on the highstreet and online, can offer. Whatever the intended purpose for the item, or whatever decor it has to blend into, there is sure to be a teapot for sale on eBay that meets all needs, requirements, and preferences.