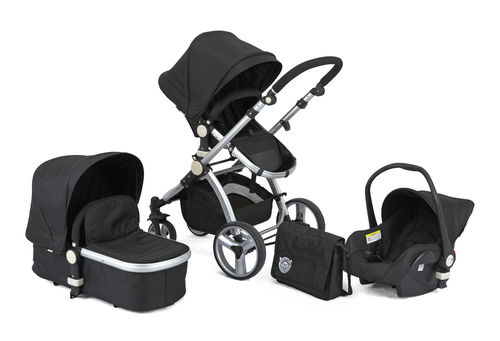 A pushchair is any baby buggy or carriage designed for use with older infants and toddlers who are able to sit up on their own or at the very least remain in a sitting position when provided with back support. They are not suitable for newborns and young infants because these babies lack the muscular development to sit up or remain in a seated position without falling down sideways. Parents of newborns and younger infants should use a pram until their child is old enough to sit up.
When it comes to pushchairs, there is a wide range of different styles as well as various different brands of pushchair within each style category. Most pushchairs are collapsible so they can be loaded into a vehicle easily and take up less space when stored though some styles are more compact than others. There are also some pushchairs that have four wheels and others that have three. Three-wheeled pushchairs are better suited to uneven terrain and sport use than four-wheeled models are.
When shopping for three-wheeler pushchairs, shoppers should be sure to check out the selection available on eBay before making a purchasing decision. When deciding to purchase a three-wheeler pushchair, buyers should learn of the primary varieties available, as well as the pros and cons of each model.
Brief History of the Pushchair
A garden architect in England in 1733 designed the first baby carriage. The Duke of Devonshire commissioned the carriage, which was shaped like a shell and featured a harness so it could be pulled by a goat or dog. It quickly caught on and became very popular among England's elite though most of the commoners could not afford such a luxury.
While early models were designed as more of a toy or novelty for the children, baby carriage makers soon added a handle to the carriage so adults could push the children rather than relying on animals to pull the cart. Queen Victoria purchased three baby carriages for herself in 1840, locking the item in as a must-have among the upper echelon of British society. The handle made these early baby carriages much more functional; however, they were still too high to be safe for several reasons. Infants or children who fell out of the carriages were at risk of injury, and the high centre of gravity caused them to be unstable and to tip frequently.
Adding Functionality to the Baby Carriage
An American man by the name of William H. Richardson revolutionised the baby carriage in 1889 when he applied for a patent for his reversible baby carriage. Richardson's design featured a jointed bassinet that could be turned toward the pusher or turned in the opposite direction. In addition, Richardson changed the wheels on his carriage so that all four wheels moved independently of each other. Prior to this innovation, the wheels did not provide any help when the user needed to change the direction of the carriage.
Over the past century, improvements to the baby carriage have been continually introduced and new styles of baby carriages have been designed for a variety of uses. A variety of features have also been added, such as a snack tray and cup holder for the child, drink holders for those pushing, and sun visors for the infants.
Newer models have been designed to accommodate children from birth to several years of age, by adjusting with the child. The more modern pushchair style carriages make it easier for parents to travel long distances with their children on foot and even allow parents to take their children with them when they run or jog. There are even double and triple pushchairs so parents with multiple young children can push them all in the pushchair.
Types of Pushchairs
There are two main categories of pushchairs: three-wheelers and four-wheelers. There are a variety of different types and styles within each of these two main categories, so parents should have no problem finding the pushchair that is perfect for their child and their needs. In addition to these types of pushchairs, there are also full travel systems, which include both the pushchair itself and a bassinet style carrier to use with newborns and young infants who cannot safely sit in the pushchair yet.
Four-Wheeled Pushchairs
Most people are familiar with the four-wheeler pushchairs, which have been widely used throughout the past few decades. They feature four independently pivoting wheels, one solid handle or two separate handles on the back, and most offer the ability to lower the seat back to a reclining or semi-reclining position to allow the child to nap. All pushchairs on the market today have straps to keep the child from slipping or falling out of the pushchair, and most have sunshades and snack trays, as well as baskets beneath for storage.
Three-Wheeled Pushchairs
The three-wheeler pushchair is a relative newcomer to the pushchair market. Typically the wheels on these pushchairs are larger than those on four-wheel pushchairs, and there is only one wheel in the front of the pushchair, located in the centre. Most three-wheel pushchairs feature pneumatic tyres, rather than solid rubber tyres, which makes for a smoother ride for baby regardless of the terrain or speed. Many of the three-wheeler pushchair models feature sunshades and solid handles in back that can be manoeuvred with one hand.
Travel Systems
Because pushchairs are not safe for smaller infants, parents either need to invest in a pram and a pushchair or a travel system , which includes a bassinet-style carrier or carrycot for when the baby is young and a pushchair for when the baby gets older and is able to sit up. While some people may prefer the look of the pram, it is only safe for babies that are three months old or younger and since most babies are not able to sit up at that age, they may not be ready to graduate to the pushchair just yet. Travel systems can accommodate most children from birth to about five years of age safely and comfortably.
Individuals who are interested in purchasing a full travel system should ensure that the pushchair they are considering buying has a bassinet carrier or can accommodate one from another brand or collection. Those who plan to mix and match pieces should ensure that the bassinet carrier they choose locks into place in the pushchair they prefer; otherwise, the set-up could be unsafe for the baby.
Summary of Pushchair Types
Certain varieties of pushchairs have advantages over other types, but this largely depends on the circumstances in which the pushchair is going to be used. A summary of pushchairs can be seen in the following table:
| | |
| --- | --- |
| Use | Best Type of Pushchair |
| All-terrain | Three-wheeler pushchair |
| Running or Jogging | Three-wheeler pushchair |
| Ease of Pushing and Steering | Three-wheeler pushchair |
| General Purpose | Three or four-wheeler pushchair |
| Compact Storage | Four-wheeler pushchair |
| Multiple Children | Double or Triple pushchair |
Once parents consider how they plan to use the pushchair most of the time, it is fairly easy to narrow down the options and select which type of pushchair is best for them. Since three-wheeler pushchairs are suitable for a wide range of situations, they are a popular choice for many parents.
Pros and Cons of Three-Wheeler Pushchairs
Three-wheeler pushchairs are advantageous for many reasons, but are not without their shortcomings. The various advantages and disadvantages of three-wheeler pushchairs must be weighed before making a purchasing decision.
Advantages of Three-Wheeler Pushchairs
There are several advantages three-wheeler pushchairs have over four-wheel models, which is why they are becoming increasingly popular. The pneumatic wheels provide traction and a smooth ride no matter what type of terrain they are used on, which means they are great for individuals who like to run or jog with their child in a stroller or those who frequent the beach or other areas that are sandy or muddy. In addition to the smooth ride, three-wheeler pushchairs offer a smaller turning radius than four-wheel models, which means they are better in tight spaces.
Disadvantages of Three-Wheeler Pushchairs
Though the popularity of three-wheel pushchairs is on the rise, there are some disadvantages prospective buyers may want to consider before purchasing. Many of these disadvantages are minor and do not affect all parents, so parents should determine for themselves how problematic these disadvantages are to them.
Many of the three-wheel models are heavier than four-wheel models, such as umbrella-style pushchairs, which are extremely compact and lightweight. Because of the increased weight, those who have to travel up stairs to reach their homes may want to consider a lighter weight pushchair. Of course, another alternative is to keep the pushchair in the trunk or cargo area of a vehicle rather than bringing it into the house each day. Another potential disadvantage is that not all three-wheel models offer accommodations for bassinet carriers. This means that parents of newborns may need to purchase both a carriage or pram and a pushchair for their child as he or she grows.
Three-Wheeler Pushchair Accessories
Many pushchair manufacturers offer accessories that can be purchased separately, such as snack trays and drink holders. Parents who plan to use their pushchair frequently, such as daily joggers, should consider which accessories are available for the pushchair they are considering buying. Individuals who only use their pushchairs occasionally may not miss these handy accessories, but those who plan to use the pushchair regularly can give their children access to snacks and drinks more easily with the snap-on trays and cups.
Shopping for Three-Wheel Pushchairs on eBay
Pushchairs and travel systems in general are quite costly, yet they are necessary for anyone with infants or small children these days. Parents considering investing in a three-wheeler pushchair or a full three-wheel travel system should first determine which model or models they are most interested in, and then they should shop around to get the best possible price for the items. Oftentimes, parents and those looking for gifts for new or soon-to-be parents can find the best prices on three-wheel pushchairs on eBay. The site has thousands of sellers and new listings are added daily, which means shoppers should have no problem finding one or more listings for the products they desire.
Buying Three-Wheeler Pushchairs on eBay
If you want to review the available listings on eBay, go to the site's home page and type three-wheeler pushchair into the search box. You can use the filters and subcategories on the search result page to narrow down your search, or you can simply browse through the search results. If you know which brand of pushchair you are looking for, you could also try entering more specific search results. For example, if you want to purchase a Mothercare three-wheeler pushchair , enter that keyword phrase into the search box to narrow down your results.
Before making a purchasing decision, buyers should read each listing carefully to determine which pushchair model is being sold as well as whether any accessories are included in the listing. Prospective buyers should also take a look at the shipping options and the seller's return policy to determine whether the pushchair can be returned in the event the buyer is not happy with it.
Conclusion
Most parents who can afford a pushchair for their child tend to purchase one to make travelling with their child easier and quicker. Even toddlers and older infants who can walk on their own tire quickly and tend to dawdle, so many parents use their pushchairs at least part of the time until their children are four or five years of age. Because the pushchair is used for such a long period of time, parents should take their time determining which style and model is best for them. If possible, parents may even want to visit local baby stores to see how easy the pushchair is to steer, collapse, and lift.
When preparing to purchase a three-wheeler pushchair, parents or other shoppers should narrow down their options to a few models that have the features they desire and then shop visit eBay to find the best price for those models. Once a buyer has seen the listings available on eBay, they can narrow down their choices to find the pushchair that best suits their needs and is the best price. With knowledge of the different types of pushchairs and the various accessories that are available, buyers can find the perfect three-wheeler pushchair on eBay.