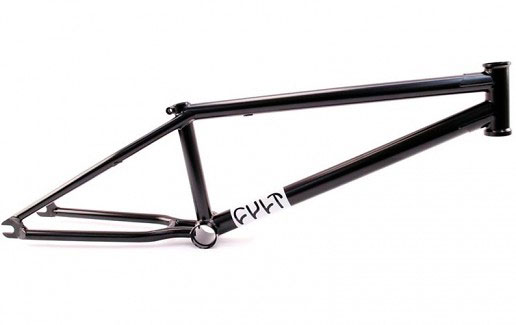 What is Titanium?

The metal titanium has an atomic number of 22 and its chemical element symbol is Ti – this is why cyclists and others in the bike industry refer to titanium as 'ti' and you may well see this used to denote titanium by a seller on eBay. It is as strong as steel but much lighter and more corrosion resistant. The commercial exploitation of titanium dates back to the cold war when it was used by the aerospace industry to trim weight from and increase the speed and performance of military aircraft.
Why use Titanium Bike Frames?
The bicycle industry was quick to experiment with titanium and the first titanium bikes date back to the 1960's
There are many materials that can be used in bicycle frames from the traditional steel, to aluminium, carbon fibre and titanium. They all have different characteristics, strengths and weaknesses although titanium is probably the most expensive metal used routinely by bicycle manufacturers. This is because it is lighter than steel, stronger than aluminium and easier to work with than carbon fibre.
The first issue then in buying a titanium frame bicycle is to understand what the alternatives are and to match the features of titanium framed bikes to the performance issue(s) you want to address.
Performance Issues of Different Frame Materials
| | | | | | | |
| --- | --- | --- | --- | --- | --- | --- |
| Material | Ease of manufacture (Less cost) | Lightness | Strength | Corrosion Resistance | Comfort | Ride |
| Steel | √√√ | √ | √√√ | √ | √√√ | √√√ |
| Carbon fibre | √√ | √√√ | √√ | √√√ | √√ | √√ |
| Aluminium Alloy | √√ | √√√ | √√√ | √√√ | √√ | √√ |
| Pure Titanium | √√ | √√√ | √√ | √√√ | √√√ | √√√ |
| Titanium Alloy | √ | √√√ | √√√ | √√√ | √√√ | √√√ |
The net take-away is that a titanium alloy frame offers the best combination of lightness, durability, comfort and ride performance. It is, however, the most expensive to manufacture, with pure titanium being surprisingly cheaper to make but with poorer overall strength. Titanium offers a greater degree of flex without damage than some of its rivals – in particular carbon fibre and aluminium.
Titanium has – in addition to a high strength to weight ratio - excellent corrosion resistance along with reasonable stiffness - about half that of steel. Higher machining costs limit its uses and also raises the effort (and cost) associated with this type of construction. As titanium frames are usually more expensive than similar steel or aluminium alloy frames, the cost puts them out of reach for many cyclists.
Although some manufacturers have experimented with pure titanium, most titanium frames typically use titanium alloys. Some bicycle manufacturers make the frames themselves; others contract the frame production to companies in the aerospace industry where all of the original work in titanium began.
Things to look for when buying a Titanium Bike Frame
Having decided to buy a titanium frame bike, the place to look is eBay- whether you are looking for a used titanium frame bike or a new titanium frame bike. Ebay offers a wide range of new and used titanium framed bikes to suit all budgets – from a few hundred pounds to several thousands. The range of bikes on offer spans racing bikes to mountain bikes.
The key things to look for are:
Size
It is essential for comfort, safety and peak performance that you buy the right size bike.

Most sellers on eBay will specify the frame size of the bike they are selling in both inches and centimetres. Just as a ball-park guide the following chart is a useful guide as to likely fit as it shows the typical height range for different frames:
Bicycle Frame Size Matched to Cyclist Height
| | | |
| --- | --- | --- |
| Frame Size in Inches | Frame Size in Centimetres | Cyclist Height Range |
| 16 | 40 | 4'11" to 5'7" |
| 18 | 45 | 5'7" to 5'11" |
| 20 | 50 | 5'11" to 6'3" |
| 21 | 53 | 6'3" plus |
This is purely meant as a guide. People come in all shapes and sizes; some people have quite short legs and a long torso and others long legs and a short torso and they could be the same height.
Manufacturers make frames in different sizes because we all have different size legs. The key element is the inside leg and the cyclist ought to be able to stand astride the bicycle with at least 2-5 cm clearance over the top tube. This should be achievable with the cyclist's feet flat on the floor, not on tip toe. If you are planning to buy a mountain bike, there should be a 5-10 centimetre clearance above the top tube. This is to allow for the nature of mountain biking – the extra space is for the occasional need to dismount suddenly from the bike.
Strength


The very best titanium bikes are constructed using a titanium alloy that combines 3% Aluminium and 2.5% Vanadium (3Al/2.5V). This delivers the best strength to weight ratio along with a degree of flex that will allow the frame to sustain a high level impact without permanent damage


Quality of Construction


There is little point spending money on top quality titanium if the construction is poor. The tubes of a titanium frame rarely if ever break – it is almost always a weld that fails. Look for good quality smooth welds and avoid bikes with messy or blobby welds. If you have not been able to satisfy yourself on this issue by researching the manufacturer, ask the seller to send you some close ups of the main welds in the two triangle frame


Design


Ensure that the frame design suits your purpose – don't buy a road racing frame if you are planning to go mountain biking


Bosses


Higher quality bike manufacturers will weld water bottle bosses, cable guides etc to the titanium frame rather than using rivets


Paint Finish


Many would argue that painting a titanium framed bike takes away its inherent beauty.
Unpainted, bead blasted and brushed titanium finishes are very popular. If you choose a painted titanium frame, or have a frame custom painted, the has to worry about repairing chips and scratches to keep the bike looking good. The same maintenance issue exists with frames that are polished up to a mirror-like finish – they will also show every scratch or blemish

Weight


Clearly, as weight is such a key issue in terms of choosing a titanium bike over others, it is worth looking at relative weights of different frames from different manufacturers. This may not be quoted by a seller, but you can always email the question to the seller via eBay or check the manufacturers website


Research


It is always worth doing some research online with some of the manufacturer's web sites to satisfy yourself as to the production techniques used on the models you are short-listing. When you have some candidate models that you would be prepared to bid on, you can consider a more targeted search than merely titanium bike. The search could be as specific as for example, Van Nicholas Titanium Bike or, to narrow the search even further, you could also specify the desired frame size.

Buying a Titanium Frame Bike on eBay

When you are comfortable with the product information for the bike you have selected, you can consider how to pay for your selection and proceed to purchase. In an Auction the buyer has to place a bid in order to buy the bike at auction by the date in the listing – it may take more than one bid to ensure you are the highest bidder. Use 'Buy It Now' if it is offered as an option and you would like to buy the bike immediately at the price the seller has offered – if you feel that price is a little higher than you would like to pay you can always put down your 'Best Offer'. The seller then has the option of accepting your offer, suggesting a compromise price or simply rejecting your offer.

Buying on eBay through PayPal will ensure the transaction proceeds directly between the seller and buyer. eBay users are protected by the Buyer Protection Programme.

The eBay Shopping Experience

Delivery and shipping of the bike to you is often provided by the seller, but in some cases the bike may be offered on a collection only basis.

It is recommended that you only purchase from sellers which are authorised through eBay.

It is always worth having a look at a seller's other products for the chance to pick up another bargain and also save on postage costs.

Conclusion on Buying a Titanium Frame bike

When choosing to buy a bike on eBay the buyer must consider a wide range of buying needs; for example, new or second hand, type of frame – titanium alloy, carbon fibre, steel etc, purpose (racing, mountain biking etc),budget, size of the bike, other features of the bike and any particular brand that they prefer.

Having determined to buy a titanium bike the relatively expensive nature of the product means that eBay is the perfect mechanism to find the right bike at the right price. Searching on eBay will deliver a huge and unrivalled range of choices for you to select from in the comfort of your own home with the protection of PayPal and eBay.