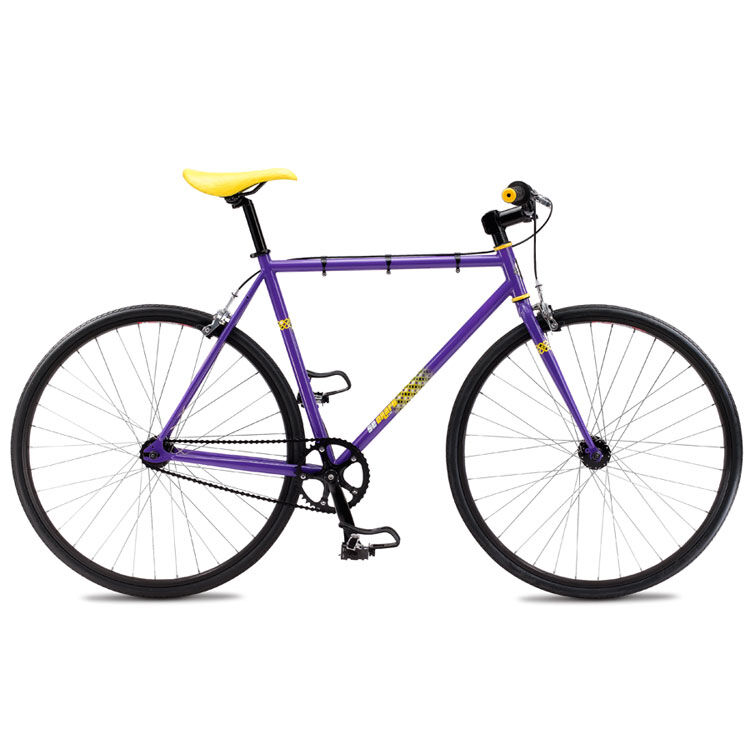 What is a Town Bike?
Town bikes or City Bikes are bikes that are primarily designed for the comfortable negotiation of fairly short journeys through a usually relatively flat urban environment. A town bike may be owned by an urban dweller for short journeys around town or someone in the suburbs with a short commute into town.
Typical of this style of bike is the roadster bike, made by Raleigh and still made to this day by Pashley Bikes in Stratford on Avon. Travellers to Europe will see this style of bike almost everywhere - but in the greatest numbers in Amsterdam.
Whereas many bikes are designed to strip out weight and accessories in the quest for speed, the town bike's design tends toward comfort and utility. Where other bikes require the rider to dress in unseemly and gaudily designed lycra carrying nothing but an energy drink in a bottle, the town bike will protect your dress or suit trousers with an enclosed chain guard and provide you with a shopping basket or somewhere to strap your briefcase.
If you would like a town bike, the best place to find one is on eBay where there is a wide range of new and used bikes available
What features and benefits to look for on a Town Bike
Returned Handlebars
Unlike the straight handlebars of a mountain bike drop handles of a Racing Bike
the handlebars of a town bike curve back toward the rider
Frame Geometry
The frame geometry of a town bike puts the distribution of the cyclist's weight firmly on the seat. This leads to a very upright cycling style, which is very good for awareness in traffic as it allows the cyclist to see and be seen
Bell
This traditional style of bike will usually have a bell mounted on the handlebars
Dynamo
Many of these bikes will have a built in hub dynamo and fixed, integral front and rear lighting. This saves the cyclist having to take away removable lights to prevent theft or having to set up the style of dynamo powered by the rear wheel tyrewall
Enclosed Chain Guard
The enclosed chain guard allows the rider to climb aboard and ride away without the need for trouser clips and without fear of having a dress or trouser leg entangled with the chain. Thus saving at the very least a cleaning bill to remove the oil and possibly preventing material being ripped and clothes ruined
Mudguard flaps and Fenders
Mostly fabricated in aluminium or plastic to prevent surface mud and water spraying up on the cyclist or the cyclist behind. Rear fender/ mudguard will often include a light reflector
Rear Rack & Front Basket
Load carrying duties on a town bike are usually undertaken by a basket mounted to the front Head Post and a rear rack. The rear rack usually has securing points for elasticated strapping to secure a briefcase or some shopping to the rack. They have frequently been pressed into service for carrying a passenger and some have additional fittings to support a baby seat
Suspension and brakes
Many new town bikes will offer suspension on the front forks unlike the traditional roadster and some will offer enclosed drum brakes rather than rim block brakes
Gearing
Some town bikes offer derailleur or Shimano twist grip gearing, but traditionally town bikes come with hub gearing and therefore usually only offer from 3 to 11 gears. However, the upside is that with hub gearing you get the enclosed chain guard. In any event, the progress is more stately than on a frenetic, twitchy 20 geared racing bike
Accessories
If not already factory fitted, town bikes offer a range of accessories to make the experience even more enjoyable. These include extra comfortable wide fitting saddles, bike stands and rubber or plastic block pedals that feel right with ordinary shoes
What are the downsides of buying a Town Bike?
There are a few - but not many, and not all insurmountable- potential difficulties with a town bike. They are as follows:
Weight

A typical town bike with rack, basket, lights etc can weigh as much as 40-50lbs or 18-23kilo. As a contrast a racing bike would be 12-20lbs (5-8kilo) and 20-30lbs (8-12kilo). It's perhaps enough to make you think again if you have a top floor flat and need to carry the bike up several flights of stairs for security reasons.
On the other hand, a town bike is usually very well constructed and may be perfectly able to stand the weather if chained up outside

Hills

The weight of the bike and the upright riding position make a town bike less than ideal for cycling up and down hills

Commuting

Many commuters cycle to the train station, put the bike on a train and then on arrival cycle the remaining distance to work. Town bikes are a bit inflexible for this, so lots of commuters use a folding bike to get around this problem. Many folding bike manufacturers incorporate town bike features into their designs to suit this type of cyclist

What steps to take when buying a Town Bike

There are some simple and important steps to buying any bike on and they are as follows:

Purpose

The starting point is to decide what the bike will be used for. Consider whether the storage issues and downsides of a town bike outweigh the benefits. If they do, then a touring or sports bike may be better. If off road is probable from time to time get a mountain bike

Budget

Set a budget that you can afford and then start searching on eBay. You will be surprised at how many bargains there are. That fully loaded bike with everything on it may be in your reach as a used town bike. Good bikes last many years so don't buy something you will want to replace within a few months.

Size

It is essential for comfort, safety and peak performance that you buy the right size bike.
Most sellers on eBay will specify the frame size of the bike they are selling in both inches and centimetres. A good guide is to measure your inseam, from your crotch to the floor, and then multiply it by 0.65 for a road bike, or 0.59 for a mountain bike, and you will have a good estimate of the size bicycle frame that fits you.

This is purely meant as a guide. People come in all shapes and sizes; some people have quite short legs and a long torso and others long legs and a short torso and they could be the same height.

Manufacturers make frames in different sizes because we all have different size legs. The key element is the inside leg and the cyclist ought to be able to stand astride the bicycle with at least 2-5 cm clearance over the top tube. This should be achievable with the cyclist's feet flat on the floor, not on tip toe

Frame. There are many materials that can be used in bike frames . The town bike is traditionally made of high tensile steel and offered in black with chrome bright work.
Buying a Town Bike on eBay
When you are comfortable with the product information for the bike you have selected, you can consider how to pay for your selection and proceed to purchase. In an Auction the buyer has to place a bid in order to buy the bike at auction by the date in the listing – it may take more than one bid to ensure you are the highest bidder. Use 'Buy It Now' if it is offered as an option and you would like to buy the bike immediately at the price the seller has offered – if you feel that price is a little higher than you would like to pay you can always put down your 'Best Offer'. The seller then has the option of accepting your offer, suggesting a compromise price or simply rejecting your offer.
Buying on eBay through PayPal will ensure the transaction proceeds directly between the seller and buyer. eBay users are protected by the Buyer Protection Programme.
The eBay Shopping Experience
Delivery and shipping of the bike to you is often provided by the seller, but in some cases the bike may be offered on a collection only basis.
It is recommended that you only purchase from sellers which are authorised through eBay.
It is always worth having a look at a seller's other products for the chance to pick up another bargain and also save on postage costs.
Conclusion on Buying a Town Bike on eBay
When choosing to buy a bike on eBay the buyer must consider a wide range of buying needs; for example, new or second hand, type of frame, purpose, budget, size of the bike, other features of the bike and any particular brand that they prefer.
Having determined to buy a town bike the relatively expensive nature of the product means that eBay is the perfect mechanism to find the right bike at the right price. Searching on eBay will deliver a huge and unrivalled range of choices for you to select from in the comfort of your own home with the protection of PayPal and eBay.