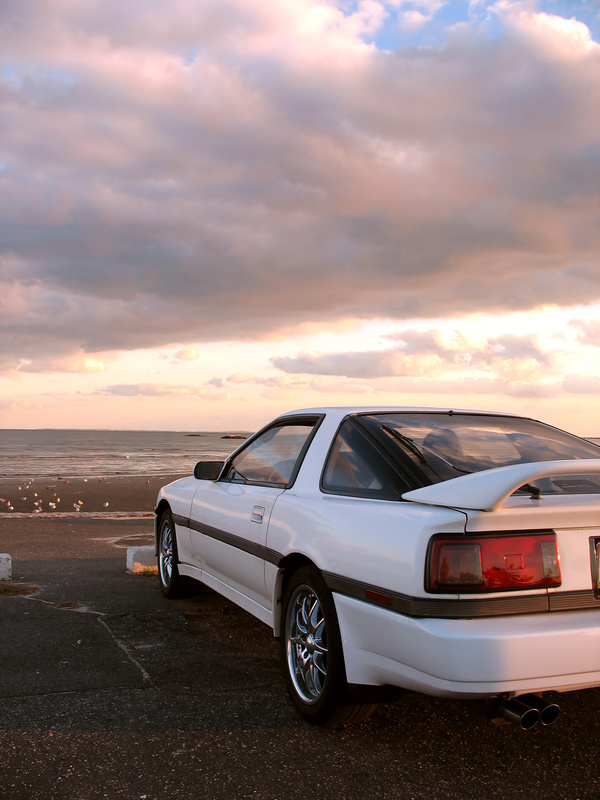 The Toyota Supra is a sporty coupe vehicle that was manufactured from 1979 to 2002. It is a fast car often used in racing circuits, and is also a popular model for those who want a sporty feel to their vehicle. The power and speed of this car have landed it spots in several movies. For example, the 1994 model was featured in the first movie of The Fast and The Furious franchise, which came out on 14 September 2001 in the UK. People who are interested in purchasing a Toyota Supra may have to retrofit it with optional features and aftermarket parts depending on how customised a feel is desired throughout the car.
While the Toyota Supra is not currently in production, it is often available through eBay Motors. The most common models are from the 1990s; however some models from the late 1980s are also available. The standard features, available options, and aftermarket accessories available continue to make the Toyota Supra a popular vehicle that offers functionality without sacrificing sportiness.
Toyota Supra Models
The Toyota Supra is only found as a hatchback coupe, and is available in a variety of models that vary from one year to another. They can often be found with a manual or automatic transmission, depending on the year model. For example, the first generation of the Supra was only available with a manual transmission. In most cases, once a year model is decided upon, it is possible to look for other Supra models within the same generation if nothing desirable is available in the chosen year model.
Generational Differences
As is the case with almost any make of car that was produced over several years, the Toyota Supra is classified into generations. It has four distinct generations, each of which has its own body style and features. While the body style of each generation is different, there are similarities from the previous generations that can be found as well.
Generation

Years

Transmission

Speeds

Cylinders

Engine Size

Turbo Availability

First

1979 to 1981

Manual

Five

Six

3.0 Litre

No

Second

1982 to 1986

Manual or Automatic

Five

Six

2.8 Litre or

3.0 Litre

No

Third

1987 to 1992

Manual or Automatic

Five

Six

3.0 Litre

Yes

Fourth

1993 to 1998

Manual or Automatic

Five or Six

Six

3.0 Litre

Yes
While the 'turbo' feature did not become available until the third generation, it is one of the most sought after features for the Toyota Supra for a variety of reasons. It adds horsepower to the engine to make it a little more powerful. It increases the top speed, as well as the rate of acceleration. For these reasons, many people who are interested in a car for driving fast opt for a model that is fitted with the turbo feature.
Toyota Supra Specifications
When purchasing a Toyota Supra, it is important to understand specifications such as engine size, power, speed, as well as original and additional features available. There are a variety of different models to choose from depending on what the car buyer is looking for in his or her Toyota Supra.
Engine Size
The Toyota Supra is available in 3.0 litre models and 2.8 litre models. The 3.0 litre model is more readily available than the 2.8 litre model because the 2.8 litre model was only manufactured in 1986.
Power and Speed
Almost all Supra models are designed as five speed, six cylinder models. Some models in the fourth generation, such as the 1993 Toyota Supra, are available in either five speed or six speed to give consumers a few different options. Whether the Supra is a five speed or a six speed, the six cylinders in the engine remain constant.
Original Features
Almost all Supras are designed to provide a radio, power windows, air conditioner, heating system, and anti-lock brakes. Some models, especially those made from 1993 to 2002, have CD players or tape decks in them as well. Depending on the year, seating options in the Supra include leather, pleather, or cloth for the car buyer to choose from. More recent Supra models have leather or pleather seats, while the older models tend to have cloth seats.
Additional Features
When purchasing a vehicle, it is ideal to try to find one that already has any desired additional features. In some cases, it is also possible to add features after the purchase of a Toyota Supra. People who want to do this must ensure that the features and accessories desired are readily available and compatible with the year and model of the Supra purchased. Some of the available features include upgraded brakes, woodgrain trim, all-season wiper blades, a CD player, or LED lighting.
Aftermarket Parts and Kits
Aftermarket parts and kits are a common way for Supra owners to personalise the vehicle. Basic aftermarket parts such as seat covers do not have any impact on the performance of the Supra and can be changed fairly easily. Other aftermarket parts such as cold air induction systems alter the performance of the vehicle and necessitate an in-depth inspection.
Spoilers
The most common aftermarket part on many used Toyota Supra cars is the rear spoiler. These spoilers can usually be easily changed; however, it is necessary to determine the measurement of the spoiler already on the car to avoid unsightly installation holes being visible. Some rear spoilers are short and compact, while others like the rear wing are tall, large, and showy.
Light Kits
Another common aftermarket part is a light kit. When trying to find a Supra to purchase, it is necessary to ensure that the light kit, as well as any other aftermarket accessory, complies with local laws and regulations.
Entertainment Equipment
It is not uncommon for Toyota Supra owners to choose to enhance the sound system in the car. For some, this enhancement simply means adding a few speakers. For others, advanced aftermarket audio equipment like rear-mounted speakers, amplifiers, and subwoofers have been added to the vehicle. There are even some Toyota Supra models with headrest-mounted televisions or ceiling-mounted televisions available.
Performance Enhancers
Performance enhancers are common aftermarket items that are added by people who enjoy driving fast. There are a number of performance enhancers available, from quad-tip platinum spark plugs and high-performance brakes to cold air induction kits and bonnet scoops. Another common performance enhancer on many Supra models is an upgraded brake system. It is always important for a driver to ensure that any performance enhancing aftermarket parts comply with local laws and regulations where the car is being operated as well.
Body Kits
Toyota Supras are made to look sporty. Some Supra owners have added body kits to the Supra to enhance this sporty look. There are several types of body kits that are compatible with the Toyota Supra. These include two-piece kits that add side running boards to the body. Other kits are comprised of more pieces and can change the look of the exterior mirrors, door handles, window frames, and overall body style.
How to Buy a Toyota Supra on eBay
People interested in searching for a Toyota Supra on eBay can search for Supra models through the keyword search feature of the website. It is easy to refine the search results by year model and transmission type by simply being more specific in the keyword search.
For large products such as vehicles, it is generally more convenient to find sellers more local to you. You can find out where the seller is located by refining the search results by location. When buying a car on eBay Motors, you also have the option to contact the seller through the messaging system with any questions you may have about the car. Sellers on eBay can answer any questions a person interested in purchasing a Supra may have to ensure that buyers get the best Supra for their needs. Before purchasing a vehicle, it is vital to ensure that all necessary paperwork on the vehicle is present, as missing paperwork can delay registration.
Conclusion
When buying any Toyota Supra model, a buyer must carefully consider exactly he or she wants in the vehicle. Coming up with a wish list prior to beginning a search can go a long way toward finding a dream vehicle. A variety of exterior colours, interior options, and even some optional accessories are available on many Toyota Supra vehicles for sale. With the large number of Supras produced, it is possible to find everything on the wish list in one vehicle.
Additionally, there are many aftermarket accessories a buyer can purchase to add to his or her Toyota Supra. Changing out some items on a Supra, such as a rear spoiler, is not difficult to do and can add a touch of unique style to the car. Other changes, like upgrading the sound system, are a little more complex but add to the overall value of the car. With a little searching on eBay Motors, it is possible for any buyer to find the right Toyota Supra for them.