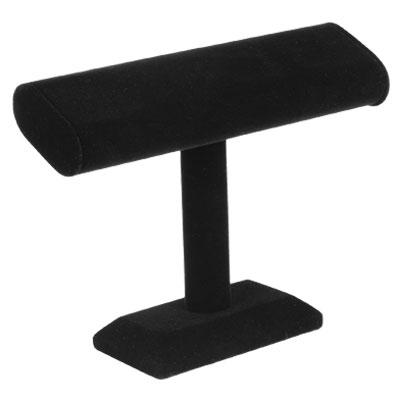 Whether one is a vendor selling his or her handmade jewellery or working in a jewellery store, it is important to choose displays that showcase the jewellery. That is why many people choose velvet jewellery displays. A buyer may be surprised to find that these displays actually come in a range of different styles. Velvet displays are designed to hold bracelets, earrings, necklaces, and rings. Depending on their purpose, these displays come in a variety of different shapes.
Additionally, a buyer has to consider what size display to purchase. This depends on the size of the jewellery and the amount of space that is available. When selling jewellery, it is important to lay out the displays in an artistic manner. It is also important to clean a velvet display occasionally by wiping it off and using a lint brush on it. Velvet displays are an excellent way to showcase jewellery, but they have to be chosen carefully.
Styles of Velvet Jewellery Displays
Different styles of velvet jewellery displays are available to hold different pieces of jewellery. There are displays for necklaces, bracelets, earrings, and rings, and some displays hold more than one type of jewellery. Other displays are actually designed to hold matching sets of jewellery. The seller also may want to keep expensive pieces of jewellery on velvet displays in their own display cases.
Necklace Display
One of the common styles of velvet displays for necklaces is in the shape of a bust. This kind of display is designed to hold one necklace at a time, although they may be able to hold several necklaces at once a few inches apart. These necklace displays can typically stand up or lay down. A velvet bust that lays down obviously takes up more space than one that stands up. Additionally, necklace busts also vary in size, and taller ones can be purchased to hold longer necklaces. Another type of velvet necklace display is shaped like half of a cylinder, and multiple necklaces can be laid over the display. This is a good option for chains with small pendants.
Ring Display
Velvet displays that are designed to hold rings come in different styles. Some styles only hold one ring while other styles are designed to hold a large number of rings. One small style is designed to look like a ring box, and that type of display is rectangular shaped. Either type of display is fine as long as the buyers are able to see all of the rings.
Earring Display
Velvet displays that are designed to hold earrings tend to be a lot smaller. These displays may hold one or more pairs of earrings. If a display holds more than one pair of earrings, it is important to make sure shoppers can see all of the earrings. For instance, large earrings should probably not be placed next to small post earrings.
Bracelet Display
There are also several different types of velvet bracelet displays. These bracelet displays may be in the form of an arm or other long, slender shapes. Some velvet displays look like 'Ts' of different heights on a stand and are designed to hold a number of bracelets at once. The problem is that if there are many bracelets on the same display, some of the smaller bracelets could be overshadowed by some of the bigger ones.
Trays
In addition to different types of velvet displays designed specifically for certain kinds of jewellery, there are also jewellery trays that are lined with black velvet. One advantage of trays is that they can hold many pieces of jewellery. For example, trays can hold necklaces and bracelets and feature slots so that rings can stand up in them.
Tips on How to Best Display Jewellery
There are a number of different things that people can do to showcase their jewellery in ways that attract buyers. It is important that jewellery does not disappear on a display. This is why displays are often solid colours. It enables the buyer to easily see and consider individual pieces of jewellery. If a piece of jewellery blends into a display, then the buyer may want to look for a different method of displaying the jewellery. Sometimes a simple display is best because it allows the beauty of the jewellery to shine through.
If jewellery displays need to be stored, then the owner can place them in large plastic containers. This keeps both the jewellery and the velvet displays in good condition. Although velvet displays are a great way to showcase jewellery that is being sold, they are not a great way to store jewellery when travelling or for long-term storage. Special cases are made for travelling with jewellery, and there are other cases and compartments for storing jewellery.
A buyer also needs to consider the layout of the display and which items look good placed near each other. For example, if multiple pieces of jewellery are on the same velvet display, one item should not overwhelm the other items. In some cases, a buyer may want to consider showcasing jewellery against a different coloured background instead of black.
Choosing Velvet Jewellery Displays
When choosing a velvet jewellery display, a buyer may want to consider a number of factors, including the colour and size of the display. These are just a couple of the decisions that go into choosing a display. A buyer may also want to mix some velvet jewellery displays in with some other styles for a more eclectic look.
Colour
Many velvet jewellery displays come in black, but this is not the only colour that is available. The choice of colour depends on the jewellery that one is trying to display. Black is usually a great option, but if the jewellery is black, then it will just blend into the display.
Size
The buyer also needs to consider the size of the jewellery display. If it will be used in a jewellery store, then the size of the display is important because there is only so much room for inventory. Thus, a buyer needs to think about how much space a particular velvet display takes up and how many displays can fit in a particular space. If the display is going to be located in a case, then the buyer should make sure the display is not too tall for the case.
Cleaning a Velvet Jewellery Display
If a display is dirty, it could distract from the jewellery. A buyer can use a few simple methods to keep the display looking brand new. The trays can be vacuumed if there is a lot of dirt, and then a lint brush can be used to clean off hairs or dust. Tape can also be used to pick up some of the stray hairs and other debris. This is extremely important because black velvet displays show hair and other debris very clearly, which is why it is a good idea to clean them regularly. A damp cloth can be used to wipe up any gunk. The display should always be allowed to dry before jewellery is replaced.
Finding Velvet Jewellery Displays on eBay
It is easy to find velvet jewellery displays on eBay if you know how to make use of the different search tools. One of the first things to do is try the standard search feature. Type keywords such as 'velvet jewellery display' into the search box to retrieve relevant results. If you cannot browse through an extensive list of possibilities, you can try to narrow the search down by using sub-categories or some of the site's filters. This is one of the most common ways to search for items on the site.
You should take advantage of some of the many features that eBay offers to make your shopping experience a better one, including the feedback feature. This feature allows you to rate sellers, but more importantly, if you are unsure about purchasing an item, you can give yourself some peace of mind by checking out what other buyers have said about the seller. After you have purchased an item, you can leave feedback of your own to help future buyers make a purchase.
Conclusion
People who sell jewellery may struggle with finding the best ways to display their items. Velvet jewellery displays are an excellent way to solve this problem and showcase different items. Some velvet displays are specifically designed to show off bracelets, necklaces, rings, and earrings. Additionally, velvet jewellery trays are available for displaying a variety of pieces. There are a few things a buyer should consider when displaying jewellery, such as how the displays should be laid out in cases and choosing displays that highlight the beauty of the jewellery.
Two of the main factors to be considered when selecting a velvet jewellery display are the colour and size of the display. In order to keep the displays looking like new, the buyer should clean them on a regular basis. Fortunately, this kind of display is easy to clean because it can be wiped off with a damp cloth. The user can also clean the display with a small lint brush or vacuum it. Anyone who wants to sell jewellery should consider purchasing classic velvet displays to highlight their wares.