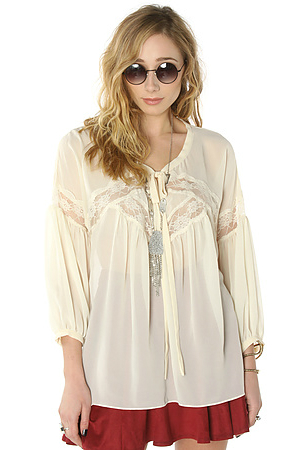 Vintage clothing has experienced a resurgence amongst consumers since the early 1990s. Many celebrities have been spotted wearing vintage clothing, which has only helped to strengthen the trend. Vintage clothing is more environmentally friendly, allowing for the reuse and recycling of garments. Although there is some debate between how old an item must be in order to be considered vintage, vintage clothing typically dates between the 1920s and the 1960s.
Women's vintage blouses are often made of cotton and come in a wide array of colours and styles. Popular vintage blouses feature puff sleeves that gather at the wearer's wrists, square necklines and intricate detailing along the collar and sleeves. Most vintage blouses have been worn, but a few can be found in their original condition. Vintage wear, including vintage blouses, can be found secondhand in vintage shops, car boot sales, charity shops, and through online auction-based websites such as eBay. In order to help buyers in purchasing a vintage blouse, this guide will suggest ways to check for damage to the blouse material, how to compare sizing between vintage wear and modern clothing, and how to properly launder a vintage blouse.
Checking for Damage
When buying vintage blouses, it is always a good idea to check for any damage to the blouse. Vintage clothing is often much more durable and made of higher quality materials than today's clothing. However, due to its age, it may have experienced high volumes of wear.
General Wear and Tear
Buyers should check the areas of the blouse that receive the most stress, including the elbows, cuffs, seams, and armpits. While tearing at the seam lines can often be mended by a good dressmaker, tearing at other areas is generally more difficult to repair.
Stains
It is possible to remove some stains, but those that have been allowed to settle into the blouse over an extended period of time are likely to be difficult or impossible to remove. Mildew and perspiration stains are also difficult to remove. Buyers should check the underarms of the blouse for any lingering stains from deodorant or natural body oils.
Fading
Fading is often associated with vintage wear and can stem from prolonged exposure to sunlight. A good way to check for fading is to turn the blouse inside out and examine the seams. If the seams are slightly darker than the rest of the blouse, then this is a good indication that the blouse has faded. This loss of colour may not be noticeable from the outside, and therefore, the blouse may still be wearable.
Deterioration
Buyers should inspect the vintage blouse for signs of deterioration, especially in those made of natural fibres such as cotton, silk, and wool. Deterioration is common in older garments and may include signs of pilling in the fabric.
Sagging and Stretching
Many of today's fashion items are made with lycra to help the clothing to retain its original shape, but vintage wear predates the wide use of this stretchy material. So, it is not uncommon to find vintage blouses that sag or have stretched over time with regular wear. Vintage wear may also have experienced stretching from prolonged time on a hanger. Silk blouses are especially prone to this type of damage as their fibres become weakened from the downward force exerted by the natural weight of the garment. This type of damage is irreversible.
Odours
Vintage blouses are likely to have been stored without washing for some time. This can cause odours such as mildew to linger. While most odours can be removed with washing, buyers should take special care when cleaning a vintage item as its age and material may make it unsuited to modern cleaning methods and expert help may be needed from a dry cleaner who specialises in delicate clothing.
Moth Holes
Buyers should thoroughly inspect the vintage blouse for any signs of moth holes. Moths prefer dark coloured items, so these blouses should be double checked. While some damage may be minimal, other damage may make the blouse unwearable. If buyers decide to purchase a blouse that has moth holes, the garment should be laundered immediately to prevent the spread of any persisting moth larvae to other clothing.
Embellishments
The vintage blouse should be checked for any missing embellishments including sequins, beading, and embroidery. All embellishments should be securely adhered to the blouse fabric.
Hardware
All snaps fasteners and buttons should be securely fastened to the blouse and be in good working order. Zips should open and close smoothly and be free from rust.
Vintage Sizing
Vintage sizing is inconsistent with more modern sizing. This is thought to be because of the change in women's body shapes over the past decades. Therefore, women should to take their measurements before buying the blouse. This includes measuring the bust, waist, and hips. Women should always ask the seller about the measurements of the blouse and compare it to their own. For plus size women, vintage plus size labels are often recognised by their half sizing.
Properly Caring for a Vintage Blouse
Vintage blouses should be dry cleaned or hand washed. Vintage wear should never be machine washed because of the fragility of the fabric and seams. Certain fabrics such as silk, velvet, wool, and chiffon should never be subjected to water. For buyers who intend to hand wash a vintage blouse, then use warm or cool water as hot water can cause fabric dyes to run and may promote fading. Most vintage blouses can be placed in the dryer as long as the fabric is durable enough to withstand heat, although laying the blouse flat to dry is always the preferred method. It is best to launder the blouse immediately after wear to prevent any stains from settling into the fabric. Even if there are no evident stains on the garment, body oil, deodorant, and perspiration can all cause damage if left untreated.
Buying a Vintage Blouse
Although vintage blouses can be found at auctions, car boot sales, and charity shops, the most common place to shop is online. Vintage collectors have a vast online community where they share photos, ideas, and buy and sell vintage clothing. When looking at vintage blouses for sale online, ask the seller about wear and tear and other defects. When starting to search for a blouse, buyers should browse through listings until they gets a fair idea of what the item should cost.
Buying a Vintage Blouse on eBay
Buying online is made easy with sites like eBay because they offer security and convenience. eBay's auction feature is especially useful to buyers searching for vintage clothing. By bidding on an item and keeping up with the bidding until the end of the auction, many items can be bought for less than their value in a bricks and mortar secondhand shop.
To find vintage blouses on eBay, simply go to the eBay homepage and search for "womens vintage blouse" by typing the keywords into the search bar at the top of the page. Alternatively, buyers can use eBay's advanced search feature to narrow down listings by category, price, or buying format.
Choosing Top-rated sellers on eBay ensures that the seller has a history of good customer service. This feature makes eBay a secure online marketplace to buy and sell vintage blouses. It is a good idea to become familiar with the terms and conditions before buying. Some sellers may allow buyers to return items, if necessary, while, others do not have a returns policy. It is always best to read an item description carefully before placing a bid. If there is no mention of a returns policy, buyers should contact the seller using the "Ask a question" link on the description page.
Conclusion
It is more than possible to find the perfect vintage blouse for any occasion with just a little bit of research. The majority of vintage blouses are likely to have been worn, so it is important to examine the garment carefully for any signs of damage including discolouration, tears, and lingering odours. While some imperfections may be easy to mend, others are irreparable. Buyers must decide which imperfections give the vintage blouse character and which render the blouse unwearable. Buyers must also consider sizing and take their appropriate measurements, and compare them to those of the blouse before finalising a bid on eBay.
If the buyer has any questions about the features of the garment, or its history, they should contact the seller. As with any garment purchased online, it is wise to ensure that the blouse can be returned in the event of it being a poor fit. By being familiar with the appropriate way to store and launder a vintage blouse, the buyer can help to preserve the garment for a future generation of wearers. After all, the pleasure in vintage wear should come from knowing that the beauty of the blouse will last over time.