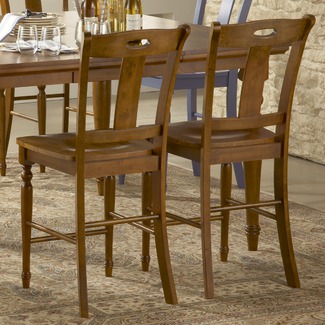 The dining room is the showpiece of the home. Used during the holidays and for formal dinners, this is the area where homeowners can display expensive items. Dining rooms often include a curio cabinet full of bone china, or an expensive piece of art hanging on the wall. Even the dining room table itself is valuable. Those who want to stand out from the crowd, can look beyond the borders of new furniture sold in shops and explore the wonderful world of vintage dining room sets.
Vintage collecting has its own appeal, allowing homeowners to purchase an investment piece that will one day become an antique. Therefore, when buying vintage dining room sets, the buyer needs to pay attention to the style, quality, and condition of the table and the chairs. While vintage sets can sometimes be found in secondhand shops or estate sales, eBay is most often the best choice for a steady year round selection.
Vintage Furniture
Vintage furniture occupies a unique period of time where the furniture is old enough to be collectible, but not old enough to be considered antique. Since antique furniture must be older than 100 years, today's vintage furniture comes from the early and middle part of the 21st century. This includes the impeccable Arts and Crafts movement, the cost-cutting measures of Depression Era furniture, and the fabulous style of Art Deco. Even Art Moderne furniture is now considered vintage. Each one of these periods has their own distinctive style, and investment buyers need to understand what sets them apart from the rest.
Arts and Crafts
The Arts and Crafts design period lasted from 1860 to 1910, and earlier pieces of this design school are considered antique and highly collectible. However, many of the most expensive pieces of this movement were created during its latter stages, meaning that a buyer still has an excellent chance to find a vintage Arts and Crafts piece before it becomes labelled as an antique.
Composition of an Arts and Crafts Dining Table
This highly popular style focused on a return to handmade woodworking using a simple design with echoes of medieval, romantic, and folk aspects. Strong lines and excellent materials, were typically the tools of the trade. Romantic and medieval subjects, mainly flora and fauna, were engraved on many pieces. For example, an Arts and Crafts dining table would likely have floral engravings on its tapered legs, or the backings of the chairs carved with flowers. Woodworking was highly sought after during this period, so expect to find tables made out complete pieces of wood without veneers. In fact, the use of veneers is a good way to tell a replica piece from an authentic one.
Depression Era
The Depression Era stretched from the early 1920s, to the turbulent warring decade of the 1940s. In contrast to the previous Arts and Crafts style, which placed an emphasis on creating simple forms from the best materials, Depression Era pieces tried to make do with what they had. While it is rare to find a true Arts and Crafts piece with wood veneers, their use is common during the Depression Era since buying a large piece of wood for a dining room table was too expensive.
Unique Features
To compensate for the cheaper materials, Depression Era design harkened back to the glorified days of Victorian design. There are Depression Era dining tables with curved legs in the Queen Anne or Chippendale style, or dining room chairs with carved backings. At one point, this time period was largely overlooked by collectors because it was seen as cheap furniture replicating styles of the past. Recent years, however, have seen a rise in Depression Era furniture as a product of the turbulent times that gave birth to this movement.
Art Deco
One of the most beloved styles of past century, the Art Deco period lasted from 1920 to 1940, and is sometimes called the Interwar Period. It sprang out of the Arts and Crafts movement, and is influenced by Greco-Roman, Egyptian, and Asian culture. Furniture pieces get their proportions and balance from Greco-Roman styles, their strong silhouettes from Egyptian motifs, and their heavy layer of lacquer from Asian inspiration.
Key Art Deco Features
The Art Deco period was quite an eclectic movement that stemmed from a desire to rediscover the past. Remember, this was the time that King Tut's tomb was discovered in Egypt, and if the buyer is quite lucky he or she could find an Art Deco dining room set with chairs inspired by Egyptian design. But the form was more restrained than it was during the Arts and Crafts period, so that a dining room table would have its focus be on the lacquered grain of the wood, not any supplemental carvings.
Art Moderne
Art Moderne, also called Mid-Century Modern, was a reactionary style against Art Deco. Strangely enough, the two styles sometimes get confused with one another, largely because they were produced at the same time. Art Moderne was popular in the 1940s, as well as the affluent Post-War Period. It celebrated the Industrial Era, replacing the organic and natural motifs with bold, geometric ones. A hallmark of Art Moderne is extremely simple style that focuses on the lines of a piece. Expect a Mid-Century Modern dining table to combine different geometric designs, such as a straight tabletop with diagonal legs, or chairs that use a mixture of different angles.
Buying Investment Vintage Furniture
Customers choose to purchase vintage furniture because they find the style appealing, or because they want to make a good investment. Ideally, they will purchase a piece for both these reasons. When buying for investment, make sure the piece is a fine example of its time period. This means to buy a piece for its stylistic qualities. An Arts and Crafts piece, for example, should feature a fine example of individual craftsmanship. An Art Deco piece should exemplify the materials used with few embellishments. An Art Moderne piece should have strong architectural lines and little ornamentation. The most important part of investment buying is to only purchase originals, never reproductions. If the buyer is unsure, always ask the seller if it is a reproduction piece.
Conditional Considerations for Vintage Furniture
The condition of the piece must also be evaluated before purchasing it. Obviously, all of these pieces have been used, but some have been treated more carefully than others. While it is possible to restore furniture, this is a costly venture. If a buyer truly falls in love with a piece of well-worn vintage furniture, then he or she may be willing to pay for restoration costs. However, in some cases where a piece is missing certain parts it will never be able to be truly restored, affecting its overall value. Therefore, investment buyers need to purchase a dining room table in good condition. Make sure all of the pieces, including the chairs, have all of their parts attached. If the table had an insert at one time, make sure the seller still has this piece. Small scratches on the surface can easily be repaired, but large gouges cannot.
Buying Vintage Dining Room Sets on eBay
There are several reasons why bargain shoppers love eBay. Before there existed the ability to shop online, many bargain hunters were restricted to their local secondhand shops. With the advent of large online marketplaces like eBay it is now possible to purchase vintage furniture from all over the world. eBay excels at having the widest selection of used furniture online, ranging from recent pieces to true antiques. There is also a superior selection of vintage furniture, and some of it can be bought for fantastic deals. Anyone who wants a truly unique investment piece needs to check out eBay first, before heading to a local store.
Finding Vintage Dining Room Sets on eBay
The best way to find a vintage dining room set on eBay is to learn how to use the search engine. By entering terms into the search engine, eBay will scour all current auctions for descriptions matching your search terms. It is best to start off with a broad topic, and then work your way to a more narrowed search. For example, if you want to browse eBay's listings for Art Deco dining room sets, start your search with "Art Deco dining room sets&". If you need a specific size, such as a table with six chairs, then search for "Art Deco dining set 6&". Sometimes, however, it is difficult to find a complete set, so customers may have to mix and match. However, for investment buyers, keep in mind that purchasing an entire set is a better investment than purchasing individual pieces that did not originally go together.
Conclusion
Collecting vintage furniture is a wonderful way to increase the style of a home while making a wise investment. Vintage dining room sets combine the glory of years past, with a future of rising values. When buying true vintage pieces, always make sure they are accurate pieces and not reproductions. There are hallmark styles for each of the time periods that sets them apart from one another. Sometimes it is difficult to gauge a reproduction piece from an original, but the item should be marked as reproduction.
The piece of furniture should be a strong example of its time period so that in future years it will be easily recognisable. It should also be good condition, unless the buyer wants to spend the extra money for restoration costs. eBay's gigantic website is one of the best places online to find vintage furniture. The selection is unmatched, and in many cases the prices are surprisingly affordable.