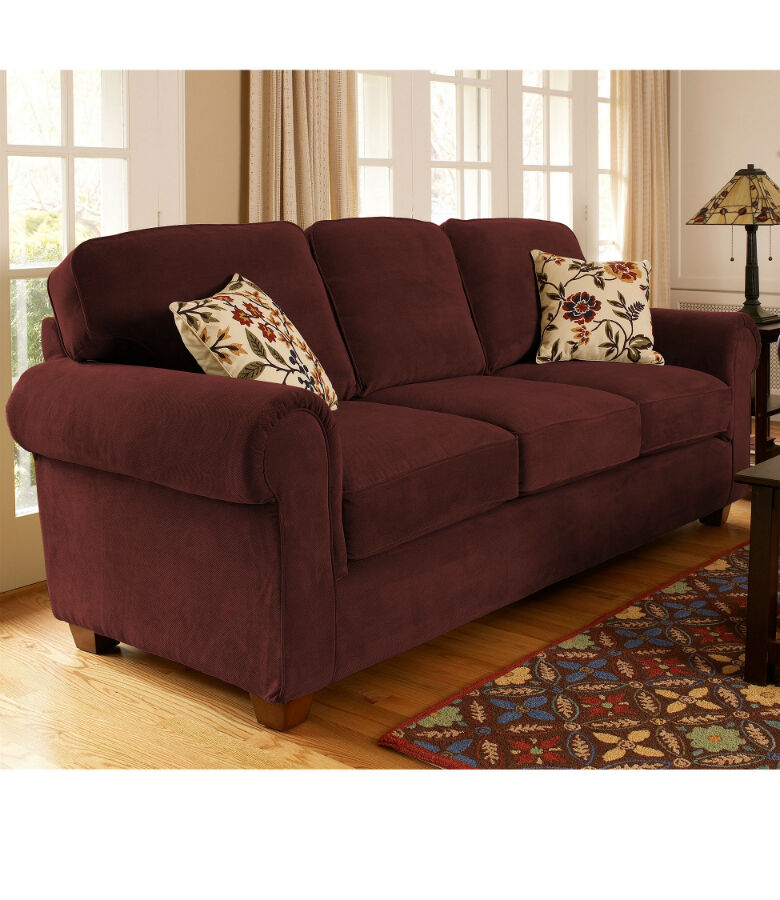 While for many it may be difficult to imagine a home without a sofa, this indispensable piece of furniture only appeared in Europe around the turn of the eighteenth century. The earliest surviving sofa comes from England and was made in the 1690s. The French, however, dominated production during that period. The "canapé", a low-backed, lightly padded version, was initially popular. Gradually, the sofa became more comfortable and more sophisticated, with advances in both woodcarving and upholstering techniques. Advertisements of early couches depict women in casual reposes, promoting the sofa as an article of ease and relaxation for the modern home.
The twentieth century saw a turn towards form and function with the advent of mid-century design. Vintage sofas, whether inspired by the decorative versions of centuries ago, or the sparer, sleeker designs of the twentieth century, are investments in style and quality. When shopping for a vintage sofa, buyers should be aware of the different styles available, as well as what to look for in a terms of materials and construction. Informed shoppers can make their selections carefully, and find the perfect sofa for their home.
Glossary of Common Vintage Sofa Styles
While there are many styles of vintage sofas available, the following is a glossary of some of the most timeless types of vintage sofas whose popularity has endured for decades.
Art Deco
Art Deco is an eclectic style that emerged in France during the 1920s, and flourished worldwide during the 1930s and 1940s, but declined after World War II. Art Deco sofas may be characterised as featuring bold colours and geometric designs, inspired by both craft and futuristic motifs.
Bergère
Bergère is a style that emerged in France in the eighteenth century. Bergère sofas have closed sides which may be upholstered or enclosed by cane. The back may be high or low, square, round, curved, or conical. These deep-seated, ornamental pieces are designed for comfort, yet have an opulent, luxurious appearance.
Chesterfield Sofas
The Chesterfield sofa, named for the Earl of Chesterfield who had one commissioned in the late eighteenth century, is a fully upholstered piece with back and rolled arms of the same height. The arms and back form one continuous curve. Chesterfield sofas are traditionally in buttoned leather, and have arrow, ball, bun, or block feet. Chesterfields have a heavy, plump, sumptuous appearance.
Danish
The mid-twentieth century was a peak period for Danish design, which, inspired by the Bauhaus school, emphasised functionality and simplicity over ornamentation. Kaare Klint is credited with pioneering the Danish Modern style. There were several other famous Danish designers from the period, including Børge Mogensen, Finn Juhl, Hans Wegner, Arne Jacobsen, Poul Kjærholm, Poul Henningsen, Verner Panton, Hans Olsen, and Ole Wanscher. However, anonymously made pieces are also of generally high quality. Vintage Danish sofas feature clean lines, with an imaginative yet simple emphasis on form and function.
Ercol Windsor Sofas
The British furniture company Ercol mass-produced Windsor chairs and sofas in the mid-twentieth century. Having perfected a way to steam bent elm wood, previously thought impossible to bend, Ercol met with tremendous success in post-war Britain. The Windsor sofa features a bentwood frame with clean, curved lines, and an upholstered back and seat.
Mid-Century Modern
Mid-century modern is a general descriptive term for a design movement that lasted roughly from 1933 to 1965. It encompassed the field of architecture, industrial design, graphic arts, and more. Mid-century sofas are often characterised by simple, innovative designs that emphasise form and function rather than ornamentation. The frames are usually of quality hardwoods like teak, elm, or cherry, and may be partly or fully upholstered. Authentic pieces by iconic designers, such as Herman Miller, George Nakashima, and Charles and Ray Eames, are highly sought-after and will likely continue to appreciate in value. However, they can be very costly. Anonymous pieces are generally also of very high quality for a fraction of the cost.
Victorian Sofas
Although technically anything older than 100 years is classified as "antique" rather than "vintage", some sellers may list Victorian couches as vintage. While there was no dominant style in furniture design during the Victorian Era, designers were influenced by Tudor, Gothic, Neoclassical, and Rococo elements. Victorian sofas are likely to have covers in opulent fabrics like leather, velvet, or silk, featuring designs inspired by Middle-Eastern and Asian traditions, floral prints, or stripes. Wooden arms and legs are carved for added ornamentation.
What to Look for in a Vintage Sofa Frame
One advantage of vintage sofas is that their frames tend to be of high-quality hardwood that is constructed with excellent craftsmanship. Shoppers should look for hardwoods like beech, birch, teak, elm, walnut, oak, and rosewood, which is now endangered but was much used in mid-century Scandinavian design. The wood should be kiln-dried to prevent warping.
Signs of quality craftsmanship include a frame that is double- or triple-dowelled, which ensures a square frame, and corner-blocked, meaning that triangular pieces of wood have been inserted at the corners, which prevents the frame from twisting.
Vintage Sofa Materials
In addition to the frame, the cover and filling materials affect a sofa's longevity, comfort, and overall appearance.
Cover Materials
Some vintage sofas come with their original covers, while others may have been reupholstered. The following chart outlines some of the most common materials buyers may encounter in their shopping.
| Material | Characteristics |
| --- | --- |
| Leather | Highly durable; quality leather improves with age; look for pure or semi aniline |
| Velvet | Luxurious, plush fabric; does not wear as well as crushed velvet |
| Crushed Velvet | Good alternative to velvet as it wears better |
| Chenille | General term refers to tufted fabric; may be natural or synthetic material; soft; wears well |
| Silk | Natural, lustrous fibre; snags easily and requires dry-cleaning |
| Wool | Natural fibre; durable; may require dry cleaning |
| Cotton | Natural fibre; durable; generally machine-washable |
Buyers should consult with the seller about fabric care requirements before purchasing. Durable fabrics that can be easily cared for are best for sofas that get a lot of use.
Removable or Fixed Covers
Some sofas have removable covers that slip off for easy care. Sofas with fixed covers are more difficult to clean.
Filling Materials
Sofa filling materials include duck and down feathers, which are luxuriously soft but require regular plumping, polyester fibre, and polyurethane foam. Fibre tends to be softer than foam, and require less care than down. Since filling materials tend to flatten over time, some vintage sofas may require new filing. Fortunately, it is fairly inexpensive to do so.
Refurbishing
While refurbishing a vintage sofa can be a very costly endeavour, it may be worthwhile, as long as the piece is unique, well-constructed, and affordably priced. Refurbishing allows buyers to renew a vintage sofa, and also gives them the option of choosing materials that suit their use and decorative needs. Fortunately, simply replacing foam filling is relatively inexpensive.
How to Buy a Vintage Sofa
Because any quality sofa is an investment, shoppers should prepare adequately before setting off to buy a vintage sofa.
Research Eras and Styles
Researching eras in vintage design can be both entertaining and informative. Consumers can read books on vintage design, research Internet sites, and visit local vintage dealers to learn more about styles, major designers, and collectors' pieces. Knowing about vintage furniture helps buyers spot items of value and avoid imitations.
Preliminary Considerations
Before buying a sofa, it is vital that shoppers measure the space where they plan to put it. Lay down old newspaper in the approximate area where the sofa should be and then record the dimensions. This is an easy way to get an accurate idea of what size sofa to look for. Remember to measure all door frames as well, to make sure the item can be delivered without trouble.
Where to Buy a Vintage Sofa
Vintage sofas can be found anywhere from the pavement to high-end auctions. Bargains may be found at street markets, estate sales, and auctions; vintage shops are likely to have dealers with a lot of expertise, though the prices may be somewhat marked up. Online auction sites like eBay are also a great place to find quality items at competitive prices.
How to Buy a Vintage Sofa on eBay
If you've decided to hunt for a vintage sofa on the Internet, eBay's online auction is a great place to look. There is a wide selection with new items daily, plus the option of browsing eBay Shops. To search for auction items, go to eBay's home page and type keywords like "vintage mid-century sofa" into the search bar. You can then modify your results by selecting things like price range, seller location, and item condition.
Before you bid, always read the product description carefully, paying close attention to the details of the sofa's condition. Look carefully at the pictures, checking for any issues like stains, dents, or breaks in the frame. Also verify the shipping requirements. The fees may be costly, or sellers might require local pickup. If you have any questions, you can contact the seller through eBay.
You should also research the seller. Check their feedback rating and read comments left by previous buyers who have purchased vintage furniture from them. This is especially important when the authenticity of a vintage piece is a concern. First-time buyers may want to seek items from experienced and knowledgeable sellers. Top-rated sellers have a strong track record of excellent customer service.
Conclusion
Vintage sofas are an excellent addition to virtually any home. With many different styles from which to choose, many vintage sofas feature quality materials and craftsmanship, as well as a uniqueness of design rare in today's market of mass-produced furniture. When shopping for vintage sofas buyers should inform themselves of what to look for, so as to find an item in good condition that works with their decorative taste.
The first step is to acquaint oneself with different vintage sofa styles. From opulent Victorian sofas to spare Danish designs, there is a wide range from which to choose. It is also important to look for quality materials that the owner will be able to care for. These include cover materials, filling, and frame. Looking for kiln-dried hardwood frames, for example, is important when searching for a sofa that will last for years to come. Finally, shoppers benefit from some familiarity with the design eras that appeal to them. This helps them assess value and identify quality items, as well as inauthentic ones.
By following these guidelines, buying a vintage sofa can be both a fun and rewarding process.