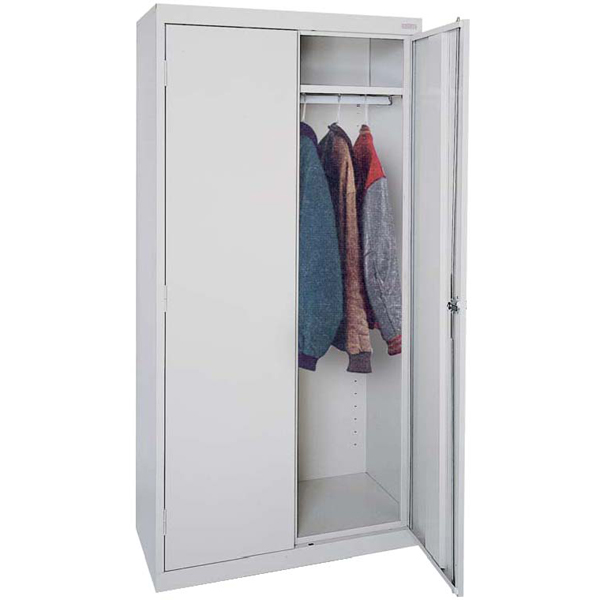 Wardrobes have been a staple of the bedroom and dressing room for centuries. These impressive pieces of furniture provide both aesthetic and pragmatic benefits, and they may even be handed down from generation to generation due to their value as an object. For people with limited closet space, a wardrobe can provide the additional storage needed to keep clothes orderly and in good condition. For those who value furniture design, a wardrobe can deliver a real style statement to a room.
There are a wide range of options for wardrobes in the marketplace, and a number of them can be found on the online auction site, eBay. On eBay, consumers can look through numerous listings in both new and vintage wardrobes, giving them access to one of the largest catalogues of wardrobes available. By familiarising themselves with wardrobe types, reviewing the eBay purchasing process, and following a few key tips, consumers can leverage this online auction site to find the ideal wardrobes for their homes.
Shopping for a Wardrobe on eBay
To begin shopping for a wardrobe on eBay, you can run a search using the search bar located on any page on the site. Searching for the term "wardrobe" gives you an overall view of the eBay marketplace, allowing you to peruse through the different styles of wardrobe available. You can also enter a more specific term, such as "wood wardrobe", to narrow your search and bring up more relevant listings.
Of course, before searching for a wardrobe, it can be helpful to understand the range of styles on the market. It also helps to be aware of how a wardrobe works, in addition to knowing its internal components, and how a wardrobe functions in a space.
What is a Wardrobe?
Sometimes referred to as an armoire, a wardrobe is a free-standing closet of sorts which provides hanging space as well as drawer space for clothing, along with storage space for shoes. Wardrobes are typically tall structures, ranging anywhere from 1.2 m to 1.8 m or more in height. Wardrobes can feature everything from a basic hanging rack inside, to drawers, shelving, cubicles, and shoe racks. Many wardrobes feature a set of double doors that block off the items stored inside from view, creating an elegant facade that belies the practical nature of this piece of furniture.
Types of Wardrobes
Given the long history of wardrobes as a highly useful item in the home, an enormous number of options are available that address almost any style era, including some from previous centuries. As heirloom items, wardrobes are also prevalent in the vintage marketplace, offering consumers a range of classic selections as well.
Modular Wardrobes
Modular wardrobes are modern pieces that feature a streamlined aesthetic and minimal design elements. These wardrobes typically have two smooth, undecorated doors on the front with a modernist handle fixture. Inside, this type of wardrobe delivers a comprehensive storage solution, combining cubby storage, drawer storage, and hanging storage in numerous ways. As modular units, many of these wardrobes can be arranged in a variety of ways to deliver an ideal storage solution for an individual.
Three-Door Wardrobes
Three-door wardrobes are another contemporary solution to wardrobe storage. Three-door wardrobes feature three doors on the front of the wardrobe, instead of the traditional double doors. Two of these three doors typically open on to the hanging storage area of the wardrobe, while the third door opens up a drawer or shelving area. Three-door wardrobes can also have external drawers integrated into the design, located at the bottom of the front of the wardrobe.
Classic and Vintage Wardrobes
There are a number of wardrobe styles which have their provenance in past style eras. These wardrobes can be found as new constructions or as vintage pieces in the eBay marketplace.
Art Deco Wardrobes
Art deco wardrobes hail from the style era of the 1920s and the 1930s. The more iconic samples from this style are often made in burr walnut, a type of walnut that contains a large amount of whorls and contrast in the wood, creating a dynamic visual effect. Many art deco wardrobes do not have straight edges or corners, but instead have a slightly swollen, curvilinear silhouette. A popular design type in art deco wardrobes is to have a larger and taller central door that is surrounded by two shorter elements on either side. Art deco wardrobes can also feature inlay work as well as mirrors integrated into the front panel design.
Victorian and Edwardian Wardrobes
Victorian and Edwardian wardrobes have similar features, as their style eras happened in succession during the late 19th and early 20th centuries. Victorian and Edwardian wardrobes are large, imposing wardrobes which can often feature ornate woodwork accents at the top of the wardrobe as well as on its feet. One of the more prevalent accents in a Victorian wardrobe is the central mirror which is located on the front door of the wardrobe. This mirror can be oblong or rectangular in shape. Victorian and Edwardian wardrobes can also have detailed inlay work in the wood, creating ornate decorative patterns and accents.
Rustic and Shabby Chic Wardrobes
Rustic and shabby chic wardrobes have much of the same structural elements as Victorian wardrobes, but they incorporate a much rougher and more basic design aesthetic. Shabby chic wardrobes are typically white or ecru in colour, while rustic wardrobes are usually wood grain in colour. Rustic and shabby chic wardrobes can have a central mirror like in a Victorian wardrobe and include integrated drawers on the exterior. The decorative elements on a rustic or shabby chic wardrobe tend towards the minimal, with either no design accents in the facade or with only basic graphic shapes included. Some rustic wardrobes can actually have unfinished or unglossed wood, creating a very rugged look.
Retro 1960s Wardrobes
Wardrobes from the 1960s are another commonly-found vintage item on the eBay marketplace. Retro wardrobes from this era feature a Danish Modern aesthetic, with minimal decorative elements and two, plain front doors. This type of wardrobe was the precursor to the modular wardrobes of the present day. The delineating factor between retro 1960s era wardrobes and contemporary wardrobes is in the colour of the wood. Many 1960s options are made of light-coloured woods and sometimes involve contrasting sections of darker wood. Contemporary wardrobes can feature much darker woods or even primary shades such as black or white lacquer.
A Note on Wardrobe Dimensions
Before purchasing a wardrobe on eBay, it is important for one to confirm the size of the space available in a room for a wardrobe. Consumers should measure the width of the wall space as well as the depth available for a wardrobe. When measuring a wardrobe space, one should remember to leave room for individuals to walk around or past a wardrobe. It is also important to remember that wardrobes can be quite tall, so ceiling height should be taken into account along with the width of the doors through which a wardrobe needs to be moved.
The Purchasing Process on eBay
Once you have settled on a style of wardrobe and begun searching through listings on eBay, you may want to begin investigating relevant listings in detail. Click on a listing's title to access its specific page for details. On this page, you can find important information such as shipping details and delivery costs as well as notes on the make and condition of a piece. Reviewing these details can help you confirm whether a piece is right for you. It is also important to confirm the size of a wardrobe and determine whether or not it can fit well in your available space.
Evaluating Sellers on eBay
Another important step in the eBay purchasing process is evaluating the sellers from whom you are interested in making a purchase. You can do this by visiting the seller's own page. Look through a vendor's past auctions and review all of the feedback a seller has received from other customers. When buying a vintage wardrobe piece, you may choose to also communicate directly with a seller to confirm the provenance of a vintage piece. Another alternative to ensure a smooth purchasing process is to work with eBay's top-rated sellers. These sellers have earned the rating based on their quality of customer service, the feedback received from customers, and the delivery of items in a timely manner.
Conclusion
A wardrobe is an essential and aesthetic piece that can bring value to a bedroom, guest room, or dressing room. These classic and contemporary pieces deliver both form and function, allowing consumers to get the storage space they need in a stylish way. Everything from a vintage Victorian wardrobe to the new modular solution can bring the ultimate combination of pragmatism and beauty into an individual's home.
As one of the largest aggregators of merchants in the world, eBay gives consumers a way to access a comprehensive catalogue of both new and vintage wardrobe options. New listings cover modular and modern units as well as vintage replicas, while the wide-ranging vintage marketplace on eBay gives users samples from almost any style era of the last few centuries. By running a search, looking at relevant listings in detail, and communicating proactively with a vendor, a consumer can utilise eBay to find the ultimate wardrobe solution for his or her needs.