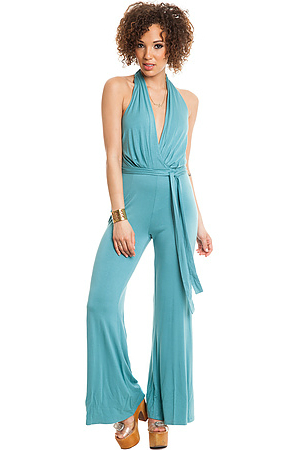 A women's playsuit, commonly known as a romper, is a one-piece garment similar to a jumpsuit, but with much shorter bottoms. The playsuit features shorts and a connected shirt, which can have sleeves that vary in length. The shorts can also vary from very short shorts to longer legs. The width of the legs can be tight and form-fitting or a wider style. Some playsuits may have shorts with cuffs, while others have a more tailored look with pleated front panels. Playsuits may also feature pockets or other details.
Women's playsuits were popular during the 1970s and were typically made of jersey, terry cloth, or silk-like fabrics. Jersey and terry cloth were ideal for the summer. Silky fabrics were best suited for evening wear. Since the turn of the century, playsuits have experienced a significant resurgence in the fashion industry. More modern playsuits can be found in a wide array of fabrics, colours, styles, and fits. As playsuits are typically short, they are thought of as summer wear, and so are frequently found in lighter colours and fabrics. Playsuits are a fun alternative to summer dresses. In order to help women in buying a playsuit, this guide will discuss their history, provide insight into the different materials used to make them, advise on choosing the right playsuit for a particular body shape and how to accessorise it. Finally, it will provide suggestions on how to search for and purchase a women's playsuit at an online auction site, such as eBay .
History of the Playsuit
Playsuits made their debut in the world of fashion in the early 1900s. The garment was originally geared towards younger children and offered increased comfort for high levels of movement, especially when compared to the more restrictive clothing available at the time. Styles of the playsuit varied between countries. In France, the playsuit was only fashioned for boys and was considered smarter than the playsuits worn in the United States. By the 1950s, the playsuit had grown in both popularity and versatility and was seen worn by both children and women alike. Women's playsuits were typically reserved as leisure and beachwear. Playsuits remained popular among infants and toddlers, however, the garment made only sporadic appearances in women's fashion until its revival in 2006, when it became a regular feature after moving from the catwalk to the high street.
Types of Playsuit Materials
Women ' s playsuits can be found in various fabrics. While some are better for casual day wear, other, more chic fabrics, can allow the playsuit to transfer from day to nightwear. The fabric should be considered when deciding where to wear the playsuit, as well as the level of care required.
Terry Cloth
Terry cloth has a high-pile loop of soft cotton, either on one or both sides of the fabric. This gives the material its textured appearance. Terry cloth is highly absorbent and durable. It is easy to care for and is not prone to creases, maintaining its appearance well after repeated washing.
Cotton Jersey
Cotton jersey is light, soft, and comfortable. The fabric is flexible, stretching to conform to the wearer's body shape. Some cotton jersey is made from 100 percent cotton, whilst other types are composed of a synthetic cotton blend.
Silk
Silk is versatile and makes for elegant evening wear. It keeps the wearer cool during the summer and warm during the winter. However, silk fabric is high maintenance and requires special care. Pure silk playsuits are prone to water spots and stain easily; they should always be dry cleaned to preserve their appearance. Some silk playsuits may be blended with wool to help to increase the fabric's durability and to decrease its cost.
Cotton
Cotton is known for its softness and durable nature. Its breathability makes a garment ideal for wear during the warmer summer months. Cotton absorbs body moisture and is able to retain 20 per cent of its weight in water before feeling damp. This material is ideal for women with skin allergies or sensitive skin. Cotton is easy to care for and maintain.
Linen
Linen is widely used in the making of women's playsuits. It is durable and available in a variety of textures. Its high absorbency means that linen can be worn in any kind of weather, including hot and humid environments. Linen playsuits are easy to care for and are machine washable. It is known to improve in wearability as it softens after repeated washing. Linen keeps its shape and is not prone to stretching.
Accessorising Women's Playsuits
Women's playsuits can be accessorised in a number of ways. One popular way is to add a belt, which helps to accentuate a woman's waist. Some playsuits may even come with an attached belt. To best flatter a woman's figure, belts should be worn around the natural waistline, or the slimmest part of the midsection. If the playsuit is to be worn during the day, a pair of sandals or wedges will complement the garment. To dress up a playsuit for evening wear, women can add an elegant pair of high heels and jewellery, such as a necklace. A jacket or cardigan can also help to transform the look, while providing an extra layer of warmth.
Choosing a Women's Playsuit Based on Body Shape
Women's playsuits come is a wide array of styles. Choosing the perfect playsuit depends on body shape as well as personal preference. Strapless playsuits are best suited to apple and pear-shaped figures as they draw attention up towards the shoulders and away from a woman's midsection. Playsuit shorts should be looser fitting to downplay a broad bottom. Hourglass figures can also benefit from this look. One shoulder and halter playsuits look great on women with broader shoulders as they create a narrowing effect. Short sleeve and tank top playsuits are more versatile and can be worn by a variety of body types. Some playsuits now feature a convertible top, allowing them to be worn in a number of ways.
How to Buy a Women's Playsuit on eBay
Shopping for a women's playsuit can seem like a daunting task, but the wide variety available on eBay and the ease of purchasing shows you how convenient shopping can be. From the eBay home page, simply enter your search for any type of playsuit into the search box and a wide variety of results will appear. For example, type "floral playsuit" to see a wide range of playsuits for a summer's day. For more selective listings, you can use eBay's advanced search feature to filter your search to your exact specifications.
If you prefer to browse the different types of women's playsuits available, go to the eBay home page and choose the appropriate categories. This is the preferred option as it gives buyers a wider selection of women's playsuits to choose from. Within these categories, you are able to narrow the results by price, condition, and even by listing type.
Before finalising any purchase on eBay, investigate the seller thoroughly. This is simply a matter of reading a seller's feedback comments and checking their rating. A good rating indicates that the seller is known for dealing fairly within the eBay community. Sellers with consecutive positive feedback from buyers over an extended period of time will be indicated by their Top-rated seller badge. You can communicate directly with the seller using the "Ask a question" feature beneath the item description. Ensure that the seller will offer an exchange or refund if the item does not fit or is otherwise inappropriate.
Conclusion
From its beginnings as a garment for active children, to its place in the wardrobe of fashion-conscious women, the long history of the playsuit is likely to continue for years to come. Women's playsuits can be found in a range of styles, colours, and fits. While most are considered a form of casual wear, with the proper accessories, a woman's playsuit can be transformed into evening wear. Selecting the right fabric is key to making it appropriate for the occasion. Terry cloth is best suited for beach or pool wear, whereas silk is an elegant option for special occasions. When considering the fabric, also bear in mind the level of care required. Machine washable fabrics are best for regular wear, whereas dry cleanable fabrics are best for the playsuits that are worn only on special occasions. When buying a playsuit, a woman should keep her body shape in mind. Some playsuits may flatter the figures of some women, but highlight unflattering areas of others. Women who are broad in the lower body should consider a playsuit that draws attention to their upper body: ruffles or other embellishments are a great diversion. On the other hand, women who are top heavy should consider a garment with a block coloured top and a busier design in the shorts. With so many listings of playsuits to choose from, eBay can help a woman to find the playsuit that is just right for her style and figure.