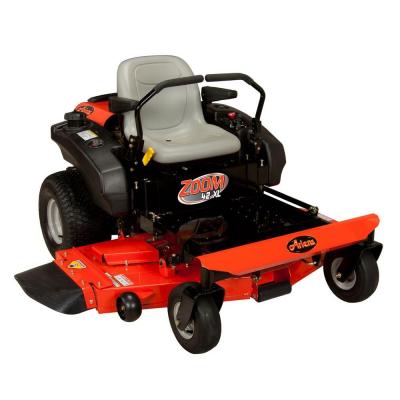 The first hydraulic-operated zero-turn mower was introduced in 1963 by an American farmer from Kansas. Constructed to reduce mowing time, the zero-turn took a while to catch on with both professional and weekend landscapers. During that time, most people used push mowers to cut lawns and smaller commercial properties. Riding mowers did not become popular until about a decade later, and it was during the 1970s that farmers and large landscaping companies began to realise the benefits of zero-turn technology. More than three-dozen manufacturers produce some form of a zero-turn mower, with a growing number of homeowners entering the market to take advantage of the mower's cutting edge technology.
Consumers can buy zero-turn mowers from hardware and lawn and garden retailers. Yet, the most convenient, and likely the most affordable, way to shop for zero-turn lawn mowers is online at the leading auction site, eBay. Buyers must know exactly which specifications they want in a zero-turn before shopping for it online. They create their criteria by learning about the zero-turn riding mower, zero-turn buying tips, zero-turn purchasing factors, and the four primary zero-turn classifications.
What Is a Zero-Turn Mower?
Often referred to as a z-turn mower, the zero-turn mower represents the only type of riding mower that possesses a turning radius of 0 cm. The most common method manufacturers utilise to achieve the 0 cm radius is by installing a hydraulic speed control on each wheel drive. Zero-turn mowers typically cost more than standard riding mowers that operate on steerable front wheels. Most zero-turn mowers contain two small swivelling front tyres and two larger back drive tyres that provide most of the mower's traction and speed. The back drive tyres rotate separately from each other based on how the driver controls each wheel. Operators can pivot the mower around a point midway between each wheel or pivot the mower on either of the wheels. Most zero-turn mowers have two throttles, instead of steering wheels that provide operators with rotational speed and directional control. This means that operators who are used to controlling riding mowers by turning steering wheels require a period of adjustment to get used to the throttles.
Zero-Turn Mower Buying Tips
While zero-turn mowers require buyers to analyse a few additional criteria, the mowers share many buying attributes with their more conventional counterparts. Buyers should look for zero-turn mowers that provide high-durability, which includes a rugged, stable frame and a powerful, consistently reliable engine. Every component built inside of the engine must be able to withstand long durations of operation and handle difficult to navigate terrain, such as hills. Drivers should experience comfort while riding any type of mower, which means the engine should not vibrate excessively and the mower seat should provide operators with both support and cushion.
Improperly designed zero-turn mower seats can cause riders leg and arm fatigue. All riding mower controls must be easy to reach, but especially in the zero-turn mower, since zero-turn mowers rely more on hand controls for movement. Operators should look for zero-turn lawn mowers that have large, wide rear wheels that place less pressure on lawn surfaces. Riding mowers should possess low centres of gravity to provide more traction and stability on uneven riding surfaces. The mower cooling system must transfer heat efficiently to avoid overheating on hot, humid days.
Important Zero-Turn Mower Considerations
Operators have many factors to consider before buying a zero-turn mower. However, they should focus on three primary factors that allow them to narrow their searches.
What About Other Chores?
Some consumers purchase riding mowers with the intent to use the machine for additional chores, such as removing snow or hauling debris. Manufacturers design zero-turn mowers to accomplish one chore: cutting grass. Zero-turn mowers do not have any hitches to attach trailers or lawn sweepers. They also do not have the capability to carry gardening tools, such as tillers and hoes.
Terrain
The small steering wheels on zero-turn radius mowers allow operators to turn sharply. This feature works great for operators who need to mow around trees, utility poles, flower beds, and gardens. However, the zero-turn radius features do not do so well on hilly or undulating terrains. The design of zero-turn mowers does not offer enough centre of gravity to ensure the mower remains upright on inclines. Zero-turn mowers work best on flat terrains, which is why many farmers use the lawn mowers to cut the grass on their large properties.
Levers
Also known as throttles, the levers on a zero-turn mower require operators to practise operating the mowers for some time before they become acclimated to the new control system. One lever controls right turns and the other lever controls left turns. The initial period of adjustment is due to turns in which operators must utilise both levers at the same time. Some operators adapt to the throttles intuitively, but it takes most operators at least a few days of practice before they smoothly control a zero-turn mower.
Zero-Turn Mower Classifications
Think of shopping for a zero-turn mower that same way that consumers shop for new or used automobiles. Inexperienced drivers consider lower-end cars until they master the skills required to operate more complex car engine systems. The same principle applies to zero-turn mowers. All zero-turn mowers cut grass, although they do so with varied degrees of comfort and efficiency. While there is not a standard classification system for zero-turn mowers, many manufacturers divide the mower into four general classes. Deciding on which class of zero-turn mower to buy should be the first step in the shopping process.
| Zero-Turn Mower Feature | Entry-Level | Mid-Grade | Semi-Pro | Commercial |
| --- | --- | --- | --- | --- |
| Deck Size (cm) | 85-125 | 105-135 | 120-150 | 130-160 |
| Horsepower | 13.5-22 | 22-26 | 23-27 | 19-30 |
| Cylinders | Single | Twin | Twin | Twin |
| Fuel Tank | 3 | 4 | 12 | 13.4 |
| Maximum Speed (km/h) | 9 | 11 | 12 | 19 |
Here is a synopsis of each zero-turn mower classification. Remember that prices rise for each mower classification.
Entry-Level
First-time zero-turn mower operators, and operators who need to cut small lawns, should consider entry-level models. This is a perfect mower for those who do not want to fork over a large sum of money for a riding mower. The less expensive components include stamped decks and steel materials. Entry-level zero-turn mowers are dependable and cut yards twice as fast as tractors. However, do not expect this class of mower to keep up with what professional landscapers use.
Mid-Grade
Mid-grade zero-turns do not move grass appreciably faster than entry-level models, but because of the wider decks, mid-grade models cut grass faster than entry-level zero-turn mowers. Most mid-grade zero-turn mowers feature powerful Kawasaki engines that divert horsepower to blade rotation. Mid-grade models typically are constructed with 10-gauge welded decks that include doubler plates and aluminium spindles. Therefore, mid-grade zero-turns are more durable than entry-level versions.
Semi-Pro
Landscaping professionals who mostly cut residential lawns enjoy the semi-pro zero-turn mower. This class of mower has many of the same attributes of commercial models, but it costs less. Semi-pro zero-turns are often the first type of mower fledgling landscaping companies purchase. Manufacturers design semi-pros to withstand the rigours of daily use. Most semi-pros can mow up to five acres before operators have to refuel. The high seat, adjustable armrests, and soft seat cushion provide supreme comfort.
Commercial
Commercial zero-turn mowers are for professional landscapers who mow larger properties, such as corporate headquarters and municipal centres. This class of mower possesses the most powerful engine, the largest fuel tanks, and it moves at the fastest speeds by far. Operators can expect to mow up to four acres per hour when using commercial class zero-turn mowers.
Buying Zero-Turn Mowers on eBay
Whether you are a novice landscaper or you run a large landscaping company, you can find a wide selection of zero-turn mowers on eBay. You should consider buying from professional landscapers who are changing out their equipment in order to upgrade. Type keywords into eBay's search engine, and then navigate through the search result pages to select sellers that meet your buying criteria. Narrow your search results by typing specific keywords into the search engine. For instance, typing "new zero turn mower" or "John Deere zero-turn mowers" reduces the amount of time you spend searching for the right seller. Once you find a seller that meets your buying criteria, review the seller's product page for delivery terms and accepted payment methods.
Consider buying from eBay's Top-Rated Sellers. These sellers have established strong records of offering high-quality products and running fair auctions. Buying a zero-turn requires a substantial investment, even if it is an entry-level model. Look for eBay's top-rated sellers that offer long return windows of at least 30 days. Moreover, you can review customer feedback on seller product pages. Look for sellers who have earned high praise over the past year, and preferably have experience selling lawn and garden equipment. Once you forge a strong business relationship with an eBay seller, inquire if that seller has an eBay store from which you can make future purchases.
Conclusion
Cutting grass used to be a mundane and gruelling chore. From push mowers to slow-moving riding mowers, operators found little joy in maintaining healthy-looking lawns. That began to change with the introduction of high-calibre riding mowers, especially the zero-turn mower. The zero-turn operates on the principle of a zero-turning radius, which allows operators to make sharp turns. The breakthrough technology gives operators more control near trees, picket fences, and gardens. However, zero-turn mowers are best implemented on large, flat properties, such as farms. This type of riding mower does not perform well on inclines or undulating surfaces.
Consumers need to perform extensive research before they make the substantial investment that is required to purchase a zero-turn mower. Start the research process by learning how a zero-turn operates and how it shares many of the buying attributes with more conventional types of riding mowers. Then, learn about the advantages and disadvantages of using a zero-turn mower and the four primary classifications that narrow consumers' searches. Owning a zero-turn mower can turn what was once a mind-numbing chore into an afternoon of mental stimulation. Just make sure to bring along a glass of lemonade. Most zero-turns come equipped with beverage holders.