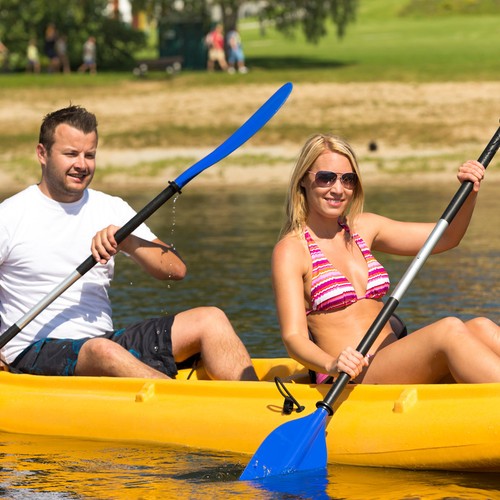 Skimming over the waters in a kayak is a recreational hobby and outdoor activity that enthrals many people. Whether taking to the ocean in a sea kayak or coasting over the surface of a local lake, the sport of kayaking gives outdoor enthusiasts a great way to grab a bit of exercise, fresh air, and weekend recreation. For first-time kayakers or for those who are just looking for a new kayak, the price of these boats can be intimidating at times. Fortunately, there is a selection of affordable options on the market for cost-conscious individuals who want to buy a kayak.
By learning about the basic design components of a kayak, the accessories that are essential to its operation, and which features and materials may drive up the cost, consumers can prepare to find and purchase a low-cost kayak either through a traditional vendor or through the wide selection that is available on shopping sites on the Internet, including sites like eBay.
The Components of a Kayak
Before beginning the search for an affordable kayak, it is important for consumers to have a thorough understanding of the standard components of a kayak that are essential to operating one of these boats safely. Knowing the fundamentals of a kayak can help individuals make a more informed choice during the purchasing process and help ensure that they find a deal that delivers both quality and affordability.
Basic Parts of a Kayak
Kayaks, even the most modern styles, have very straightforward designs that closely mimic the historical boats on which these modern vessels are based. Modern kayaks have a cockpit, which is an internal section where the kayaker sits within the body of the boat. In this cockpit, a kayak has a seat that provides a stable place for a kayaker to rest. A kayak may have deck hatches fore and aft that allow a kayaker to safely stow necessary items. Kayaks are also typically retrofitted with carrying handles at the bow and stern.
Necessary Accessories for a Kayak
Beyond these basic design elements, there are some accessory items that a consumer may want on a kayak. These include buoyancy components in the bow and stern to help a kayak stay afloat in choppy conditions. Perimeter lines on the hull are another essential safety accessory. These lines give kayakers something to hold onto in the event of a capsize. Kayaks have very smooth and seamless surfaces that may not allow a kayaker to get a firm grip in these types of scenarios.
Paddles for Kayaks
A paddle is perhaps the most essential accessory item for a kayak. It allows a kayaker to propel the boat through the water. Some kayaks may be sold with paddles included in a price. Consumers should confirm whether or not paddles are included before purchasing since paddles would have to be factored into the budget if they are not included.
Design Choices in a Kayak
A kayak's performance relates directly to the design of its hull. Design factors can affect the price of a kayak, so consumers should understand the value of these different designs and then use this information to balance performance needs against cost savings.
A Kayak's Length
Longer kayaks are faster than shorter kayaks. A shorter kayak, however, is much easier to control and manoeuvre. Shorter kayaks are good for day trips and manoeuvring through small rivers, for example, but they lack sufficient storage space for longer hauls.
A Kayak's Width
The width of a kayak also affects its speed. A wider kayak is more stable, but it runs much slower through the water than a narrow kayak.
A Kayak's Sides and Bottom
The design of a kayak's sides and bottom also affects performance. A flat-bottom kayak provides a very stable ride in calm waters, such as on a recreational lake or a flat water river. A flat-bottom kayak does not handle the waves of the sea well, however. Shallow arch bottom kayaks, on the other hand, are faster and easier to handle in choppy conditions. These kayaks feel unstable in calm waters or to the inexperienced hand.
The design of a kayak's sides affects a kayaker's sense of stability and his or her ability to paddle well and reach the water. Tumblehome sides curve inwardly as they rise out of the water, and this gives kayakers an easier way to reach the water, even on wide body designs. A kayak with flared sides has a wider beam toward the top, and this provides stability when a kayak is loaded and heavy and sitting deep in the water. Straight-sided kayaks are an attempt to balance the virtues of both tumblehome and flared designs.
Types of Kayaks
There are two main types of kayaks that the average consumer may be interested in purchasing: recreational kayaks and sea kayaks. Both are available in affordable models that may appeal to cost-conscious consumers.
Recreational Kayaks
Recreational kayaks are the most common type of kayak on the marketplace. They are basic kayaks that are designed for light paddling on lakes, flatwater streams, and protected bays or inlets. These kayaks have a very user-friendly design that allows even beginning kayakers to enter and exit the kayak without trouble and remain balanced when paddling. Their cockpits are wide-set and their beam width can run anywhere from 69 cm to 91 cm, which makes them much wider than performance or discipline-specific kayaks.
Affordable Options in Recreational Kayaks
For consumers looking for affordable recreational kayaks, they can consider looking for a few design options that can significantly reduce the price. Boats made from polyethylene are typically much more affordable than kayaks made from higher-grade materials. Consumers should also look for a recreational kayak with fewer accessory features. Having said that, if essential accessories, such as a seat or paddles are not included, the consumer has to purchase them separately, and that drives up the final cost. Consumers who are shopping for affordable kayaks should factor these issues into their search.
Sea Kayaks
Sea kayaks have a longer waterline than most recreational kayaks. They also may come with compartments that allow a kayaker to store provisions within the body of the boat. Since sea kayaks are used to navigate rough, moving water, they also come with rudders, both moving and fixed, and bow and stern designs that allow the boat to shed waves. A sea kayak may also feature a series of bulkheads, or walls, within the kayak.
Affordable Options in Sea Kayaks
Some sea kayaks can sit as many as two or three passengers. This obviously drives the price up, so consumers who are trying to find an affordable sea kayak may want to stick with single-seat boats. Sit-on-top kayaks, which are sometimes referred to as open deck kayaks, are another affordable option to consider. These types of sea kayaks do not need to sacrifice safety features in order to maintain a lower price point. A cheaper, closed cockpit sea kayak may lack important features, such as flotation elements at the bow and stern or bulkheads, and this forces a consumer to choose between safety needs and financial ones.
Buying a Affordable Kayak on eBay
Another affordable way to buy a kayak is to purchase a gently used kayak. Many hobbyists buy a kayak to begin exploring the sport and then transition on to another activity without ever putting a lot of wear and tear on the kayak. Other kayak owners might transfer to a more advanced boat and leave a basic, affordable kayak in good condition.
Whether you are interested in a new or used kayak, you can find a large catalogue of kayaks on eBay. The vast site provides visitors with an easy-to-use search interface to start their shopping expedition right. In the search bar, simply type a term that describes the type of kayak that you are interested in buying and click to search. This pulls up any listings on the site that are related to your search term. Scan through these titles and click on specific listings if they seem particularly relevant to your needs.
Evaluating Sellers on eBay
When shopping on eBay for a kayak, you may want to take a moment to review the seller's page for any sellers that are offering kayaks that you may want to buy. On the seller's page, look through any past listings posted by that vendor and review the customer feedback posted by other consumers. Use these details to assess whether a seller can deliver the kind of kayak you want at an affordable price. For such a large item, local pickup is a much more feasible option, so be sure to ask the seller about this possibility.
Conclusion
Whether coasting on a small lake or along a sea coast, enjoying time on the water is a pleasurable experience that provides excellent recreation to countless enthusiasts of water sports every year. While a fully retrofitted kayak made of the latest advanced materials and with a full suite of accessory features can be quite cost-prohibitive, there are many kayaks available for sale that are more affordable and accessible to the average consumer.
Finding and purchasing an affordable kayak can be easy when consumers are prepared with the right information, and they know what to consider. By learning a bit about the fundamentals of a kayak, which accessory items are necessary, and which luxury accessories simply drive up the price, consumers can quickly find a new or used boat within a specific price range. The buying possibilities are often impressive through both traditional vendors and eBay or through other online sources.