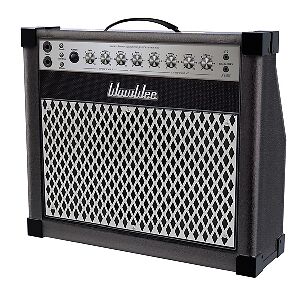 For any musician, be they a beginner or a professional, having the right amp through which to project music is vitally important. The sound being played is only as good as the amp connected to the instrument.
However, there is no such thing as a right amp or a wrong amp, it is mostly down to personal taste and how the musician themselves wishes their music to sound. It is always worth having a few pointers, particularly those just starting out in the business. Follow the guide below to find the perfect amp for the required needs.
What an Amp Does
An amplifier does more than simply project the sound of music from a device. It improves the sound and allows the musician more control over how their music is projected, which is far more than simply playing a good tune. A professional musician, or a beginner wishing to become one, takes their choice of amp very seriously.
Types of Amp
There are several different types of amp, which can broadly be defined in three categories; valve (or tube), transistor (solid state), and modelling. These can also be head, or cabinet, or combo. There are also acoustic and mini amps on the market.
Many musicians believe the valve amp provides more of a natural or warmer sound than that of a solid state amp; however, the use is almost purely personal. Certainly the valve amp is the most popular type. Valve amps can be more expensive and will require more maintenance. They are also less sturdy than solid state amps so need to be treated with greater care. A modelling amp can be modified to suit personal requirements in the hands of a skilled user.
Solid state amps are generally more versatile and more rugged than valve amps but often at the expense of the sound. Again, personal preference will determine if this is an issue or not. This type of amp is prone to burn out if it is pushed to overdrive, unlike the valve amp.
Modern combo amps are powerful enough for most venues. However, a head and cabinet are best suited for very large venues or open spaces. A small combo unit with a single 8-10" speaker is most often used for rehearsal or warm-up before a gig, whereas a large combo unit with a 12" speaker or two 10-12" speakers suit a large performance.
Valve amps sound louder than solid state amps; so for example, a 15-watt valve amp is suitable for a small gig; however, a 15-watt solid state amp is best suited for home practice.
The type of valve that requires purchase will also be defined by the instrument that is to be played. Bass amplifiers are designed for bass guitars, keyboard amps for electric and electronic keyboards and pianos, and acoustic amps are for instruments generally used in 'quiet' genres, such as the violin, mandolin, or electric guitar.
Cost of an Amp
Price is, of course, a key consideration when deciding to buy an amp, and the serious musician would always be advised to buy the best quality amp with the available budget. It can mean the difference between the sound simply being acceptable or being fantastic.
The wattage of an amp has little bearing on the actual cost as the quality of the components and design have greater influence on the price.
Starting Out
For beginners learning at home who may be lacking in space in which to place their new equipment, a mini amp is the perfect size. Even more experienced musicians practising at home will normally not require anything bigger than this. The aim should be to spend less than £100 on this type of equipment or at least within a reasonable budget.
Busking
Due to the nature of playing outdoors or in enclosed locations as a busker, it is essential to have an amp that can operate without a power supply. Cheap, portable amps that are battery operated such as the Roland Micro Cube are very popular with buskers.
For Recording
It may come as a surprise to those without knowledge in this area, but the best amps used for recording purposes are not as large as those used in gigs. Ideally, look for a valve amp in about the 100-watt range such as a Marshall. The reason for this is that smaller amps can be cranked up in such a way that larger amps cannot - the sound would be too loud for a recording. This technique has been used by many famous groups and artists for years - the early Led Zeppelin albums, for example, and the Arctic Monkeys.
Some good examples of small valve amps for recording are models such as the Fender Pro Junior or Marshall C5-01. This list is not exhaustive, and there are many other good models available.
Small Gigs
Gigs in venues such as pubs or clubs for less than 200 people will be best suited for mid-sized valve amps in the 15-watt range. Good models of this type include the Fender Blues Junior or Vox AC-15. It is possible to use larger amps here such as a Vox AC30, but the volume will not need to be any higher than half-way or it will be too loud.
For small bands, having an amp that is loud enough is very important as the venue may not necessarily mic the amp. Do not solely base the choice of amp on the performance of bands on TV or in concerts.
In some large gigs, amps are stacked together to produce maximum sound, but although this looks impressive, it does not suit most venues and will be difficult to transport. Anything of a half-stack size or more require the musician to use earplugs, or permanent hearing damage will be caused. A full-stack can be the size of a grown man.
The larger the amp is does not necessarily mean it will be better although the higher the wattage, the better the quality of sound. The equaliser (or EQ) is also important as these settings allow the user to alter the tone of the instrument although some amps come with the EQ settings already pre-set.
Where to Find Amps on eBay
In order to purchase an amplifier from eBay, head first to the eBay homepage. From here, using the links on the left hand side, select Sound & Vision, and then from there select Home Audio & Hi-Fi Separates. This will then load all the listings in that category.
The first link in the list on the left hand side is that of Amplifiers & Pre-Amps. The listings in this section can then be narrowed according to type, condition, brand, and other categories. Use those sections in order to find the desired amp.
Alternatively, use the search engine on the home page and enter keywords for the required product.
Conclusion
Finding the right amp is based primarily on the needs of the musician and how they wish their music to sound. Always carry out sufficient research and read online reviews into the amp that is required before purchase, and preferably make contact with any prospective seller on eBay before buying the product to ensure that it is what is required.
By carrying out the right amount of research, any budding musician can have an amplifier that will give them greater control over the sound of their music and impress any listener.