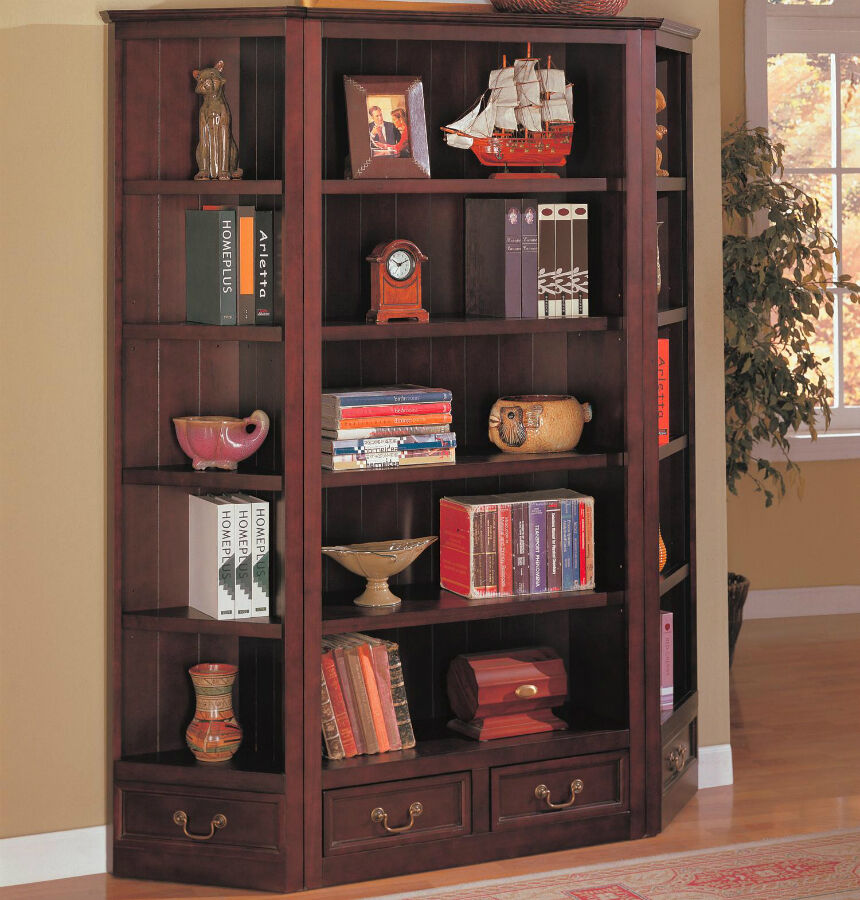 A bookcase can be an extremely handy, space-saving item to have in the home. A bookcase comes in a variety of sizes, and while a large unit could overpower a room, a smaller bookcase may not stand out. Will the bookcase be an open style, or will it feature cabinet doors? These are all factors to consider when buying an antique bookcase. Antique bookcases were often made of hard woods like oak, walnut or mahogany, and the furniture makers personalised their pieces with ornate detailing. This guide provides the history of antique bookcases, why it is beneficial to buy an antique, how to care for an antique bookcase, and how to find an item on eBay.
History of Antique Bookcases
A bookcase is a common feature in many people's homes. Not only can it store books, but also CDs or DVDs and other collectables. The rigid surface of a bookcase makes it a piece of furniture especially sought after by collectors. In earlier periods, books were owned by the upper classes. These books were hand scribed and they were stored in specialist containers and boxes. The ancient Asian civilisations preferred to use scrolls; these were displayed on deep rectangular or square shelves for easy classification. When the printing press was first discovered, more people had access to books and therefore the bookcase became higher in demand. The first types of bookcase had cabinet doors, and then it became popular to display books in the open- fronted bookcases popularly seen today. Antique bookcases did not look like the contemporary freestanding bookcases that are mainly seen in modern times; they were heavy and sturdy. The oldest bookshelves dating back to the 16th century are housed at England's Oxford University. Antique bookcases were made with oak, satinwood, mahogany or rosewood. Cabinet-makers added distinctive details to mark their antique bookcases.
Discover Antique Bookcases
Antique furniture is considered to be extremely eco-friendly. This makes buying an antique piece of furniture advantageous. Not only is the piece eco-friendly, the piece has style, character and retains its value. Some antiques can gain in value, especially items in mint condition. Many of the modern pieces of furniture sold today are not manufactured from quality timber. An item is classed as an antique if it was made over 100 years ago. Mass-produced furniture is very damaging to the planet due to the number of trees chopped down to meet the demand.
Materials of Antique Bookcases
Some types of wood are valuable in furniture making. Because an antique bookcasehad to be rigid and secure, the hardwoods that were used included rosewood, burl walnut, circassian walnut, mahogany, and fire side walnut. Less valuable wood types include maple, spruce, pine and elm.
| Part | Description |
| --- | --- |
| Mahogany | A close-grained hardwood that is native to the West Indies and North and South America. During the 18th century, mahogany was used to make quality furniture. It has a red-brown shade. |
| Oak | A medium to dark brown wood with a coarse grain. Native to Europe and North America. Oak was used to make furniture in the 17th century. |
| Walnut | The colour of this wood varies from light brown to a rich golden brown. A hardwood that was popularly used in antique furniture. There are different varieties of walnut, from fireside walnut to circassian walnut. |
| Rosewood | Native to South America, the West Indies and India, Rosewood is given its name because of the scent that it emits when it is cut. Although it looks similar to mahogany, rosewood is heavier than mahogany and contains subtle black or white rings. |
Types of Antique Bookcases
Antique bookcases do not look like the modern open fronted bookcases sold today. The books are often displayed behind glass doors. The revolving bookcase is an exception.
| Type | Description | Advantages | Considerations |
| --- | --- | --- | --- |
| Georgian Mahogany Secretarire Bookcase | This piece has astragal glazed double doors with shelves to its interior. | Pull out secretarire drawers. | Antique style bookcase with cabinet doors. |
| Mahogany Breakfront Bookcase | Perfect to store fine china, ornaments, trophies, or books. | Four glazed doors opening to an interior of adjustable shelving. | Excellent craftsmanship. |
| Edwardian Mahogany Revolving Bookcase | Stylish revolving mahogany bookcase. | Dates back to the years between 1890 and 1910. | The bookcase legs have a pleasant design. |
| Victorian Library Bookcase | A late Victorian bookcase in mahogany. | The interior houses three adjustable shelves. | Wooden astragals on the glass panes. |
Factors to Consider When Buying an Antique Bookcase
There are several factors a buyer must consider when buying an antique bookcase. Look for authenticity. Also, notice the condition of the antique because antiques bookcases in mint condition are rare and tend to be extremely sought after.
The time period – Although antique bookcases do blend well with contemporary furniture, the interior decoration of a home can be better matched if the buyer understands the aesthetic values of the time period in which the antique was made.
A genuine antique – It can be difficult to distinguish a real antique from a refinished item. Look closely at the furniture; open its drawers to test for any stiffness.
Rarity – An antique will be worth more if it is a rare piece. Many antique pieces are reproduced for affordability, but if an antique bookcase was too difficult to reproduce, it will be deemed to me rarer and its value will increase.
Authenticity – If the item has received a marking or etched signature from its maker this is an indication that the bookcase is in-fact a genuine antique. Although a piece may look antique, manufacturers can make an item of furniture appear antique and this can reduce its value. Bronze handles were more valuable than the bronze-like metal used today called spelter, so real bronze handles on the bookcase can signify its authenticity.
Condition – Antique items are described as being in mint, excellent, or good condition. A mint antique is in perfect condition, excellent means that the antique has minor flaws, and good condition means that the item is in fair condition, but it shows signs of wear and tear.
How to Care for an Antique Bookcase
Antiques must be well cared for if they are to maintain their value. A bookcase is no exception and it should be regularly dusted with a soft cloth. Antiques will gradually develop a patina, which will preserve the wood and give the piece personality. Experts advise that a general furniture spray should not be used on antique furniture. Keep the bookcase away from sunlight, as this can fade the wood. Excess moisture can cause mould to form on the back of the furniture, and if the room is too cool, there can be shrinkage in the wood. Applying beeswax to the bookcase once or twice a year can add a nice shine and preserve the patina. Do not use a feather duster, as any loose parts could damage the surface area.
Popular Antique Bookcase Manufacturers
Gillow's
John Cobb
Samuel Bennett
Thomas Sheraton
William Kent
William Ince
John Mayhew
George Hepplewhite
George Seddon
Accessories and Add-ons for Antique Bookcases
Caring for an antique bookcase will preserve its value. Furniture spray works well on conventional furniture, but it is not recommended for antique furniture. Rather than use a feather duster, use a soft cloth to remove dust. Furniture can be protected from the sunlight with blinds or curtains.
Soft Cloth
Beeswax
Paste wax
Cheesecloth
Dehumidifier
Blinds or curtains
Finding Antique Bookcases on eBay
Once you determine the type of antique bookcase that you want to purchase, visit the Antiques portal on eBay, click on 'Antique Furniture' then 'Bookcases' and start searching item listings. The Categories list on the left-hand side of the eBay page helps to narrow the search.
Searching for Antique Bookcases on eBay
Search eBay listing titles for specific words when shopping for an antique bookcase. For example, to find an Antique Victorian Walnut library bookcase, type, 'Antique Victorian Bookcase' into the search box, and then click the Advanced button to customise the results. Also visit eBay's Search Tipspage for more advice on searching for an antique bookcase with keywords. If you can't find the exact antique bookcase you want, try shopping eBay Stores.
Conclusion
An antique bookcase can be a great display cabinet for your books, trophies or ornaments. The oldest antique bookcases dating back to the 16th century are housed at England's Oxford University. Older bookcases used hard woods like oak and mahogany, the furniture was hand crafted and often bared the initials of the furniture maker. Modern bookcases are open fronted, meaning that books can gather dust. Antique bookcases looked more like display cabinets than the bookcases that we see being produced in modern times. In addition, buying antique furniture is eco-friendly and also helps to reduce carbon emissions.
There is plenty of information about antique bookcases available in reference books or on the Internet. Arming yourself with the relevant information will help to make the buying process fun, informative and worthwhile. Once you have collected this information, you can buy an antique bookcase safely and securely on eBay.