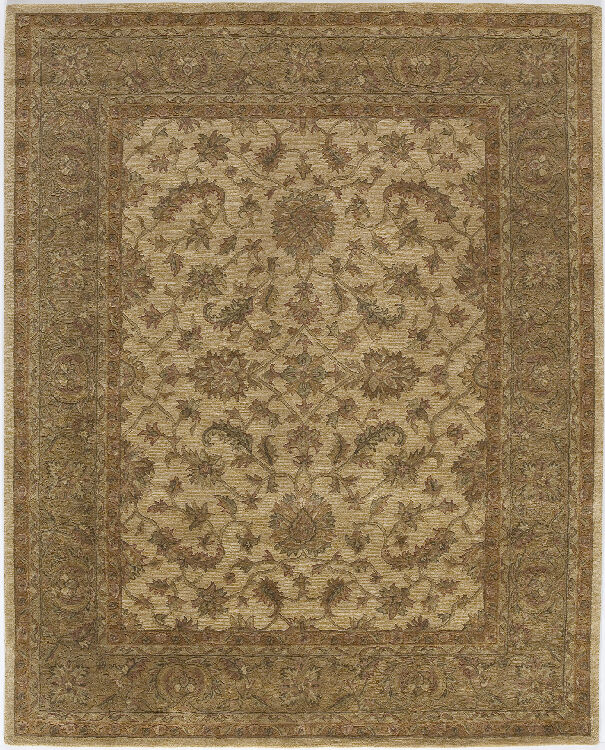 A carpet is similar to a rug, but the pile (the upper layer generally made of wood, nylon polypropylene or polyester) on a carpet attaches to a backing. The pile achieves its thick, twisted structure through a process of heat treatment. There are many different ways that a carpet is manufactured. Having a quality carpet in the home provides personality and warmth and an antique carpet can be like having a piece of history under your feet. This guide describes the history of antique carpets, which fibres are used to make carpet, and how to maintain a carpet so that it retains its value. With enough information in hand, you will be able to shop for antique carpets with confidence.
History of Antique Carpets
The word 'carpet' is derived from the Old Italian 'Carpita', which means 'to pluck'. Although a carpet looks and feels similar to a rug, a carpet can be cut to size to fit any room. The carpet was uncommon in households until the 18th century when trade routes were opened between Western Europe and Persia. The production of carpets dates back 7000 years to the Neolithic Age. Although the history of how the carpet came into existence is shrouded in mystery, there are two main theories. The first theory states that carpets were produced to serve the nomadic population, as they were densely knotted to offer protection from cold weather. The second theory claims that the carpet eventually evolved as a decorative piece to have in the home and was also used during ceremonies. The earliest pile carpet still in existence today is the 'Pazyryk carpet', which was produced in the fourth or fifth century BC. The antique carpets for sale today reflect the beautiful decorations and rich weaving of Persian styles.
Discover Antique Carpets
Buying an antique carpet for the home is nothing like buying a modern piece of carpet. Decorative motifs can greatly help in dating an antique carpet. A carpet woven pre-1920 is considered to be an antique, but carpets that were made using natural dyes, rather than synthetic dyes, are also deemed to be antique. Since antique carpets are often purchased not only for their beauty but also as an investment, they require care to retain their value.
Components of Antique Carpets
There are four main methods used in carpet production. Here is a description of these methods.
| Part | Description |
| --- | --- |
| Woven | Carpet is manufactured on a loom and the pile is either Berber or plush. The combination of Berber and plush is named 'cut and loop' carpeting. This method can produce complex patterns from fixed designs. Woven carpets are the most expensive type of carpet due to the time it takes to manufacture them. |
| Needlefelt | This type of carpet uses an advanced method of technology. Single synthetic fibres are formed using forked and barbed needles. This type of carpet is often used in hotels and similar institutes. The method used for needlefelt carpets produces a surface that is durable. |
| Tufted | The pile attaches to a backing material, which then bonds to an additional backing to provide durability. It is the most common method for making carpets. |
| Knotted | The structured horizontal threads rotate with an additional weft with a right angle rising to the surface of the weave. Shag is a popular knot type that attaches to the supplementary weft. This style is popular in Kashmir carpets and oriental rugs. |
Types of Carpet
The early carpets originated in West Asia between the second or third millennium B.C.
| Type | Description | Advantages | Considerations |
| --- | --- | --- | --- |
| | Afghan carpets display bright tribal colours and intricate patterns. | Considered affordable for most collectors. | There is a demand for Afghan carpets so there may be less available. |
| | Persian carpets originated in the bronze age. | Persian carpets have a variety of patterns and motifs. | Some of the finest carpets in the world. Some Persian carpets can be expensive. |
| French carpets | Under the initiation of Henry IV, Pierre DuPont manufactured a French version of the Turkish style carpet, which was soon manufactured at the Savonnerie factory. | The Savonnerie factory produced carpets richly decorated with flowers. | Carpets manufactured in France bear the symmetrical knot. They can be expensive. |
| | Carpets were first manufactured for Ch'ung Chen, the Chen Dynasty's last emperor. | Chinese rug exporting began in the early nineteenth century so there are readily available. | Became commercialised and inexpensive to buy. |
Factors to Consider When Buying Antique Carpets
Carpet weaving originated in China, spread to Persia and then entered Western Europe creating a broad selection of antique carpet styles to choose from. It can be difficult to identify an antique carpet due to the differences in the type of knot and design so it is good to ask eBay sellers questions and gather information before making an investment into an antique carpet. When you are ready to purchase an antique carpet, there are a number of factors that should be considered to ensure that you get the best value for your money.
Design – Examine the border, colours and motifs. Antique carpets were considered either oriental or western. Antique French carpets have motif designs to celebrate portraits from the era. Carpets will have several borders, each with a different size and pattern. Whether you are choosing to display your carpet as a wall hanging or use it in on the floor, choose a design that is aesthetically pleasing to your eye and taste.
Measurements – You should measure the size of the space that the carpet will be going into to ensure that it fits and covers the area that you want. Double checking the measurement of the carpet with the eBay seller is advised prior to purchase
Signs of age – Signs of age can include warped woollen threads, faded colours and yarn threads of varying widths. Although natural wear is considered part of the charm of an antique carpet, it does reflect on the end value and future durability.
Condition – If the antique carpet is in good condition it is likely to be of a higher value. Antique carpets that are in mint condition will be extremely sought after. The buyer should ask the seller as many questions as they feel they need to in relation to the quality of the carpet, sometimes the initial description that has been provided does not give enough information. Sellers are used to being asked questions and are happy to help a buyer in anyway that they can.
Typical Features of Antique Carpets
1. Main Border
This is the widest decorative design on the outer edges of the rug.
2. Guard Border
The guard border is the narrower decorative design that separates the main border and the field of the rug.
3. Field
This is the largest decorative space on the rug inside the guard border and offers a background to highlight the patterns and decorative detailing. Some can be fairly simple in design to allow the other features to stand out, or they can be very elaborate.
4. Medallion
The round, oval or polygonal design element that often occupies the very centre of the field is called the medallion. Depending on the geographical region that the carpet came from, they are often cultural representations of the area where the carpet was made.
5. Borders
Most antique carpets have a border that frames and highlights the centre pattern.
6. The Ustad
This is the carpet designer's mark or signature, which is woven into the carpet. Finding this sort of marking will be rare and it will not be present on every antique carpet. If the ustad is there, it will make a significant difference to the value of the carpet.
How to Care for Antique Carpets
As with the majority of antiques, an antique carpet will require specialized care and attention. It may be more delicate than a modern carpet and it will, therefore, require a more considered approach to cleaning and maintenance.
The buyer should look for carpets dating back to the 18th and the 19th century, on eBay, as these are classed as 'undiscovered' and are can be more valuable.
Antique carpets require high quality pads; these will extend the life of the carpet and will prevent wrinkling and stretching. These pads are also known to absorb sound effectively, meaning that sounds coming from a room will not be echoed around a whole building.
Heavy furniture can crush the carpet's pile; an owner of an antique carpet should used furniture cups to slide furniture. Antique Persian carpets were woven using the stain resistant lanolin-rich wool. Stain removal home remedies can cause the dye in antique carpets to run, so instead, use a damp sponge to wipe away the stain. It is recommended that a vacuum cleaner is not used on an antique carpet and steam or chemical treatments should also be avoided. Instead, use a manual carpet sweeper.
Accessories and Add-ons for Antique Carpets
Here is a list of accessories that a buyer of an antique carpet should consider getting.
Manual carpet sweeper
High quality pads
Damp sponge (to clean up any carpet spills)
Furniture cups
Buying an Antique Carpet on eBay
Buying an antique carpet online can be a complex task but if you begin the process with some information and research you can find and buy an antique carpet online with confidence. This section will address making the process easier and alleviating any fears customers may have of completing online transactions. eBay aspires to create a safe and secure experience for their customers while shopping. Below are a few tips on how to buy an antique table on eBay.
1. Research the seller
If a magnificent antique carpet is being listed at half the price of other sellers, perhaps it is indeed 'too good to be true'? A good method to ensure that sellers are going to deliver exactly what they have promised is to research that seller. Click on seller's hyperlink, this will bring up a variety of information available about them.
A few possible questions to consider are:
What is the seller's feedback rating? How many transactions have they done? Ideally, the feedback rating should be over 95%. And it might be a bad sign if a seller doesn't have very many completed transactions.
The buyer's comments? Are they positive?
Does the seller offer a return policy? A money-back guarantee?
2. Always pay with Paypal
When making payments online, Paypal is the most secure and eBay advises that you use it over all other forms of payment, as it offers superior protection against unauthorized. Try to avoid sellers that claim their Paypal is not working, as well as less secure online forms of payments such as Western Union or moneygram.
3. Ebay Safety centre
If there is an issue with a seller, or you as a buyers wants to collect all available information in order to best make a safe and secure purchase check the following link. There is a variety of information for protecting yourself in online transactions available at eBay's safety centre.
Finding Antique Carpets on eBay
Once you determine the type of antique carpet you want to purchase, visit the Antiques portal on eBay, and click on 'Carpets / Rugs', then 'Pre-1900' and start searching item listings The Categories list on the left-hand side of the eBay page helps to narrow the search.
Searching for Antique Carpets on eBay
Search eBay listing titles for specific words when shopping for antique carpets. For example, to find an old hand made Persian Kashaan Mashhaad oriental carpet, type 'antique carpets' into the search box, and then click the Advanced button to customise the results. Also visit eBay's Search Tips page for more advice on searching for antique carpets with keywords. If you can't find the exact antique carpet you want, try shopping eBay Stores.
Conclusion
Finding an antique carpet on eBay does not have to be difficult. This guide has provided you with hints and tips on how to best to identify an antique carpet. Try to look for a pre-1920s carpet because this will be classified as an antique. Their thickness can keep a home warm, whilst also adding personality and a touch of history.
Antique carpets do require a great degree of care due to the impressive weaving and intricate patterns that they have. Do not drag furniture across the carpet, instead use furniture cups, and have a damp sponge handy to clean up any spills.
There is plenty of information available about antique carpets. More research can be done by looking at reference books in a library or by searching on the Internet. It is important to have has much knowledge as possible before starting your search. Once you have collected this information, you can buy an antique carpet safely and securely on eBay.