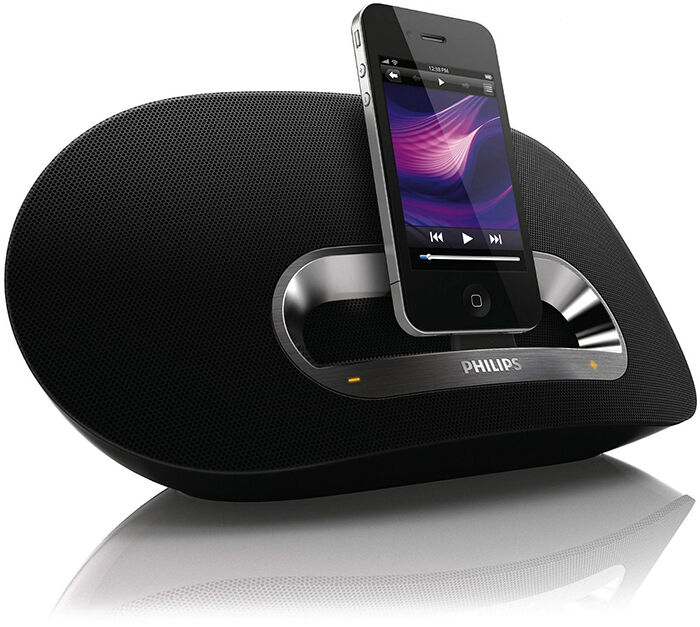 Audio docks have become a far more familiar sight in recent times. With so many people now having countless music tracks on their portable digital music players and smartphones, a means of playing them through a high quality sound system rather than headphones didn't take long to materialise. Audio docks provide that means.
About Audio Docks
Audio docks are docking stations designed to accept a digital music player, such as an MP3 player, iPod, or smartphone directly into their docking cradle. Music tracks on the music player are then fed by direct connection via the audio dock to speakers, which may be part of the audio dock or they may be external speakers.
Some audio docks also accept music streamed wirelessly via Airplay or Bluetooth enabled music players. There is a wide range in the functionality of the various audio docks, and, in general, the more they offer, the more they cost. Some of the features that may be offered in any particular model of audio dock are shown in the table below.
| | |
| --- | --- |
| Speakers | Some audio docks don't have speakers but connect to a HiFi. Better ones have their own audio dock speakers with excellent sound quality. |
| Wireless Streaming | Some have no wireless capability, while others accept AirPlay or Bluetooth enabled devices without the need to physically dock the music player. |
| Charging | Most audio docks enable charging of the docked music player, except when powered by batteries. |
| Hands-Free phone calls | Some high-end audio docks allow hands-free phone usage while the phone is docked. The music being played is automatically paused to enable the hands-free phone call to go ahead. |
| Extra inputs | Other inputs in addition to the docking cradle may be provided, such as a AUX input or USB port for connecting laptops and other devices. |
| Added Features | The better, more expensive audio docks may include other features in addition to basic docking. Audio docks with radio, clock, timing and alarm functionality are becoming more popular. |
Using eBay
eBay is a well-known source of new and used audio docks . It's a very popular source not only because most people know it offers a safe, secure, and simple online shopping experience, but also because of the large number of audio docks available at any time on the site. Audio docks are offered for sale on eBay in various ways, including:
By Auction
Buying an audio dock by auction can be an enjoyable way of finding a great bargain. It's not guaranteed, of course, but for many that is what makes it interesting - the thrill of the chase. If an audio dock that is being auctioned fails to attract many bids, the price will have risen very little by the time the auction ends. The audio dock may end up going to the highest bidder at a very low price. Just as someone bidding is legally obliged to honour any successful bid, the seller is legally obliged to sell to the highest bidder, however low that highest bid may have been.
An exception to this situation is if the seller had already specified a minimum price that the audio dock had to reach before it could be sold. However, as this facility incurs an extra expense for the seller, many don't bother because they feel sure that their audio dock will attract enough bids to exceed the minimum price. When they get it wrong, someone gets a bargain.
By Direct Sale
For those who are not interested in the uncertainty of auctions, many audio docks are also available for direct sale. These are listed as Buy it Now items and are shown with a fixed price. This is the most certain and straightforward way of buying anything on eBay. The transaction can be completed very quickly by clicking to buy the audio dock and arranging payment according to the seller's payment instructions.
Best Price
In addition to being listed as a Buy it Now item, an audio dock listing may also have the Best Price option available. What this means is that the seller is prepared to accept a lower offer provided it's reasonable. Sellers have to pay a fee to list an item for sale, and they don't want to risk the listing ending after its allotted time with the audio dock still unsold. Based on the time-honoured principle that less money is better than actually losing money, sellers offering this option will gladly consider any serious offer.
What to Look For in an Audio Dock eBay Listing
As there's quite a range of functionality offered by the various audio docks available on eBay, it's important to know exactly what's being sold in any particular listing as well as how it's being sold and other essential information.
The Audio Dock Description
The listing will contain at least one reasonably large and clear photo of the audio dock plus a written description of its features, specifications and compatibility. It will also mention any limitations that that particular model of audio dock may have, such as having no loudspeakers and needing to be connected to a HiFi system to play music.
The Audio Dock's Location
In any listing, check where the audio dock is being sold from. Item location and delivery information are standard listing features. Although audio dock's that are available on eBay may be located anywhere in the world, buying from a source abroad can incur expensive delivery charges and a lengthy waiting time before the audio dock finally arrives.
Using eBay UK as the default eBay site ensures a far greater number of UK-based audio docks will be found in any search. In addition, eBay offer a Distance filter that can instruct their search function to ignore any audio docks that are beyond a certain radius from any UK address. This can be set to as low as ten miles. It greatly increases the possibility of finding an audio dock that is close enough to be collected personally and avoid delivery charges and waiting time completely.
Payment Options
The seller will specify on the listing all acceptable payment options for the audio dock. These may include PayPal, credit card, personal cheque, or postal or money order. PayPal is the method of payment recommended by eBay. PayPal, a successful financial transactions business, was actually designed by eBay to handle financial transactions involved in buying and selling items on the site. That, plus its included buyer protection feature, make it the simplest and safest payment option for buying an audio dock on eBay.
Highly Rated Sellers
For a speedy and satisfactory transaction, deal with a seller who has a proven record of providing a professional and prompt service. At the top of every listing, the seller's status can be clearly seen. Their status is determined by the ratings and feedback comments of previous customers. Highly-rated sellers offering audio docks are also likely to be knowledgeable about the various technical aspects of the particular audio docks that they're selling. They will promptly reply to any question, technical or otherwise, that is asked via the Ask seller a question option available on every listing. Make use of this convenient feature if anything about the audio dock isn't clear enough.
How to Find an Audio Dock on eBay
To begin any search for an audio dock on eBay, start by entering the search term "audio dock" into eBay UK's search box, which is prominently displayed near the top of the homepage. The search returns well over a thousand items. As that's far too big an amount to conveniently browse, eBay provide categories on the left side of the page under which audio docks have been placed by their sellers. Notice that the category called Sound & Vision, contains more than other, less relevant, categories. Each time a category is clicked, more relevant subcategories appear until the most relevant subcategory of all is revealed - Audio Docks & Mini Speakers.
The final step is to select any of the filtering options that are now displayed in place of the categories. These customise the search in a variety of ways. For example, by choosing the filtering option called 'Compatible Brand' and selecting the brand required, all other unwanted brands will be removed from the search results. Categories and filtering options don't just offer added convenience, they're necessary when trying to browse the listings of any popular items such as audio docks.
Conclusion
As any search on eBay confirms, there is no shortage of audio docks, both new and used, available for auction or direct sale on the site. Finding one that does exactly what's required of it, and that is also affordable, is a straightforward process if the above recommended steps are taken to focus the search and target the best possible audio dock in terms of value for money. If the ideal audio dock exists, it almost certainly exists on eBay.