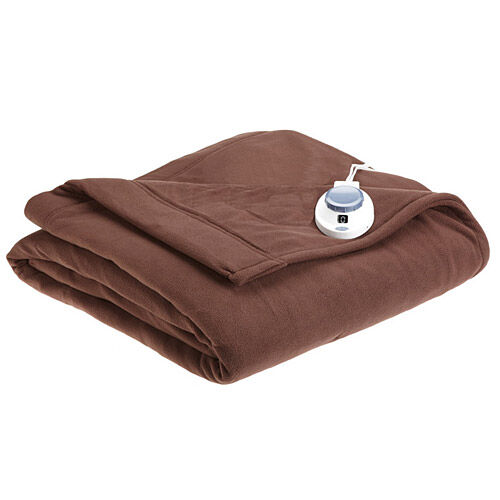 Electric blankets are useful bedding accessories that can help people stay toasty warm in cold weather. They also have added therapeutic benefits that can relieve pain associated with medical conditions that affect muscles and joints. Before buying an electric blanket, shoppers should learn how an electric blanket is constructed to get an understanding of the technical issues they will need to be aware of to properly use and care for their blanket. Electric blankets come in a number of sizes and forms to be adaptable to a buyer's bed, so buyers should look for blankets that have the best design options for their specific needs.
Each electric bed model will have an assortment of features related to safety, use, and comfort, which buyers should thoroughly assess before making a final purchasing decision. Lastly, buyers should learn how to clean and care for their electric blankets to extend the blanket's longevity. Electric blankets are available locally, particularly in the autumn and winter, in mass retail stores, pharmacies, and department stores. Alternatively, buyers who like convenience and year-round access to electric blankets can find a variety of models online at shopping websites like eBay.
Health Benefits of Electric Blankets
Research has shown that electric blankets can alleviate pain caused by a number of common maladies. The warmth provided by an electric blanket can soothe aches from arthritis and fibromyalgia, a condition that causes tenderness and pain in the body's soft tissues. Heat from electric blankets can also cut down on the presence of dust mites, a common source of irritation and breathing issues. Dust mites thrive on moisture, which is eliminated by an electric blanket's drying properties. This helps people with allergies and sinus problems sleep better at night.
Electric Blanket Construction
To create an electric blanket, manufacturers add a heating element between a blanket's layers, which is regulated by a control unit. The heating element is typically a network of insulated electrical wires that are webbed across the length and width of the blanket. Early electric blankets used bulky wires that added to the weight and thickness of an electric blanket, but many modern electric blankets use thin carbon fibre wires that reduce the blanket's bulkiness.
Electric Blanket Sizes
To provide consumers with the most useful product, electric blanket manufacturers design their blankets to be a number of different sizes. For buyers with smaller beds, twin or full-sized electric blankets are the best options. Queen and king-sized electric blankets are best for larger beds and can have two sets of controls. These controls allow people on opposite sides of the bed to regulate half of the blanket's temperature, independent of the settings on the other half of the blanket.
Models that are classified as electric throw blankets are designed to be used on sofas or chairs, so these blankets are generally smaller in size than blankets developed for a bed. When shopping for an electric blanket that will be used on a bed, buyers should purchase a model that is specifically sized for the dimensions of their mattress. This eliminates any problems with coverage, such as excess fabric hanging over the bed or insufficient coverage along the bed's edges.
Electric Blanket Forms
When purchasing an electric blanket for a bed, buyers will have two options related to the form of the blanket. The first option is a flat electric blanket that could be used as a covering much like a regular blanket, comforter, or afghan. This type of blanket has no alterations to it, which would help give dimension to its form. The second option is a fitted electric blanket that includes gatherings and darts at the blanket's corners. These features allow the blanket to fit snuggly on a mattress and prevent the blanket from shifting during use. Which electric blanket form is most preferable depends on the needs of the buyer. A flat electric blanket is a more traditional option, but buyers with certain medical issues, like back problems, might find that a fitted electric blanket is a more beneficial choice.
Electric Blanket Features
To differentiate product lines, manufacturers offer a number of different features for each model of electric blanket they produce. Additional features will typically increase the price of an electric blanket, so buyers should think carefully about the features they need before shopping for an electric blanket.
Safety Features
To increase safety while using an electric blanket, buyers should look at a blanket's specifications to make sure it includes a number of safety-related features. An electric blanket that is UL Certified has been tested for safety by Underwriters Laboratories, the independent safety testing organisation that is widely accepted globally. UL certification will be listed with an electric blanket's voltage. Low voltage electric blankets are preferable because they reduce the risk of electric shock, so buyers should look for electric blanket models that use 120 volts of electricity or less. Additionally, electric blankets should have automatic shutoff features that will turn the power off when the blanket exceeds a certain temperature. Automatic shutoff is particularly important for buyers who plan to use their electric blankets while they sleep.
Usability Features
Added usability features will allow electric blanket owners to use their blanket easily in a variety of settings. Since some owners will be using their blankets in the dark, electric blanket controls with raised markings allow users to adjust settings without turning on a light. LCD screens and light indicators on a control also help making changes in the dark simple. For buyers with painful conditions in their hands, large knob or push buttons controls provide a means for making adjustments with minimal effort.
Comfort Features
Manufacturers offer electric blanket buyers a wide range of features that will increase the comfort users can gain from their blankets. An electric blanket with adjustable heat controls allows users to change settings from high to low as needed throughout the night. To keep feet warm, some electric blankets have added insulation at the bottom of the blanket. The type of material employed to create an electric blanket can also impact the blanket's level of comfort. In general, buyers should look for fabrics that are plush or have a raised nap to minimise the likelihood of feeling an electric blanket's heating elements. General materials consist of cotton, polyester, fleece, synthetic, and mircofibre.
Cleaning an Electric Blanket
Often, buyers are worried that it will be difficult to clean an electric blanket, but following a few steps can make the process safe and trouble-free. The most important step is reading the manufacturer's instructions that will accompany an electric blanket in its packaging. These instructions will include details about the types of detergents and heat settings that can be used during the cleaning process. Dry cleaning is typically discouraged for electric blankets because the solvents used in dry cleaning can corrode the blanket's heating elements. Therefore, owners should only choose dry cleaning if it is specifically listed as an appropriate cleaning method by an electric blanket's manufacturer.
Machine Washing an Electric Blanket
To clean an electric blanket using a washing machine, owners should first disconnect the control box and cord from the blanket. It's always a good idea to give the blanket a thorough inspection before putting it into a washing machine, so lay the blanket flat and check for thinning material or exposed wires. If no damage is apparent, owners can place the electric blanket in the washing machine and add a mild detergent. Washing should be done using cold water on the delicate cycle. Because over-agitation could damage an electric blanket, owners should only allow the blanket to go through the wash, rinse, and spin cycles once.
Drying Options for an Electric Blanket
Air drying is the preferential method of drying an electric blanket, so owners should lay the blanket flat to speed the drying process. If it is necessary to use a dryer, owners can add the electric blanket to the dryer and choose a low temperature setting. It is best to keep the electric blanket in the dryer only until it is still slightly damp and continue the drying process using air drying as the blanket lays flat. Once the blanket shows no signs of dampness, the cord and control box can be reattached and turned on when the blanket is ready to be used.
Buying Electric Blankets on eBay
Shoppers looking for electric blankets can find a wide range of styles on eBay, by typing searchable keywords into the main search box, then filtering based on preferences. After registering to create an account, buyers can begin purchasing electric blankets on eBay. Before making a purchase, it's advisable to carefully read an electric blanket's product listing, which includes important information about each model.
Buyers should check to see if an electric blanket is machine washable if they plan on cleaning the blanket at home. The dimensions of an electric blanket should also be assessed so buyers know if the blanket is the correct size for their needs. Lastly, special features like heat setting options and automatic shutoff should be listed in the product description if buyers prefer those options.
eBay Seller Specifics
Product listings are also handy for providing shoppers with specific information about eBay sellers. Within a product listing, sellers stipulate their return policies as well as their shipping and payment details. Buyers can also see an electric blanket seller's Feedback Rating score, which gives a good indication of the level of customer service a seller provides. While preparing for a purchase, buyers can contact a seller through the "Ask a question" option within a product listing. This allows buyers to ask sellers about any electric blanket product details directly.
Conclusion
Electric blankets help to keep chills, aches, and pains at bay, so users can get a peaceful night's rest. To know exactly which electric blanket has the most benefits, buyers should do some research before making a purchase. Electric blankets are manufactured in various sizes and styles to correspond with the size of mattresses so buyers can maintain a perfect fit throughout the night. Safety is a main concern when using an electric blanket and buyers can choose tested and certified models that minimise the risk of any accidents occurring.
Since buyers often utilise an electric blanket during the night, manufacturers have added a range of usability features that make adjusting controls easy in any circumstance. Lastly, comfort is a prime advantage of an electric blanket. To increase comfort, electric blankets can be made to have different heat zones to target the areas of the body most prone to chills. Buyers looking for electric blankets can find a wide assortment on eBay, which features models with different sizes, fabrics, and features.