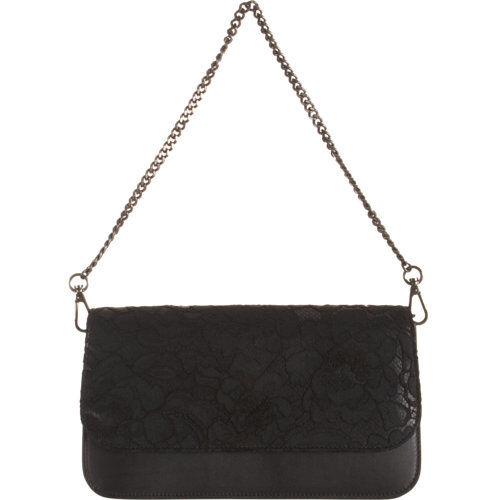 An evening bag is a type of handbag that is used as an accessory for evening or formal wear. This bag is designed for elegant events and parties. Traditional handbags vary greatly in dimension. However, evening bags are typically small and able to carry only a woman's essential items. Some evening bags are designed to be held; others have a strap which free's the wearer's hands. Evening bags range from simple and unadorned to intricate designs with beads and other embellishments. If a woman's dress is simple, then the evening bag can be elaborate. On the other hand, dresses that are heavily decorated should be accompanied by a simple bag so as not to detract from the dress. Evening bags also vary in fabric and colour. Satin, lace, and velvet are all popular options and add to the bag's sophistication. It is best to coordinate the colour of the bag to that of the outfit. While black can complement almost any wardrobe choice, more designers are now expanding their colour ranges to match the uniqueness of the garments. If looking for a unique evening bag, antique and vintage bags offer a timeless look and can add flare to an outfit.
In order to assist buyers looking for their ideal evening bag, this guide will discuss popular types and the different materials used to make them; it will help women to decide which necessities to pack and provide tips on how to style an evening bag. Finally, there will be advice on how to search for and purchase evening bags at online retailers such as eBay.
Types of Evening Bags
Evening bags come in various shapes and sizes and are designed to hold only the bare necessities. The choice of evening bag should be based on the outfit, the occasion, and what will be contained in the bag.
Clutch
A clutch is an evening bag without a strap. As such, it is designed to be carried by hand. However, some clutches feature a detachable strap, allowing them to hang from the shoulder. A clutch is rectangular, and offers a limited amount of room for holding the essentials. Clutches come in a variety of styles, materials, and adornments, making them an option for a wide selection of outfits.
Wristlet
A wristlet is similar to a clutch. However, it consists of a band that allows it to be worn securely around the wrist. This evening bag is ideal for a night out dancing because it leaves the hands free. This wristband is often detachable, which allows the wristlet to be transformed into a purse that can be stored in a larger handbag. Wristlets are small and contain separate compartments fastened with zips to help a woman to organise her belongings. Wristlets come in many styles, fabrics, and colours.
Baguette
A baguette is a small, rectangular handbag. It takes its name from the French loaf which shares its relatively long and narrow shape. This evening bag is larger than the wristlet and clutch, making it ideal for women who carry a large number of accessories.
Minaudiere
A minaudiere is a small, ornamental case often adorned with pieces of metal, small precious stones, intricate beads, or fabric. It is used as an evening bag and contains several compartments designed to hold a woman's necessary items during her evening out. Most minaudieres are fastened with a small metal clasp.
Types of Fabric
Evening bags are made from a wide variety of fabrics. Popular fabrics include velvet, satin, and suede. These delicate fabrics require careful treatment.
Velvet
Velvet evening bags are best paired with other velvet accessories such as high heels or a hair band. This luxurious woven fabric has a soft, fuzzy feel and is ideal for evening wear and special occasions. Velvet is a delicate fabric, and as such, requires special care. Velvet should not become wet. If a drink is accidentally spilled on the fabric, it is best to avoid blotting the area as this will only cause further damage by flattening it permanently. Instead, attempt to shake the fabric free from any moisture and allow the evening bag to dry naturally. Then the bag should be dry cleaned as soon as possible to avoid the stain from settling into the fabric.
Satin
Satin is known for its luxurious feel and glossy surface. During the Middle Ages, this material was made from silk and its expense meant that it was reserved for the upper class. In modern times, satin can include synthetic fibres and is a popular fabric for elegant evening wear despite its difficult level of care. Satin is highly susceptible to stains, especially if the fabric contains a high silk count. As with velvet, satin should not come into contact with water as it is extremely difficult to remove water marks. Hand washing this delicate fabric can cause severe damage to the delicate fibres and can also cause the fabric to lose its lustre. Therefore, satin should be professionally dry cleaned.
Suede
Suede is a type of leather known for its softness and flexibility. Suede is highly likely to become dirty and tarnished due to its texture and high absorbency levels. As with other fabrics associated with evening wear, suede is unable to withstand liquid. Even a few drops from drinking glass can alter the suede's softness by creating an hardened, uneven and discoloured fabric.
Deciding What to Pack
When selecting an evening bag, women must consider the contents that will be contained within the bag. Women should only carry the bare necessities because evening bags are typically limited in size and space. Popular items include keys, cash, credit card, make-up, and a mobile phone. It is important not to overstuff the evening bag as this will cause it to look bulky and unflattering. Overfilling the bag can also cause damage to the fabric and compromise its ability to open and close properly.
How to Style an Evening Bag
It can be difficult to decide which type of evening bag will best complement a woman's outfit. It is important to match the fabric of the bag to that of the dress or other accessories. However, the colour of the evening bag should complement the dress and can be even be contrasting. The most important factor is that either the evening bag or the dress should be the feature, but not both. For a black dress, a brightly coloured bag can add colour to the garment. Any simple gown can be dressed up with a well-adorned evening bag. If a dress is particularly bright, glittery or highly patterned, then it is best to pair it with a simple evening bag.
How to Buy an Evening Bag
Evening bags can be found in many bricks and mortar department stores as well as many dress and accessory shops. Pre-owned evening bags are ideal if you are on a budget, looking for a evening bag for a single occasion, or environmentally conscious. Evening bags are usually very lightly used, so provided that they have been well-maintained, most used bags should be in very good condition.
How to Buy an Evening Bag on eBay
Shopping for an evening bag on eBay is a good idea because it means that you do not have to pay the full retail price for an item that may only be used a few times a year. The selection of evening bags available on eBay is far larger than many other retailers can offer. So, you have the pick of the most unique items at some of the best prices.
To find an assortment of evening bags, type "evening bags" into the search bar on the eBay home page. Alternatively, eBay offers an advanced search feature for those who have a more specific idea about the type of evening bag they wish to buy. This feature allows you to narrow down search results based on specific keywords, price, seller type, and location. If you find an evening bag that you like, but feel that the information in the item description is insufficient, then contact the seller using the Ask a question link on the item page.
Conclusion
As dresses vary greatly in style, fabric and colour, manufacturers have recognised the need to create unique and diverse evening bags to complement garments of any type. Elegant evening wear should be complemented by a sophisticated accessory. Evening bags are ideal for special occasions where a larger handbag is inappropriate. Evening bags are known for their compact size and the limited space that they offer to a woman: evening bags are typically only able to fit the essentials. They are made from luxurious materials, such as velvet and satin, and textured fabrics, such as suede, all of which require special care. If planning a night out with friends, be aware that drinks can be spilt in crowds of people and that this can compromise the appearance of the bag, so be extra careful. However, evening weddings or social events are the perfect occasions to show off the new accessory and eBay is the perfect place to find an evening bag.