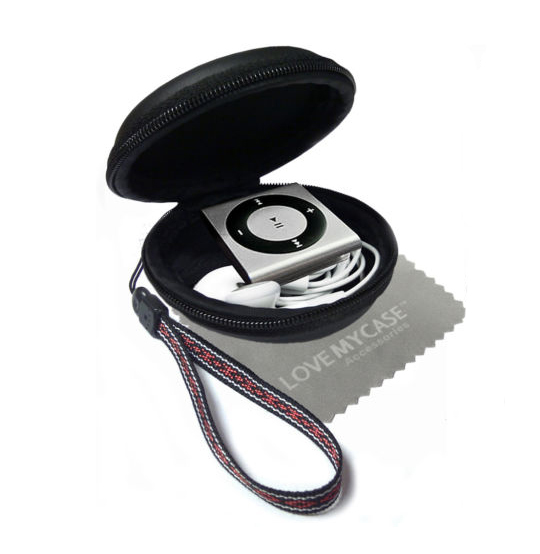 An MP3 player is a popular gadget for many people, providing entertainment and information wherever they go. This daily use can take a toll on the device over time, and it's a good idea to invest in an MP3 case to keep it safe. A good MP3 case can add individual style to an MP3 player, along with protection from the elements and rigours of daily use. It can increase the MP3 player resale value, and liven up an outfit for a special occasion.
There are literally thousands of different types and styles of MP3 cases available, and the choice can be overwhelming at first. For the best range available, there is only one place to find the perfect MP3 case, and that's eBay. Online shopping has become an everyday part of life for many people, and the techniques outlined in this guide will be a valuable asset going into the future.
About eBay
eBay first appeared in 1995, and is now a multi-billion dollar business, with local sites in 30 markets around the world. It's the worlds' largest online marketplace, with millions of happy buyers and sellers from all regions. Thanks to the huge growth of eBay since it first opened for business almost 20 years ago, plus the powerful and easy to use interface, many online shoppers consider it the perfect place to find any item.
How to Buy on eBay
There are two main methods for buying items on eBay. There's an Auction system where the highest bidder wins at the end of the auction, and a Buy It Now type of listing. Buy It Now listings mean that the buyer doesn't have to compete with other registered users to bid the highest amount. It's a little less exciting, but means the item can be delivered faster.
How to Search for an MP3 Case on eBay
The powerful search functions built into eBay allow customers to conduct basic searches for a type of item, and further refine the results by selecting from a series of filters. This is not only effective, but also a fun way to browse thousands of products in each category. There are a number of ways to find a sought after item on eBay, with the fastest being a direct search. This can be a good search method if the name, model, brand or type of MP3 case is known before starting. An example would be 'Leather MP3 Case', which displays a variety of MP3 cases made of leather.
A browsing type search can be an enjoyable way to see a wide range of different MP3 cases available for sale. Here are some simple steps to find the MP3 Cases & Covers section on eBay. First, select the Electronics & Technology heading from the left side vertical menu. Once in the electronics area, choose Sound & Vision The next step is to select iPod/MP3 Player Accessories After arriving in this category, the Cases, Covers & Skins menu item is the last step before arriving at the right sub-category.
Refining Search Results: How to Filter Results
A useful way to narrow down search results is to use the built-in search filters on the eBay site. After arriving at the 'Cases, Covers & Skins' category outlined above, there will be a series of filter options presented on the left hand vertical menu. These filters can be selected and refined to only display items matching the buyers chosen attributes. With a little practice, this search technique can help find the desired item after just a few mouse clicks.
The first filter category is 'Compatible Model'. If a particular MP3 player is being used, this is a great place to start refining search results. Remember that more than one tick box can be selected, which will open up the range of listings displayed. Under the Compatible Model options is a section based on Brand. Again, more than one tick box can be chosen, and to the right side of each of these categories is a see all button, which displays a pop-out menu with more options to choose from.
Not all the filter categories need to be used, and in some cases just one choice may be enough to find the desired item. Experiment with the filter options to find a match that is suitable. Additional filters that can be used include Features, Material, Colour, Design/Finish, Type and Condition. With the right set of filters, it's possible to find some very unusual MP3 cases that may have been overlooked otherwise. The pictorial design/finish filter can reveal some unique MP3 cases to look through.
The Facts About Shipping Items on eBay
It's important to include the cost of shipping when making a buying decision. For small items such as MP3 cases, some sellers may offer free shipping. In this case, the items selling price may be higher, but the item ends up cheaper after the free shipping is considered. Try to find a seller in the same region, because this can cut shipping times and get the item delivered in just a few days. Another idea worth considering is to buy more than one case. The shipping will usually cost the same, and the extra cases can be used for replacements in future, or given as a gift. If the seller location is close by, see if a local pickup option is available. This can turn a great deal into a fantastic deal if the shipping cost can be removed from the equation.
Finding the Right Seller on eBay
Feedback is one of the key features of the eBay system. It's an effective way to judge a buyer or seller based on their previous interactions through the site. A positive feedback rating increases the feedback rating by one point, and a negative one reduces it by one point. For more detailed information about the sellers feedback, it's possible to click on their feedback rating (the number in brackets after their username), to see more in-depth information about the most recent transactions.
It's important to always leave feedback for the seller after buying an item on eBay and it arrives safely. This adds to their reputation and helps other buyers decide who is reliable. After each successful transaction, the seller will also leave feedback on the buyers interaction, so it goes both ways. Authorised sellers are another consideration to take into account. This status is bestowed on trustworthy eBay merchants that prove their reliability and good service over time, and items can be bought with confidence from these sellers. Also read through the sellers return policy, or send them a message through the site if you have any questions before buying the MP3 case. This can save time later and avoid unnecessary returns if the MP3 case is not just right.
Conclusion
Shopping on eBay can be a daunting prospect when faced with the thousands of items to choose from, but this guide has shared some effective search techniques to help find the perfect MP3 case, or any other item that is desired. Remember to always search carefully for the ideal item, before checking the sellers feedback. After being satisfied with the item chosen and the sellers reputation, check the shipping details for the chosen MP3 case, and make sure everything is clear before committing to a purchase.
The intuitive and easy to use search features on the eBay site are one of the features that bring customers back time after time. Once the system has become familiar, anyone can become an eBay buying expert with just a few simple steps. Now there's no excuse for having a dull, ordinary MP3 player. There's a world of unique, affordable and fun MP3 cases for sale on eBay.