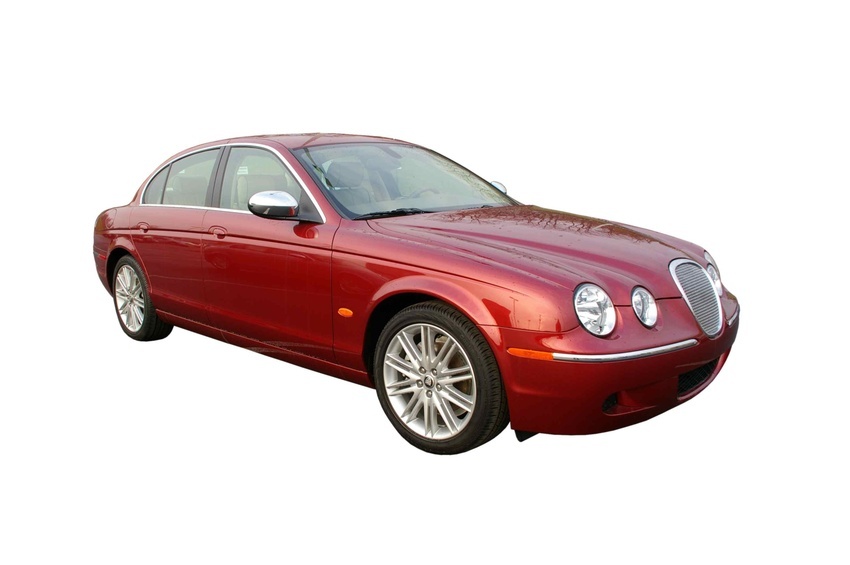 To drive a Jaguar is, for many, a long-held aspiration, and with good reason: the British manufacturer turns out elegant, luxurious, and powerful vehicles. The S-Type Jaguar is no exception. As a medium-sized luxury saloon, the S-Type draws attention with its rounded curves, U-shaped console, and indulgent interior. But it is the engine lineup that impresses even more, with even the smallest 2.5-litre V6 delivering a performance that should satisfy nearly any driver. For those who want more horsepower, there are sporty V8s, including the supercharged 4.2-litre petrol engine in the STR model.
Buying a used Jaguar is certainly more affordable than looking for a new one; however, running costs can still be high, so buyers should plan in advance. Moreover, they should learn to look out for potential issues, especially with earlier models, which could lead to very costly repairs. But with plenty of well-cared for models on the market, an informed buyer that takes their time can find a beautiful S-Type that will bring them years of enjoyment.
Overview of the S-Type Jaguar
First previewed at the 1998 Birmingham Motor Show, the S-Type Jaguar is a large saloon car designed by Geoff Lawson and based on the Jaguar DEW/Ford DEW platform. It went on the market in 1999 and production continued until 2008, when it was succeeded by the Jaguar XF. During that time, the S-type underwent several moderate revisions, with one facelift in 2004. In a vehicle class dominated by German-made cars, the S-Type, manufactured in Birmingham, stands out. Jaguar's distinctive styling may be a draw for some, while others may find it outdated. Overall, critics admire the S-Type for its line of powerful, smooth engines, agile and responsive handling, and the superior comfort and refinement one would expect from a luxury saloon. The sportier S-Type R, or STR, was introduced in 2002 to compete with more performance-oriented models on the market.
Nomenclature for the S-Type Jaguar
To distinguish between different model years, Jaguar denotes them with different names. The first models were X200 (1999-2002), followed by X202, X204, and X206, with the last two digits indicating the model year.
Engine Options for the S-Type Jaguar
Over the course of production, the S-Type Jaguar came with several different engine options, depending on the model year. The following chart outlines important information connected to each motor.
Engine

Power

Acceleration 0-60mph

Fuel Economy

Year

Transmission

3.0-litre V6 Petrol

240 bhp

7 seconds

25 mpg

1999-2002

Automatic, manual

4.0-litre V8 Petrol

281 bhp

6.6 seconds

23 mpg

1999-2002

Automatic only

2.5-litre V6 Petrol

201 bhp

8.2 seconds

29 mpg

2002-2008

Automatic, manual

4.2-litre V8 Petrol

300 bhp

6.2 seconds

24 mpg

2002-2008

Automatic only

4.2-litre V8 Supercharged Petrol (STR model only)

400 bhp

5.3 seconds

22 mpg

2002-2008

Automatic only

2.7-litre V6 Twin-Turbo

Diesel

206 bhp

8.1 seconds

40 mpg

2004-2008

Automatic, manual
In engines where there is a choice between manual transmission or automatic, acceleration times and fuel economy figures may vary slightly depending on transmission type. Manual transmission is five-speed on petrol engines and six-speed on the diesel engine.
While all of the engines have been praised for performance, most compromise fuel economy for more power. The exception is the 2.7-litre diesel, favoured by reviewers for its quick acceleration, smooth running, and good fuel economy.
S-Type Jaguar Fuel Options: Diesel Vs. Petrol
The majority of S-Type models run on petrol, with just one diesel engine option. While petrol was long considered the smoother, more powerful option, and diesel the more frugal one, evolving technology and changing market trends mean that the differences may not be so obvious. Diesel cars are inherently more efficient, meaning they consume less fuel and have lower emissions, so diesel owners spend less on fuel and car tax rates, which are determined by emissions. Diesel cars also tend to have higher residual values. On the other hand, market trends may favour petrol, in which case it is cheaper to fill up with petrol.
The only diesel engine available in the S-Type is an example of how well this type of motor can run: its smooth, fast, and refined performance makes it a pleasure to drive. Buyers wondering whether it is more economical to purchase a petrol or diesel engine can use an online petrol vs. diesel calculator to estimate the costs of the models they are considering, and thus make an informed decision.
S-Type Jaguar Transmission Options
With the exception of the V8 engines, the S-Type Jaguars come with a choice between automatic transmission and manual transmission. Manual tends to be favoured by those who seek full driver engagement, while Jaguar's automatic transmission ensures a comfortable, smooth ride. However, buyers looking for a used S-Type Jaguar may want to consider the manual transmission, if available, as it tends to be more affordable and durable. Some of the automatics have been prone to problems after 60,000 miles.
Safety and Security Features of the S-Type Jaguar
Although the Euro NCAP has not tested the S-Type Jaguar, the car has many safety features to help prevent collisions and protect passengers in case of an accident. These include six airbags, anti-whiplash seats, dynamic stability control, and emergency brake assist. For those concerned with security, there are deadlocks, an alarm, and an immobiliser.
S-Type Jaguar Standard and Optional Equipment
The standard trim S-Type comes with an extensive set of equipment, such as alloy wheels, automatic headlights, climate control, electric driver's seat, heated door mirrors, a trip computer, and traction control. The higher-range V6 SE and 4.0 V8 trims feature leather seats and wood trim, front fog lights, and cruise control. In February 2001, sport trims were added, with sportier features like 18-inch "Monaco" alloy wheels, leather sports seats, and grey veneer trim, plus front fog lamps and a dynamic stability control system. Revisions in 2001 and 2004 altered some interior and exterior features. The Jaguar is available with both right-hand and left-hand wheel position.
Extras like a CD stereo, DVD player, electric sunroof, lumbar support, and front and rear electric windows are optional on many models. Some later models feature electrically adjustable pedals for a customised driving position, and those with Jaguar's CATS (Computer Active Technology Suspension) system benefit from even more responsive handling.
Running Costs
Before buying an S-Type Jaguar, consumers should consider the running costs, as they may be significant. Factors like fuel economy, emissions, insurance group, and service and repair should be researched in advance.
Cars registered before March 1, 2001 are taxed according to engine size, while those registered after March 1, 2001 are taxed based on carbon dioxide emissions. The 2.7-litre V6 diesel engine proves to be the cleanest and most economical option, with emissions at 179g/km and fuel economy of about 41mpg. Other models have considerably higher emissions levels. Jaguar service fees tend to be quite high, so owners should expect to pay considerably for maintenance and repairs.
Potential Issues with an S-Type Jaguar
In spite of their excellent reputation, there are some potential issues with the S-Type Jaguar that buyers should be aware of. The general consensus is that later models are more reliable than some of the earlier ones; buyers should be particularly thorough when looking at pre-2004 models.
Boot and Back Seat Problems
One criticism of the entire line is that boot space is somewhat limited, and tall passengers may feel a bit cramped in the back seats. The boot opening is rather narrow, making it less practical than it could be. More worrying is that the seal of the bootlid has been known to leak, potentially causing major problems with the electrics and battery stored in the rear.
V8 Engine Issues
The V8 engines built prior to 2000 have been prone to cylinder bore wear. If left unattended, this could result in the complete destruction of the engine.
Electric Malfunctions
There have been cases where various electrics have problems. These include alarms, power windows, central automatic locking, and powered seats.
Recalls
There have been several recalls on S-Type Jaguars. While not all of the issues are very serious, some are cause for concern, including issues with the parking brake, failure of the lower suspension ball joint, and seatbelt problems. Buyers should check with the Vehicle and Operator Services Agency for a full, updated list of recalls on S-Type models. If a recall applies to the particular model under consideration, ask for documentation that the vehicle has had the proper servicing to deal with the issue.
How to Buy an S-Type Jaguar on eBay
If you're interested in shopping for a used S-Type Jaguar online, you'll find many different listings on eBay Motors. To see what's available, go to the eBay home page and locate the search bar. Type in keywords related to what you're looking for, such as "automatic S-Type Jaguar", or "diesel S-Type Jaguar". Once you have your search results, you can refine them according to things like model year, mileage, price, and more.
Get to know more about the vehicle you're interested in by reading the full listing thoroughly. Check specifications, condition, and the owner history. Purchase a vehicle status report through eBay for a thorough history of the particular car, based on its registration mark. If you have questions for the seller, you can contact them through eBay.
It is important to have confidence in the seller. Make sure they are responsive to any of your enquiries, and check their feedback score and comments left by past buyers who purchased automobiles. Be certain you understand the payment and delivery or pickup requirements, as well.
Conclusion
The S-Type Jaguar is a British-made luxury saloon produced between 1999 and 2008. With its stately design and smooth, powerful ride, the S-Type has remained a popular and coveted vehicle. Buyers should familiarise themselves with the options available in different S-Types before deciding on a model that is right for them.
The different engines featured during production history have been praised by experts, with particular accolades going to the 2.7-litre diesel, available after 2004, for its combination of power and economy. Other major choices include between diesel and petrol, and manual and automatic transmissions. Research and personal preferences can help drivers make these decisions. Buyers should consider running costs, since the S-Type Jaguar can be expensive to own. Furthermore, they should inform themselves of various issues connected to certain models, and be certain that any recalls have been addressed. Following these steps helps buyers find an elegant, luxurious Jaguar S-Type that will be a pleasure to drive.