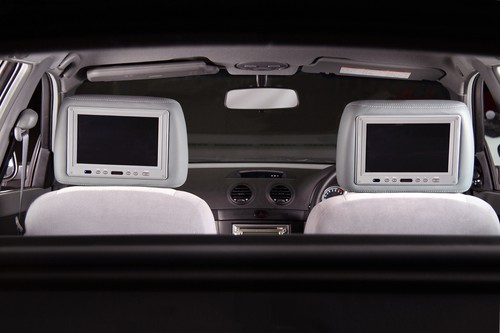 Adding a DVD player to a car is a great way to entertain passengers, especially children, on long road trips, allowing them to play films, television programmes, and music. Buyers have several options when it comes to choosing an in-car DVD player, from portable versions to models that are integrated into the dashboard of the car. There are several factors to consider when choosing the right device. The power source is an essential aspect of any in-car DVD player. Buyers should also look for key features, such as support for disc types and media formats, and the player's region encoding, because these affect the kind of content that can be played.
Anti-skip protection makes viewing more enjoyable and headphone support is a great way to reduce distractions for the driver. Finally, multimedia features are a great way to add to a player's capabilities. When shopping for in-car DVD players, buyers can visit online marketplaces, such as eBay, for great deals and a larger selection than can be found in many shops.
Types of in-Car DVD Players
In-car DVD players vary in how they are positioned in the vehicle. Portable DVD players are the most convenient because they can be placed in a variety of locations and be used outside of the car. Other models can be mounted in the headrest, dashboard, and roof. Buyers should consider the screen size, which can vary from 5 inches to more than 10 inches. In-car DVD players can vary in the number of screens that they have.
Portable in-Car DVD Players
A portable DVD player is designed for travel, whether used in a car, a hotel room, or outdoors. Portable DVD players typically have one of three designs: clamshell, tablet, or discrete pieces. In a clamshell design, the screen folds like a laptop. A tablet design is ideal for mounting on the back of a seat because it is flat and has no protruding parts. A portable DVD player with discrete pieces can have the main body mounted in one place and the screen attached to a seat.
Headrest in-Car DVD Players
Buyers can purchase DVD players with screens built directly into the back of the headrest of a car seat. These replace the standard headrest in the car. They are usually sold in sets of two so that both passengers can watch the screens easily. Some models have zip covers or flaps to hide the screens when not in use. The universal headrest replacements are available in a variety of colours to match the interior of the car.
In-Dash in-Car DVD Players
In-dash DVD players are among the most versatile in-car DVD units because they integrate into the dashboard and can often be used in conjunction with other systems. For example, the screens of in-dash DVD players often double as the screen for a GPS, or satellite navigation (sat nav), system, while the main unit can also be used as a stereo system or Bluetooth interface for mobile phones. However, buyers need to make sure that any additional systems can be fitted into the console properly. This may require an adaptor kit, often sold separately. The location of the screen for in-dash DVD players means that viewing angles may be limited, and the screen size may not be as large as some other types.
Roof Mount in-Car DVD Players
Roof mount designs are another option for installing an in-car DVD player. The main body of the player is attached to the roof of the car, while the screen flips down to allow viewing. Roof mount DVD players share many characteristics with portable and headrest models, but they are also often equipped with a dome light to illuminate the car. Screen sizes can vary: roof mount in-car DVD players are often larger than most headrest or in-dash models because they are not as constrained by their location.
Twin and Dual-Screen in-Car DVD Players
If choosing a DVD player that has more than one screen, buyers should confirm whether the device is able to play more than one film: some systems are designed so that both screens play the same content, while others may allow the user to play two different discs. Systems that play the same content on both screens are referred to as having twin screens, while systems that play different content have dual screens. Dual screens are a great solution when passengers have different tastes and cannot agree on which film to watch.
Power Sources for in-Car DVD Players
In-car DVD players can be powered in a variety of ways. Some devices use replaceable batteries, while others have a built-in rechargeable battery. Battery life can vary significantly based on the model and can range from two hours to over five hours. Buyers should choose an in-car DVD player with power that lasts long enough to watch a film. Some DVD players include a DC adaptor powered from a cigarette lighter. There are also portable models available with an AC adaptor to plug into the mains when at home, at a hotel, or wherever a plug socket can be found. Some in-dash models may be wired directly into the car's electrical system.
Features of in-Car DVD Players
Buyers should choose an in-car DVD player carefully by considering its construction and the features that the device has. The features to consider are the disc types and regions that are supported, anti-skip protection, and headphone support.
Supported Disc Types for in-Car DVD Players
The greater variety of supported disc formats gives buyers more options in entertainment. There are standard DVD discs, including DVD-R/RW, DVD+R/RW, and DVD-RAM. Other options include CD, CD-R, and CD-RW for audio, and VCD and SVCD formats for video.
Additional Media Formats for in-Car DVD Players
Buyers should look for options such as USB and memory card support, which give buyers the option to access even more media types. It is recommended to check the types of files supported because these may be limited to options such as JPG, WMA, MP3, and MP4.
Region Type for in-Car DVD Players
Most DVDs are not designed to be played worldwide. Instead, they are encoded by region, with formatting that restricts a disc's use to players with a similar region encoding. When choosing a DVD player for a car, buyers should consider whether the device is going to be used in other countries or to play DVDs intended for other regions. There are eight regions: the UK is in region 2. The table below lists all of the regions.
| Region Number | Locations |
| --- | --- |
| 0 | Multiple regions, but depends on television format |
| 1 | North America: Canada, US, and US territories |
| 2 | UK, Europe, South Africa, Japan, and the Middle East |
| 3 | East and Southeast Asia: Cambodia, Hong Kong, South Korea, Taiwan |
| 4 | Australia, New Zealand, Central and South America |
| 5 | Africa, Former Soviet Union, Indian subcontinent, North Korea, and Mongolia |
| 6 | China |
| 7 | Not currently in use; reserved for future needs |
| 8 | International areas such as on aeroplanes and cruise ships |
Buyers should also note that some in-car DVD players may be equipped with multi-region support, which means that they can play discs from any region. These DVD players are also known as region-free or chipped players.
PAL and NTSC Formats for in-Car DVD Players
The television format also plays a role in determining the compatibility of an in-car DVD player. Although region 0 is often considered region-free, a disc may still be encoded for a particular television format. Two main formats are PAL, used in Europe, parts of Asia, and Australia; and NTSC, used in North and South America. For the greatest compatibility, buyers should look for an in-car DVD player that supports both formats.
Anti-Skip Protection for in-Car DVD Players
From time to time, cars are bound to hit a few bumps, which means that the in-car DVD player experiences some jostling. To get the best performance, buyer should look for DVD players that have anti-shock or anti-skip protection. Players with these features read a section of the disc and store it in memory so that if the car hits a rough patch the player can still operate smoothly without skipping.
Headphone Support for in-Car DVD Players
Players that have built-in support for headphones allow passengers to enjoy a film without distracting the driver or other passengers. Some in-car DVD players can support up to four sets of headphones when two splitters are used. Other systems may be equipped for use with wireless headphones and may even include them in the purchase price.
Additional Connection Options for in-Car DVD Players
Many in-car DVD players may have additional A/V connections. These additional ports can allow buyers to link a second screen or connect a gaming system. Buyers who plan to attach other devices should make sure that the player has the correct connection options, such as component or SCART.
Buying In-Car DVD Players on eBay
eBay is a great source for car accessories, including in-car DVD players. To start searching, you can enter a keyword phrase in the box on the home page, such as "headrest DVD player". eBay's search engine then displays all of the products that match your keywords. For the most relevant results, filter by the product's features. You can also apply other filters, such as price range and condition. If buying from a seller outside of the UK, remember to check the DVD player's region code.
Tips for Shopping on eBay
There are a variety of ways to make your shopping experience on eBay simpler. The filters make it easy to find specific products, but you can also modify your keywords to specify a particular brand, such as "Eonon in-dash DVD player".
Always research a product before making a purchase by checking product reviews from experts and buyers, and reviewing the manufacturer's specification. You can also contact eBay sellers if you have any questions. Check the seller's feedback history before making a purchase to see how previous buyers have rated his or her performance and what they have said about their own experiences.
Conclusion
In-car DVD players are versatile devices that are great for entertaining passengers on long journeys. When purchasing in-car DVD players, buyers should choose which type they prefer. Portable players are the most versatile because they can be removed from the car and used anywhere. Buyers can also choose from in-car DVD players built into the back of a seat's headrest, in-dash players that can serve as a hub for many of the car's systems, and roof mounted players that flip down to reveal a screen.
Buyers should also consider the power source of the in-car DVD player, the supported media formats, the player's DVD region, and anti-skip protection. Finally, most good in-car DVD players should have support for headphones and connections to other devices, which expand the possible uses for the players. When shopping for in-car DVD players, buyers can visit eBay to find a large selection and affordable prices.