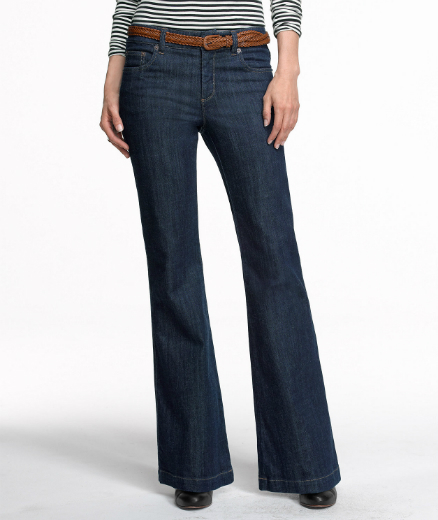 Not all jeans are created equal. Some will have better denim than others, while others will be of a better cut. Designer jeans are often expensive. They will carry a name brand and they might cost a lot to make. However, they might also be made of finer, stronger material, and they might fit a body very well. Well-designed jeans can also flatter a body, accentuating curves and hiding perceived flaws.
You can buy designer jeans for less, especially on the eBay marketplace. There are many designer jeans available. They are classified according to the cut of jeans as well as the fabric and the weave. One should not forget that designer jeans also come in various colours and washes, or rinses. Navigating the world of designer jeans is not difficult. Charting the right course comes down selecting the right of cut of jeans to flatter a particular body shape, and knowing how to size jeans correctly. It also helps for the shopper to know their way around eBay, because, without a doubt, eBay is the emporium of designer jeans, but without the designer price tags.
Factors to Consider When Shopping for Designer Jeans
There are many ways to classify designer jeans, as well as to group styles of jeans. However, the main classification can be according to what the jeans are made of, how they are cut, and even how relevant they are.
Overall Style
In general, trendy jeans will be chic, and will have a wash, leg style, and length that go with the most popular style of the times. Such jeans will most often be from designer labels, which, for their part, are also in on the trends. On the other hand, there are also customised jeans that can be bought to match a shopper's specific body type. Such jeans will also contain personalised touches such as crystals, patches or studs. Finally, basic jeans will contain five pockets, and will have a comfortable fit. These classic jeans can be used for everything from shopping to going out.
Fabric and Weave
Jeans can be made from a variety of fabrics and weaves. Right hand twill, for instance, is a rugged fabric that uses uniform yarns. On the other hand, left hand twill is softer. Ring spun denim is the original fabric that the first jeans were made from, while open denim is today's most popular fabric, and its yarns have a thickness that is consistent throughout the fabric.
Fabrics can also be coloured with dyes, or they can be treated in order to create specific fabric textures. Dirty denim, for instance, has brown filler yarns. This allows the jeans to have an artificial 'dirty' look.
Cuts of the Jeans
There are specific cuts of jeans that will go with specific body types. For instance, flared jeans will be slim all the way from the legs to above the ankles, after which the jeans flare out from the leg. Such jeans are flattering for many different body types. On the other hand, bell-bottom jeans flare starting at the knee. Bootcut jeans are slim through the legs, but flare only very slightly at the ankles, enough to accommodate boots.
Peg legs are slim all the way through the knees to the ankles. Such a straight cut is often considered classic, and is fashionable as well as versatile enough to fit nearly all body types. Women who are apple-shaped can wear such a style as long as the jeans have a dark wash or are made from darker denim, as the colour slims a woman's silhouette down.
Low rise jeans rest on the hip instead of at the waist, while the opposite, high-waisted jeans, rest directly on the waistline. Low rise jeans are flattering on wearers with long legs, while petite shoppers might benefit the most from using high rise jeans.
Skinny jeans are extremely tight fitting. They are usually made of stretchable fabrics. They can be worn by nearly all body types, but women who have larger curves might wish to opt for high-waisted varieties, as they can accentuate curves. Baggy, loose fitting jeans are less constrictive on the legs, and can even be used for light exercise.
The Wash of the Jeans
Jeans can also be treated with chemicals in order to achieve a specific texture and appearance. Stonewashed jeans, for example, are treated with sand or chemicals in order to achieve a worn, faded look. On the other hand, some blue jeans can also be slightly faded, allowing the jeans to be a little less rugged. The first blue jeans were of a lighter shade than today's dark denim. Dark denim can be used for a wide variety of occasions, whether for casual or even evening wear.
Sizing Jeans Designer Correctly
Jeans sizes will differ from one country to the next depending on the size system being used. The following table shows the most common size conversions for women's jeans between UK and US sizes.
| Sizes | US Women | UK Women |
| --- | --- | --- |
| Extra Small | 2 | 4 |
| Small | 4 | 6 |
| Medium | 6 | 8 |
| Large | 8 | 10 |
| Extra Large | 10 | 12 |
| XXL | 12 | 14 |
Size is not the only important factor when shopping for designer jeans, but it does matter. Well-designed jeans should flatter a body and accentuate its best assets. Poorly-fitting jeans will hang carelessly over a body, or will constrict movement. Jeans that are cut too short can make short legs look even shorter, while jeans that are cut too long can make the jeans difficult to move in or walk with.
When shopping for designer jeans, it is advisable to first try brick and mortar stores. This can give the shopper a good idea of what jeans fit well, what cuts will look best, and how the denim feels on the shopper's skin.
The shopper should try out a wide variety of cuts, and to try sizes slightly higher or slightly lower. This will give the shopper an idea of where the jeans might not fit correctly. For example, some designer jeans might fit a body all the way through the legs, but will not fit the waist or hip. Therefore, a larger size might be needed.
Once the shopper has a good idea of what jeans he or she needs, then he or she can proceed online and start shopping for designer jeans.
How to Buy Designer Jeans on eBay
Visit the main eBay site and use the site's search engine to search for 'designer jeans'. You can narrow this search down by specifying whether you want 'men's designer jeans' or 'women's designer jeans. You can also be specific by adding your size, the designer's name, and even the colour of the jeans to the search query. For instance, you can use more specific search queries like 'jeans black Armani' or 'Armani jeans size 12'. The more specific your search query, the fewer the results, but your search is more targeted. If you would just like to browse the listings, use a more generic search query and then sort the listingS on the results page by selecting and deselecting search filters. This will sort your listings by colour, cut, brand, style, and size. The best deals on designer jeans are for used designer jeans. You can also sort the listing to only show listings for used designer jeans.
There are two ways of buying jeans on eBay. One is by participating in an auction and the other is to pay the list price. The seller will specify the buying method in the item description. Auctions can be exciting and you can often pick up a pair of jeans for much less than the list price, but the downside is that you could lose out to a higher bidder and an auction can run for a few days. If you simply must have a pair of jeans, consider paying the listed price and get it over and done with. To participate in an auction or pay the listed price for a pair of jeans, you will need to sign up as an eBay member.. The registration process is simple to follow and is free.
The rise of the designer jeans has seen the rise of fake designer jeans. To make sure you are buying the real thing, request close-up photos of the jeans so you can look at identifying features of the jeans. You should also only do business with eBay Top-sellers. These are sellers who have earned stellar reputations on eBay. They have the highest feedback scores and their feedback from previous buyers is often glowing. You can always sort the listings to only show those listings for designer jeans posted by top-sellers.
Conclusion
Jeans enjoy wide use in our world today, whether for a stroll through the high street, a night out with the girls, or as work attire. Jeans have to fit well, flatter the body, and last for a long time. Designer jeans, in particular, are expensive, but they are also made of good materials, keep you cool, and flatter the wearer's form. They can also be bought online for a lower prices than they would be at a brick and mortar store.
You can shop for designer jeans on the eBay marketplace, where you can narrow your search down to a few select pairs of designer jeans. eBay's easy to use search tools help shoppers to hone in on that perfect pair of designer jeans. As long as you have a set price range, an idea of what cut you want, knowledge about your body size, and a good sense of style, you'll find your designer jeans online and make a wise purchase.