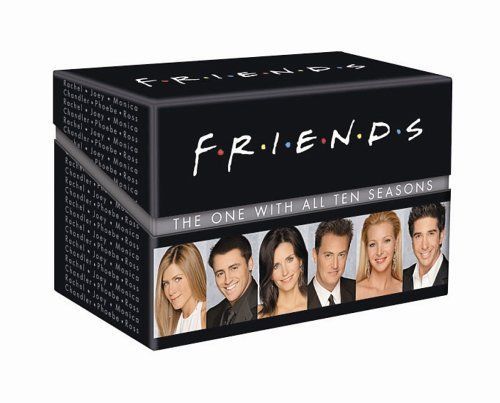 A sitcom produced in America called "Friends", nominated for 63 Primetime Emmy Awards continually, receives worldwide acclaim even amongst British fans clear across an ocean. The popular situation comedy dramatises how a core network of acquaintances experience life's tests and trials collectively becoming as close or closer than family while functioning as a support group. Social intimacy rings true with viewers every time someone purchases a " Friends" DVD or buys related paraphernalia to keep friendship alive in ongoing relationships.

Buy the Complete Set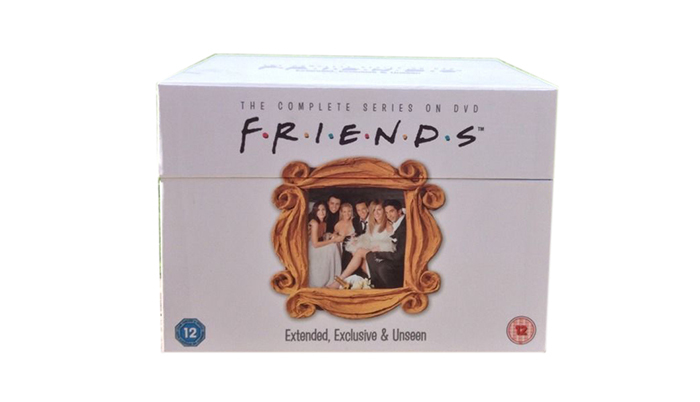 Equip your video library with a "Friends" box set of all 10 seasons airing from 1994 to 2004 with a generous inventory available on eBay, which may contain up to 40 discs, depending on whether the chosen format is DVD or Blu-ray. The complete series, filmed predominantly in a coffee-house setting plus other locations, has cast members acting out day-to-day job struggles, dysfunctional families, on-off love affairs, clandestine rendezvous, mislaid wedding plans, and the challenges of parenthood. Each episode builds upon the next so that missing just one incident keeps viewers out of the loop.
Collect Posters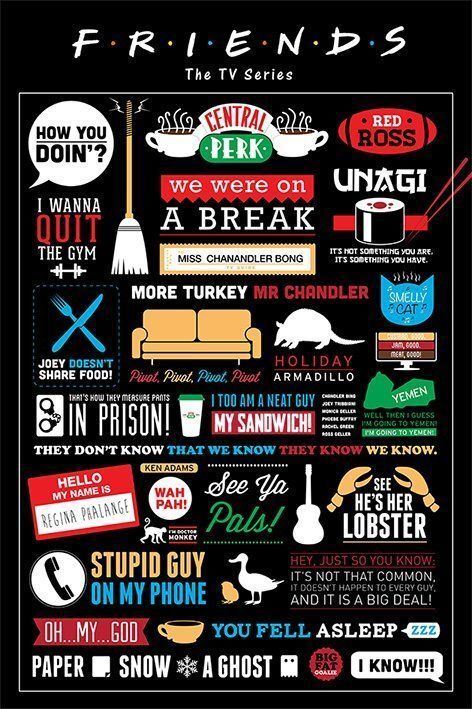 Buyers like to spread joy around by displaying a collection, especially when sharing a similar interest in an internationally favoured TV show. Add a poster to your collection such as a 61x91.5 cm quotes poster featuring, "How you doin?", "Stupid guy on my phone", "Smelly Cat", and others. Build up your compendium by adding a "Friends" poster showing all the cast engaged in consuming delightful milkshakes and sundaes. Another daring purchase is the six-member crew having lunch, high in the air, on a skyscraper construction site. Even a montage poster has you spying something new upon closer examination.
Hang a Canvas
A black and white print on canvas is impressive on any wall of the house, as the cast is suspended mid-air relaxing over sandwiches. Buy one of the standard sizes or get the image custom made to your specifications ready to hang as soon as the artwork arrives on your doorstep. Choose one of three edge wraps to include blank, full, or mirror for a more tailored appearance which makes the print almost pop off the wall's surface.

Autographed Photos
Take friendship to a whole new level by giving your favourite buddy a limited-edition, silver-mounted display of the cast with original autographs or a just the signed photo ready to place in a frame of choice or an autograph book. Snap up signed photos of individual cast members Jennifer Aniston, Courteney Cox, Matthew Perry, Lisa Kudrow, Matt LeBlanc, or David Schwimmer, with or without a frame, when thinking about the perfect gift that endorses a close alliance.