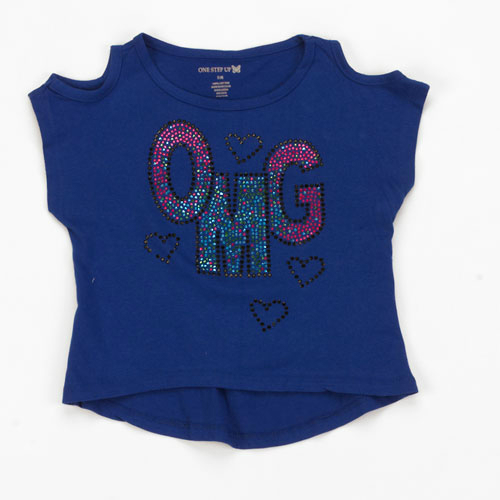 Girls' tops include any type of T-shirt, tank top, sweater, jacket, tunic, or blouse that can be worn by a girl aged 0 to 16 years. The word 'top' is generally used interchangeably with the word 'shirt' but is often to be considered less specific, as the word shirt designates a thin top with either long or short sleeves, as opposed to a sweater, tank top, or other type of top. The top covers the upper body from the neckline to the waistline, although some can be longer, as in the case of tunics, and others can be very short and only extend to the upper rib cage.
Tops can be paired with skirts, leggings, jeans, and pants and are available in a variety of styles, sizes, colours, and patterns. Most girls' tops are designed to slightly mimic women's fashion while ensuring the modesty and warmth required by young girls.
This guide takes an informative look at the different styles of girls' tops, sizing, and styling with various outfits for different types of weather.
Styles and Types of Girls Tops
Girls' tops include basic tops such as tank tops, T-shirts, sweaters, jackets, tunics, blouses, and other styles. Girls should choose the style of top based on fashion, weather, season, and occasion. For example, sweaters are most suited to cold weather while a tank top is not always appropriate for school. Girls can choose tops in a variety of styles and colours, but the most important selection is usually for the top to be weather appropriate.
Singlets and Camisoles
Singlets and camisoles are basic types of girls' tops. A singlet is sometimes called a cami, tank top, spaghetti strap, or vest due to its solid body and lack of sleeves. The width of the sleeves can range from either neck to shoulder or a single thin strap. Singlets and camisoles are often paired with T-shirts, sweaters, cardigans, and other layering tops for added warmth and coverage. They are often considered adequate for informal wear on warm days.
T-Shirt
The T-shirt is another very basic girl's top. T-shirts include an A-line style body with T-sleeves to create a capped effect. T-shirts can come in basic colours, with or without breast pockets, long or short sleeves, although the long-sleeve version is usually labelled as a 'long sleeve T-shirt'. Styles of girls' T-shirts include the ringer T-shirt, with separate sewn on collar and hems; thr long sleeved T-shirt; the A-shirt or T-shirt without sleeves; and the half shirt, a T-shirt with a high hem that usually ends just above the rib cage.
T-shirts can be styled with an array of basic clothing including jeans, jackets, and camisoles, but can also be styled with layering for additional warmth. T-shirts are normally excellent options for school wear. T-shirts are often available with graphics, logos, and patterns, making them an excellent choice for wardrobe personalisation. T-shirts can be styled with leggings, skirts, and boots for a 'cute' look, or with jeans for a more basic one.
Polo Shirt
The polo shirt is not very common for girls but is sometimes required as part of a school uniform, for sports, or for formal wear. Polo shirts are similar to T-shirts but include a formal collar with buttons, usually to either increase aeration or to increase the formal appearance. Variations of the polo shirt include the Henley shirt which does not have a formal collar and the rugby shirt which is usually constructed of a durable and breathable material and it best used for sports. Polo shirts are most commonly worn only for exercise or formal occasions but can also be styled with skirts, jeans, and leggings.
Sweatshirt
The sweatshirt is usually made of strong, soft cotton and can be lined with fleece or wool for added warmth. Sweatshirts include both hooded and regular sweaters and are usually very warm, durable, and soft. These shirts often include pockets in the front and can be styled as pullovers or zip-up sweaters. Girls can wear sweatshirts informally and in many school settings that do not require a uniform. Some schools and athletic teams also make sweatshirts with school's or team's logo available for purchase. Sweatshirts can be styled with a range of girls' trousers, skirts, and leggings. They are most often worn casually but can sometimes be paired or layered with other clothing as well.
Tunic
The tunic was invented in the Middle Ages and was originally a man's garment, but since then it has become one of the most popular options for girls of a young age. Tunics can include almost any type of top that extends to the hip and can range from the size of a long top to the size of a short mini dress. In either case, the tunic can be paired with leggings or jeans to create a modest yet fashionable look for girls of all ages. Tunics can be purchased in a variety of winter and summer materials, with and without graphics, and occasionally styled for formal wear. However, most tunics are designed for everyday, casual wear. Tunics often create a very feminine look but are versatile and can be worn with a wide variety of clothing.
Sweater
Sweaters can include any type of knit shirt with short or long sleeves made from a variety of materials including cotton, wool, and sometimes man-made fibres. Sweaters are usually designed for warmth but can include features such as graphics and formal styling as well. Many sweaters are knit which means that they should be worn over other types of tops for warmth and wind protection. Some sweaters are made of normal fibrous fabric and appear similar to sweatshirts.
Outerwear
Girl's tops also include outerwear such as coats, jackets, cardigans, wraps, and other over-the-clothing tops. In most cases, girls' outerwear is used to refer to articles of clothing that should be worn outdoors for protection against the weather. Outerwear can be purchased according to weather needs and style, although usually the warmth is the most important aspect. Options for girls include parkas, jackets, coats, hooded sweaters, cardigans, and frocks.
Blouses
Blouses include a variety of styles that range from the classic button-down blouse to solid body shirts. These shirts go by a range of names including camp shirt, dinner shirt, formal shirt, poet shirt, oversized blouse, and more but will usually feature cuffs, collars, and buttons or snaps of some kind. Blouses are excellent for layering and wearing on formal occasions and are usually appropriate to be worn in school settings.
Other Tops
Other girl's tops include onesies, leotards, baby grows, and jumpsuits. While not normally classified as tops, these articles of clothing cover the upper area of the body, and in the case of leotards and onesies, are often sold under shirts or tops categories unless specifically made for athletic wear. Most of this type of clothing is suitable for a variety of occasions, especially when layered with outerwear and fitted properly.
Fitting Girls Tops
Girl's tops come in two basic size variations including single size, also known as one-size-fits-all, and numerical sizing. Usually the-one-size-fits-all models will be cheaper but are less likely to fit perfectly due to being made for a wide range of sizes and ages. Numerical size charts range from 0 to 16 years and will often include baby sizes, toddler sizes, and girls' to adult range. Baby clothing for ages 0 to 12 months is usually sized by age, length, and weight, but can differ per clothing manufacturer. Because of this, it's important to check size charts provided with any girls tops.
| Age | Chest (cm) | Waist (cm) |
| --- | --- | --- |
| 12-18 months | 49-51 | 50-51 |
| 18-24 months | 51-53 | 51-52 |
| 2-3 years | 53-55 | 52-53 |
| 4 years | 57 | 49-59 |
| 5 years | 59 | 50-60 |
| 6 years | 61 | 52-62 |
| 7 years | 63 | 53-63 |
| 8 years | 66 | 54-64 |
| 9 years | 69 | 56-66 |
| 10 years | 72 | 57-67 |
| 11 years | 75 | 58-68 |
| 12 years | 79 | 59-69 |
| 13 years | 83 | 60-70 |
| 14 years | 87 | 62-72 |
| 15 years | 89 | 64-74 |
| 16 years | 91 | 66-76 |
Clothing by different manufacturers will vary slightly in size, especially the waist measurements. Usually the actual size on most garments is somewhere in between the high and low measurements offered. For girls' tops that stretch, the measurement will go from the high to low extreme. The S-M-L-XL usually refers to a certain age group from 0 to 2 years and then to weight from 12 to 16 years. These types of sizes are also different across manufacturers, but one-size-fits-all clothing is usually made from stretch materials with Lycra, so it is possible for one size to fit a wide range of girls.
Buying Girls' Tops on eBay
eBay is home to a huge selection of girls' tops including sweatshirts, camisoles, blouses, and more with sellers around the world and from the UK. Tops can be purchased by size, colour, graphics, and type, meaning that it is possible to find any type of girls' tops that you are looking for.
Start your search on the home page of eBay and type in what you are searching for. For example, girls' hooded top' will bring up a wide selection of hooded sweatshirts and sweaters, and 'girls' formal top' will bring up a range of clothing suitable for more formal occasions. Usually it is a good idea to decide what you are looking for and then search for it individually. For example, if you simply search 'girls' top' you will be presented with thousands of options that might take a long time to navigate and scroll through. If you just want to see what's available, however, this is the best way to browse.
Once you've decided what you want, you can simply checkout and use the payment options provided. Anything you purchase will be shipped to you within an allotted time frame. If you need your girl's tops quickly, purchasing them from a local seller will ensure faster shipping times than when purchasing from abroad.
Conclusion
There are tens of different styles of girls' tops available on eBay, other online stores, and in high-street shops. Usually girls' tops are styled according to occasion and weather, but can be layered and styled to change their original intended wear. Girls can choose from a variety of clothing styles to achieve different looks but, in most cases, what is worn with the top will determine the overall effect. For example, a girls' T-shirt can be very casual if worn with jeans, but if paired with a miniskirt and a cardigan, it can be a great deal more formal.
It's also important to check with any local school regulations before purchasing girls' tops. Some schools limit colours, neckline length, and graphics that can be worn inside of the school, especially by teen girls. Girl's tops can be purchased in stores and shops, online, and on eBay but it is important to consider the size and measurements wherever the garments are purchased. Some manufacturers can vary in their actual sizing so it is important to check the measurements or to have the child try on the garment before purchase.