Jasperware was first produced in the 1770s by Josiah Wedgwood. Generally classified as
stoneware
, these decorative designs are known for their matte finish.
Wedgwood jasperware
is produced in a wide array of colours, most notably, pale, or wedgewood blue. Pieces from the 18th century prove most popular amongst collectors.
Features
An unglazed, matt finish characterises jasperware. A finely wrought bas-relief is then layered over; this provides a glass-like appearance. Jasperware is appreciated for its ornateness and often edged in garlands or swags.
Manufacturing Process
There are two primary categories in the manufacturing of jasperware: solids and dips. Solid jasper is turned or moulded from a solid piece of coloured clay, while the latter involves dipping the solid jasper body, usually white, in coloured clay. The latter is meant to alter the surface appearance.
Colours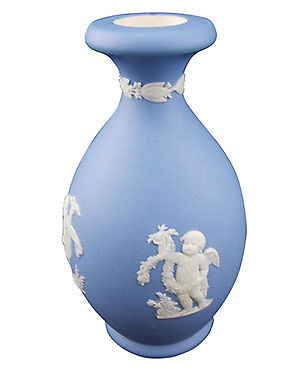 Colour can help indicate the time period when a piece was produced. Jasperware was originally fashioned in blue, lilac, black, yellow, and green; these colours were used as background for white relief or along the edges and sides of china. Still, more modern options come in a wide array of colours. Due to the vastness, some individuals choose to limit their jasperware collection to a particular colour, such as crimson, pink, olive, or red jasper. Still, others choose to collect a piece in each colour or colour combination; some contain up to five colour examples. Tri-colour jasper was made in the 1780s, but is relatively rare. The most common base is Wedgewood blue; this grey-blue shade replaced rich cobalts in popularity. Jasperware of this colouring is often simply referred to as Wedgwood. Other blue hues include mazarine blue and midnight blue. The royal solid blue was introduced in 1953 to commemorate the coronation of Queen Elizabeth II. It was also used to celebrate her Silver Jubilee and again revived for the 50th edition of the Portland Vase in 1980. Lastly, soft green also proves popular.
Forms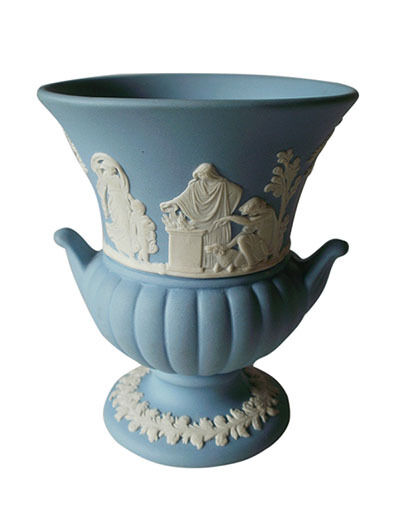 Jasperware comes in many forms, including Wedgwood jasperware urns, vases, teapots, bowls, and trinket boxes. Drawings of popular Greek and Roman figures often featured, particularly on jasperware vases, as did figures of popular fame, including Washington, Franklin, Linnaeus, and Newton. Additionally, Wedgwood produced anti-slavery jasperware in an attempt to express his abolitionist beliefs; these pieces were first produced in 1787 as medallions. The medallions either featured black on white, or white on blue, and depicted the image of a slave alongside the slogan: "Am I not a Man and a Brother?" Finally, buckles and buttons were also commonly fashioned, as were plaques, medallions, and commemorative pieces. Jewellery pieces, such as jasper necklaces and bracelets also gained widespread popularity.