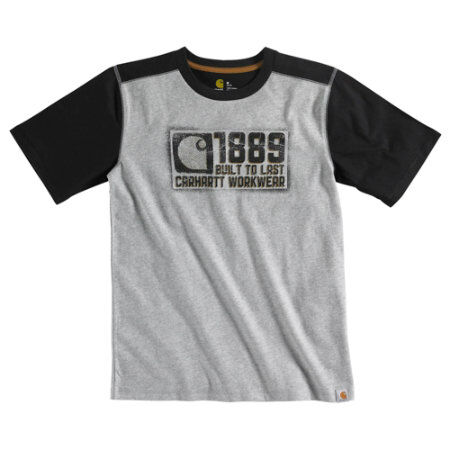 T-shirts are versatile clothing items that can be matched with jeans, blazers, shorts, and more to create a variety of outfits. eBay is home to a wide selection of men's T-shirts that can vary from expensive name brands to budget and basic options. Men can search for any type of T-shirt they like, including a specific T-shirt such as a sports T-shirt, a T-shirt with particular graphics, logos, and designs, or any other style they like. It's not complicated to search eBay for any type of men's T-shirt, either for personal use, as a gift, or collectors' item. It is possible to find both new and used men's T-shirts on eBay, in a variety of conditions and styles, and have them shipped directly to one's home.
Before buying a T-shirt on eBay, it is important to know the main features of different styles of men's T-shirts, the materials they can be made of, as well as how to find them on eBay and choose the correct size and style.
Types of Men's T-shirts
Men's T-shirts are usually available in sizes ranging from XS through XXXL, although some designers limit their range to S-M-L sizes for convenience and availability. Western-designed T-shirts usually follow classic sizes and fit, giving a weight class per size. T-shirts from Asian countries are usually about one to two sizes smaller, and slim-fit T-shirts are usually about a half size smaller than traditional sizes.
Classic or Regular-Fit Men's T-shirts
The classic or regular fit men's T-shirt features a round crew neck, T-cap sleeves, and a straight body. This is the traditional T-shirt and is the most common. Some T-shirts are meant to be worn loose, others are meant to be a little more snugly fitted. Unfortunately, the only real way to check how the T-shirt is supposed to fit is to check the measurements and the fabric. Any shirt that contains Lycra is likely tight fitting.
Long Sleeve Men's T-Shirts
The long sleeve T-shirt is a variation of the T-shirt with simply longer sleeves than those of the classic T-shirt. Usually the sleeves are of the same colour, or a simple extension of the T-cap sleeves, but can also include double layers of fabric and a contrasting-colour sleeve to give the appearance of a long-sleeve shirt being worn under the T-shirt. Usually men's long sleeve T-shirts are warm enough for casual wear in mild to cool temperatures, but not warm enough for winter wear. In cold temperatures, the long sleeve T-shirt should be paired with a sweater, coat, or jacket.
V-Neck Men's T-Shirts
V-neck T-shirts are a variation of the classic crew-neck T-shirt. Usually V-neck T-shirts are skinny or slim fit and made of a blend of cotton and Lycra so that they stretch. These shirts are available in a variety of colours, with graphics or band logos, but are less common than many other types of T-shirts. Usually the V-neck T-shirt is worn by men who either appreciate fashion or want to wear a button-down shirt without showing skin. V-necks are usually quite trendy, but mostly fashionable among young men.
Buying Vintage T-shirts
eBay is home to thousands of styles of new T-shirts, but it's also possible to purchase used, second-hand, and vintage T-shirts. There is a variety of reasons for choosing to purchase vintage men's T-shirts: many people collect T-shirts and a certain one might not be available to purchase new; a used T-shirt can be a great deal more affordable than a new one; and a high quality, used T-shirt may be of better quality than a budget, new item. For anyone who doesn't mind purchasing used clothing, this can be a great way to add to a closet, to a collection, or to get a special shirt that is no longer available elsewhere. eBay has a wide selection of pre-owned men's T-shirts.
Anyone who wants to purchase a used T-shirt should decide what they want the shirt for, how much they are willing to pay for something used, and what style of T-shirt they want. For example, anyone who wants to purchase a second-hand T-shirt to wear is probably looking for something quite cheap. On the other hand, someone looking for a collectible T-shirt should be willing to pay a great deal more for the shirt, simply because it is a valuable and rare commodity. Purchasing a vintage shirt should involve researching the brand to ensure that it is not overpriced, checking the shirt to make sure it is of sufficient quality, and then making sure that it ships to one's area.
Styling Men's T-Shirts
Men's T-shirts can be styled in a variety of ways that range from the very casual to semi-formal. Originally, the T-shirt was designed to be worn under the clothing, in the same way that many tank tops are worn today. Men can still wear the T-shirt in this fashion, adding a layer under anything from a sweater to a suit for additional warmth or comfort.
Casual Looks
For a casual look, men can style a T-shirt with jeans, trousers, or shorts. Leaving the shirt untucked gives a more casual look then tucking it in, but a tucked T-shirt is generally warmer and more appropriate for colder days. Usually the most important parts of styling a T-shirt include the fit, the colour, whether or not it has a pattern or logo, and what it is worn with. Essentially, any T-shirt with a graphic or logo is excellent for wearing on its own. Depending on the graphic, the shirt can be given a casual, academic, or even grunge, alternative look.
Semi-Formal Looks
Pairing a T-shirt with more formal styles including dress shoes, dress trousers or a blazer gives a semi-formal look that is appropriate for parties, dinner in non-exclusive restaurants, and semi-formal special occasions. Depending on the occasion, it may or may not be appropriate to pair the look with sneakers instead of dress shoes. Most of the time, a T-shirt is paired with clothing for a casual to semi-casual look.
Interesting Looks
Great looks include pairing a black or white T-shirt with sneakers and skinny jeans. Depending on the colour of the jeans, the style of the sneakers and the graphics on the shirt, this look can range from basic to a little formal. For example, pairing a black and white T-shirt with a simple black graphic with burgundy jeans and black sneakers is an interesting but fashionable party outfit. Pairing a plain white T-shirt with almost any colour of skinny jeans and sneakers makes a great everyday outfit.
Basic Looks
One of the most basic outfits for men is a pair of boot-cut jeans with a plain T-shirt, a look that can be spiced up with the addition of a sweater or blazer, but is usually considered basic casual wear, no matter what it is worn with. Changing the style of the jeans, adding trousers instead of jeans, or wearing the T-shirt with shorts can change the look a little bit, and men can add accessories such as a watch, necklace, scarf, or hat.
Buying Men's T-Shirts on eBay
If you're looking for men's T-shirts, you can start by visiting the home page of eBay to begin your search. If you know what you're looking for, you can search for a specific T-shirt, such as a 'vintage band T-shirt' or 'vintage men's Nike T-shirt'. You can also search for simply used T-shirts and then specify the style, for example 'used skinny T-shirt'. Or you can search for nearly any style of new T-shirt that you like with search terms like 'men's T-shirt', or 'men's Avenged Sevenfold T-shirt' for something more specific. There are thousands of different options, so anything that you are interested in, you can search for.
Important considerations when searching for T-shirts on eBay include that you check the size chart to ensure that the fit is the one you are familiar with, the colour, any disclaimers to ensure that it's exactly what you want, and the price to make sure that you're paying what you want for it. eBay sellers are generally available to communicate, so if you have any questions about shipping, quality, or size, you can just send the seller a message.
Conclusion
Anyone can find nearly any type of men's T-shirt on eBay including collectible T-shirts, budget T-shirts, or even affordably-priced designer items. Because eBay is a worldwide market, men can find shirts that aren't available in their location, meaning that they can have something unique or fashionable that no one else in the area has.
T-shirts come in a variety of styles and designs, for example those representing bands, celebrities, or favourite teams. T-shirts can also be styled in various ways, but should mostly be worn for casual and semi-casual wear. While they can be worn to parties and on their own with jeans or shorts, T-shirts can also be worn under clothing for additional warmth and comfort purposes.
eBay is an affordable place to purchase T-shirts because it offers anyone access to a wide variety of shirts, with different styles and logos. Men can find anything they want from their home, whether they want to collect, wear, or shop for good value T-shirts.