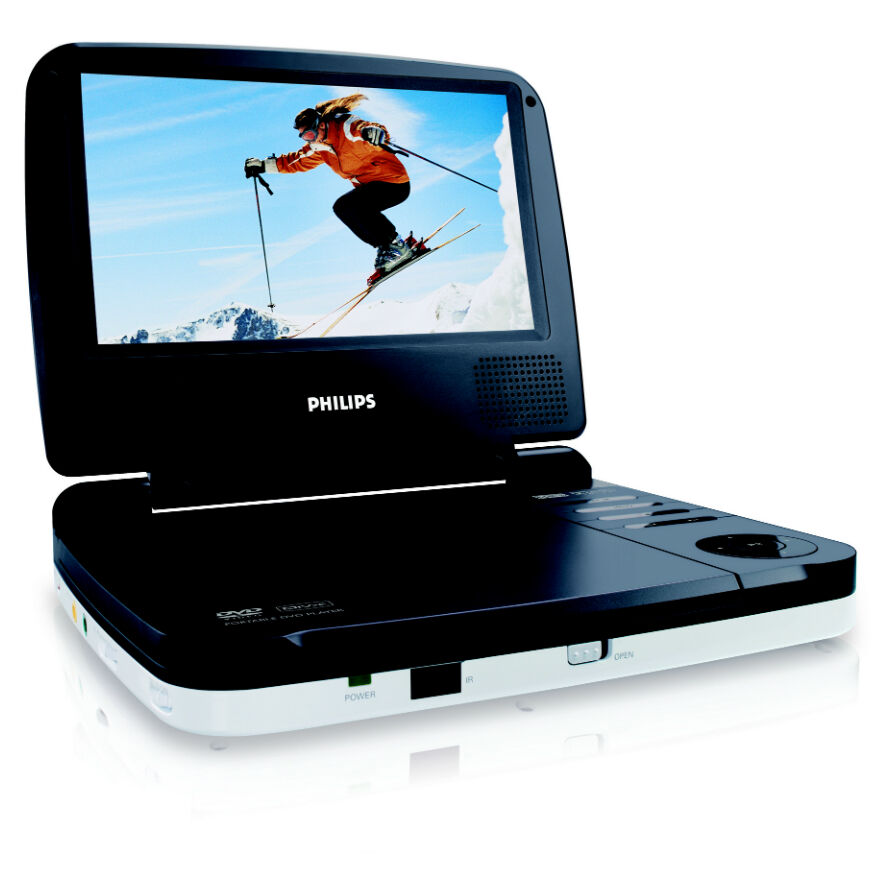 People are spending more time in their cars, whether for business or pleasure. Increased traffic congestion in metropolitan areas means a lot of time spent commuting and waiting, and often a great deal of frustration. Drivers frequently listen to the radio, recorded music, or a book on CD to make use of the otherwise wasted time while keeping their eyes on the road. However, there are other circumstances in which a driver may actually spend time in the car when not driving. Some workers may eat lunch in their car to get some time alone. Other people might have a few spare moments in the parking lot between appointments or meetings. Mothers who wait for their children during piano lessons or football practice sometimes also wish for some form of entertainment. Passengers, too, may need a diversion during an extended road trip. In any of these instances, a portable DVD player is a great idea.
Choosing a good portable DVD player may seem overwhelming, particularly to those people who are technology-shy. Luckily, there is not as much to selecting a portable DVD as one might expect: The main deciding factors are the type of player and the brand.
Types of DVD Players for Vehicles
There are many ways to place a DVD player inside a vehicle. In fact, some autos come direct from the factory with a permanent DVD player already included. Owners can also have a player installed into a vehicle after the fact. Some people prefer to use portable DVD players, which they can move from one car to another or even use in the home. A DVD player generally can be used in an auto in one of four ways: mounted to the ceiling, on the front seat headrests, on the dashboard, or placed on one's lap, the seat, or the console. Most portable DVD players for cars are mounted to the headrest or dashboard, or are freestanding all-in-one units. Ceiling mounts are usually permanent.
Headrest DVD Players
A headrest DVD player attaches to the headrest of a front seat and faces the back seat directly behind. These mounts are ideal for children who normally ride in the back seat, as well as for any other passengers. They can also be used by solo drivers who may not wish to be tempted to use a DVD player while behind the wheel but are willing to move to the back seat for viewing while the auto is at rest. A headrest monitor may be permanently or semi-permanently installed, but a portable version usually involves a mount for the DVD monitor to be inserted and removed as desired.
Dashboard DVD Players
A DVD player may be affixed to the dashboard by installing it in the same spot as the car stereo. In this case, "portable" refers more to the fact that the DVD player can be used in the car as opposed to in a fixed location (such as the home), and not to its portability absolutely anywhere. This type of DVD player is permanently installed. Sometimes, the monitor itself can be moved. The size of the stereo determines the DIN (size) of the DVD player: single or double. The abbreviation "DIN" stands for "Deutsches Institut für Normung", a standards organisation in Germany. DIN sounds like a complicated technical term at first but really is not.
Single DIN DVD Players
A single DIN DVD player (or stereo) measures 18 cm in width by 5 cm in height; the depth may vary. A single DIN player fits perfectly into the space left when a single DIN stereo is removed. Single DIN players may sometimes be inserted into a double DIN space if a special mounting kit is used to fill in the extra empty space.
Double DIN DVD Players
"Double DIN" refers to a device that measures 18 cm in width by 10 cm in height, exactly twice the height of a single DIN stereo. A double DIN stereo may be installed for aesthetics, easier reading, or to accommodate a stereo that includes a cassette deck and CD player or a GPS device. A double DIN DVD player is designed to fit into this taller space. Installing a double DIN player into a single DIN space requires professional assistance to enlarge the space.
Standalone Monitors
Another type of DVD player is the standalone monitor. While the main player may be affixed, the monitor can be moved from one seat to another or shared by more than one passenger.
All-in-One DVD Players
The most truly portable type of DVD player is the all-in-one unit. This can be used in the car and elsewhere; for example, on a trip, a child might start watching a movie in the car and then take the DVD player into the hotel room to finish watching before falling asleep. There are plenty of other uses for this type of portable DVD player, which can be utilised not just in the car but carried in the car to another location. Instead of reading or working puzzles, one might actually watch a movie in a waiting room or reception area with a headset. People also take these portable DVD players on flights, train and bus trips, or even to work.
Portable DVD Player Brands
As with most electronics, some consumers prefer to purchase items made by specific brands, relying on past experience, word of mouth, or the company's reputation to find favour with one manufacturer over another. Some of the most popular portable DVD player makers are:
There are certainly other brands as well. The important thing is to check for a warranty on new items and to verify the working condition of a previously owned player.
Other Considerations for Portable DVD Players
Even though using a portable DVD player in the car sounds like a good way to kill time and keep passengers occupied, there are some dangers involved, so the vehicle owner or the owner of the DVD player should keep safety and security in mind.
Safety
Distracted driving is a problem that correlates to technology. Some distractions certainly have nothing to do with gadgetry: applying makeup, eating, drinking, smoking, and even conversing with a passenger can all steal a driver's full attention and lead to an accident. However, items such as cell phones in particular are known distractors. Even though UK motorists are less likely to use a cell phone while driving than residents of other European nations, phone use still poses a problem. A driver must never use a DVD player for his or her own entertainment while on the road. In fact, they should not even play a DVD at all while driving with the intent of merely listening to it or watching it at intersections. It is simply too great a temptation, and it only takes a split second of inattention for a tragedy to occur.
Security
Electronics such as portable DVD players are desirable theft items. Players should never be left out in the open when the vehicle is parked or garaged. The owner should either store the DVD player in the car boot or take it along when leaving the vehicle. Drivers who keep valuables in their car boot should disengage the automatic boot opener so that a thief is not easily able to access the boot if he or she breaks into the main compartment of the car. At the very least, stow the DVD player under a seat or in the glove box, if possible.
Where to Find Portable DVD Players
You can find portable DVD players at a number of locations including:
Department stores
Gadget shops and catalogues
Appliance shops
Office supply shops
Electronics shops
Dollar shops
Discount shops
Internet retailers
Online auctions
Portable DVD players are sometimes available at consignment shops, yard sales, and auctions as well as through classified adverts, however, you should check these previously owned items carefully to ensure that they function properly. Online auctions have the benefit of providing both new and used items in one location.
How to Buy Portable DVD Players on eBay
You can find your ideal portable DVD player in your price range by shopping on eBay.To get started, find the All Categories link on the home page and either hover over it or click it. You can then choose a category and continue to select narrower categories until you arrive at DVD players. Use the Search function on the landing page to find "portable" players or click on various category filters to indicate specific models.
Another way to shop is to use the Search function from the start. Be sure to return to the home page in order to clear out any previous searches. Type in a set of words, such as "portable DVD players car" or "used Philips portable DVD player". Click on the Search button or press the Enter key, and eBay returns all related items, regardless of category. This enables you to find all suitable listings on the site, regardless of how the sellers have classified them.
Conclusion
A portable DVD player is an all-in-one unit, usually with a flip-top lid, that looks like a mini laptop. Portable DVD players are an excellent way to use waiting time constructively, whether for children who grow impatient on long car rides or for making a traffic jam more bearable. These devices can be held in the lap or placed on a relatively flat surface. The benefit of these players is that they can be removed from the car to continue watching. Other "portable" DVD players include those that are mounted to the headrest or dashboard yet can be removed. Dashboard players are installed into the stereo compartment and are measured by DIN, having either a single or double DIN configuration.
There are several brands of portable DVD players from which to choose, ranging from well-known electronics giants to smaller corporations. Always check to be sure there is a warranty on a new player, and test out a used player before committing to a purchase. Finally, always keep safety and security in mind. Hide a portable DVD player, if possible, to prevent thieves from breaking into the automobile. No matter what, never watch or use a DVD player while driving. By following these simple guidelines, consumers can purchase and enjoy a portable DVD player.