Football World Cup is one of the most popular events amongst sports fans worldwide and the finals have many spectators. In 1966, the World Cup and its matches took place in England. To commemorate this notable event, you can buy an original 1966 World Cup final programme.
About Football Programmes
In the 1800s, football programmes served to identify the players on the field according to their playing position, as they did not have names on their shirts. Eventually, organisers recognised programmes as a way to communicate sponsor as well as team information. Over time, the programmes became thicker and laden with information. Programmes are great ways to remember the details of a World Cup year and the relevant countries that meet each other in the Finals.
1966 World Cup Finals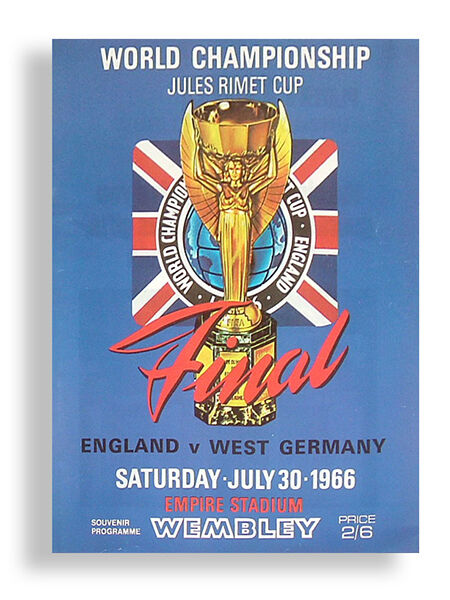 In 1966, the World Cup took place in England and the final game was at the Wembley Stadium. The Finals were between England and West Germany, and England won the match. Therefore, this programme is very popular in the UK. The final programme's cover has a blue background and features the Union Jack as well as basic information about the game, such as the location, teams, and players.
Authenticity of the Final Programme
If you are a collector or would like to resell the programme at a later date to make profit, ensure that it is a genuine issue not a reprint. Many reprints resemble the original quite closely. The 1966 World Cup original programme has specific colours and its printing process was in two stages, which is noticeable in the pages of the programme. You can find some that have signatures of professional players on them and these are particularly valuable. Many people acquired autographs on the programmes either before or after the game. Try to find a programme that comes with a certificate of authenticity from a reputable institution. You can also spot reproductions if you pay attention to the price of the item. Unreasonably low price could indicate that the programme is likely a reproduction.
Final Programme Condition
The 1966 World Cup was decades ago and therefore the programme could have some marks of ageing. The programme is paper and may have some discolouration and fading. If possible, have a look at the programme before purchasing and check whether it includes all of the pages. Keeping the programme flat is the best way to maintain it properly and if the previous owner did this, it is more likely that the booklet is in good condition.