The manufacturer first released the Korg RK-100 in 1984 and the RK-100S is the company's modern version of this classic keyboard. The design allows the keyboardist to move around on the stage rather than be stuck behind the keyboard. This keyboard comes with many features that make it a good choice of a musical instrument for players of all kinds.
Korg RK-100S Design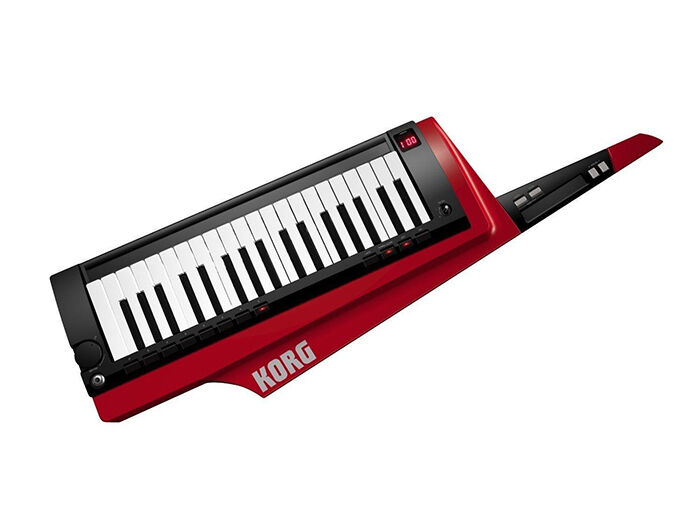 The Korg RK-100 was heavy and large, but the modern design is sleek, lightweight, and compact. This comes from the compact components, such as the slim keyboard with 37 notes. The company also uses these mini-style keys on the MS-20 Mini as they offer a good balance between playability and size. The new design incorporates curved surfaces, although the original design has remained in its essence. The keyboard's wooden body has a lustrous finish and comes in three different colours: black, red, and white. The body reflects the design of a guitar and delivers you timeless looks as well as varying impressions depending on the angle of view.
Korg RK-100S Built-In Programmes
The Korg keyboard features 200 built-in programmes. The MMC sound engine in the synthesiser equips it not only with analogue synthesiser waveforms, such as square and sawtooth, but also some other oscillator algorithms, such as noise, PCM, and formant waveforms. These power the multitude of programmes that cover all musical genres.
Korg RK-100S Controllers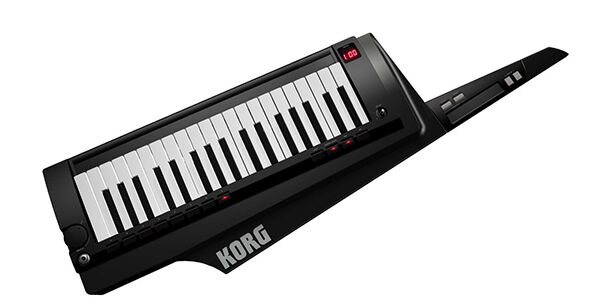 The Korg RK-100S comes with two ribbon controllers that make it good for active playing styles. You can manipulate the short ribbon on the neck with your left hand and use the long ribbon in front of the keyboard to make the best of all the performance possibilities. Use the long ribbon controller instead of the keyboard to play a specified range of scales and pitches or to control the filter or pitch in dramatic ways. These controllers thus allow you to improve your performance skills.
Korg RK-100S Power Sources
For cordless play, the Korg RK-100S works on NiMH AA batteries or alkaline AA batteries that you can easily obtain anywhere. At home, you can use the AC adapter to plug the keyboard in and play as long as you want.
Editing Sounds on the Korg RK-100S
The USB port on the Korg RK-100S allows you to connect the keyboard to a computer. With a PC sound module, you can use the PC editor to tune the parameters of the internal sound engine and the MIDI settings. The program has versions for both PCs and Mac computers. The PC Editor allows you to create your own sounds and customise your performance.