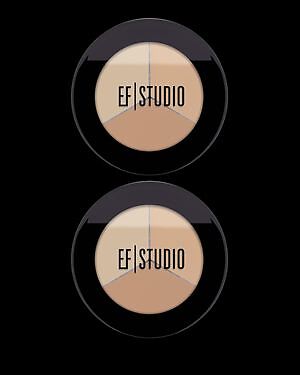 What is Powder Concealer?
Powder concealer usually comes in a pot, and resembles face powder, but it has a higher level of pigment designed to conceal blemishes and other flaws. In recent years, the rise in popularity of mineral make-up has seen powder concealers become popular with women of all ages.
Ideal for oily skin, powder concealers provide a buildable level of coverage that still looks natural, and they can help to maintain a shine free finish on the face throughout the day. Powder concealers are usually applied to the face with a brush and then gently buffed into the skin. The level of coverage can then be built up to suit the individual. It is possible to find light reflecting powder concealer too, from brands such as Bare Escentuals on websites such as eBay. Many pots of concealer come with a brush already included for easy application.
How to Apply Powder Concealer
There are a number of ways to apply powder concealer in order to achieve a flawless finish. Here are the most popular methods of application.


| Method | How-to and Benefits |
| --- | --- |
| | For those with flaky or sensitive skin, using a triangle make-up sponge makes application easy. Some powder concealer should be tipped into the pot lid and the triangle sponge can then be dabbed in the concealer and patted onto blemishes. For easy blending, the sponge can be lightly dampened. |
| Small brush (such as an eyeshadow brush) | It is possible to purchase a small brush on websites such as eBay, that can be used to provide precise coverage for spots. Swirl the brush in the powder, tap to remove excess and apply directly to the area. |
| | This brush is designed for use with mineral make-up and can be found online, on websites such as eBay, although some mineral foundations will include a brush. For redness coverage, a Kabuki brush can be used to apply a layer of concealer much in the same way as foundation – shake a little powder into the pot lid, swirl the brush in it and tap to remove excess. Then apply to the skin in a light swirling and gently buffing motion to avoid exacerbating any flakes or dry patches. |
It is a personal choice which type of application method to use, but most people with dry skin find that a slightly damp sponge is the best option. Packs of cosmetic sponges can be found for a very reasonable price online, and websites such as eBay also stock ranges of cosmetics brushes which are ideal for applying powder concealer.
The Benefits of Powder Concealer
Powder concealer provides a higher level of coverage than stick or cream formulations, whilst looking more natural and being kinder to the skin. Provided it is applied gently, so as not to cause flaking, it can be built up to effectively cover even very red or acne prone skin.
Because powder concealer usually contains natural ingredients and leaves out those which are bad for skin, such as mineral oil (which can cause breakouts), parabens, colours, dyes and fragrances, it is an ideal choice for women with sensitive skin, who may not be able to wear traditional concealers. Powder concealer also lasts a lot longer than liquid or stick concealer, so it is perfect for those requiring long lasting coverage.
The Disadvantages of Powder Concealer
Unfortunately, powder concealer is not particularly suitable for those with dry skin. Because of its formulation, it can cling to dry and flaky patches, making them more visible. Applying powder concealer such as Bare Escentuals with a damp cosmetic sponge can alleviate this issue to some extent, but during the day those with dry skin may find powder concealer 'clumps' in certain areas, causing the skin to look flaky.
For a fresh look throughout the day, those with dry skin could try misting their powder concealer with a finishing spray after applying, or regularly misting skin lightly with a spray, such as Evian or Eau Thermale Avene. Both are available for reasonable prices on websites such as eBay, and can help make-up to stay fresh looking. However, women who suffer from very dry skin should avoid powder or crème to powder formulations altogether and stick for moisturising cream concealers.
Powder Concealer for Problem Skin
Powder concealer and mineral make-up has become a popular option for those with 'problem' skin. Acne and rosacea sufferers and those with facial scarring turn to mineral make-up to provide gentle, effective coverage. Powder concealer is so gentle that it can even be used after surgery, to cover marks as they heal. Because it contains no artificial dyes, fragrances or mineral oil, powder concealer is the perfect choice for anyone with sensitive, easily irritated skin.
Women with eczema, rosacea or dermatitis can try powder concealer and foundation to provide a high level of coverage for their skin, whilst protecting it from the elements. Because powder foundation is applied using a brush or sponge, touching the face is minimised, preventing dirt and bacteria from entering the pores. This makes powder concealer a particularly good choice for women with acne or breakouts, as a clean brush will be used to conceal spots each time.
Popular Brands of Powder Concealer
There are many popular brands of powder concealer available on the market today, and most of these can be found for affordable prices online on websites such as eBay. It is also usually possible to purchase samples and testers to try, before buying the full-size product. Here are some of the most popular brands of powder concealer.
Bare Escentuals – this is one of the most popular mineral make-up ranges in the UK today. Their range of powder concealers are available in a variety of shades including light reflecting concealers, ideal for the under eye area.
Bare Minerals – their concealer range includes a brightening under eye powder concealer and corrective yellow concealer, ideal for redness and blemishes.
L'Oreal Minerals – L'Oreal's mineral concealer range is ideal for hiding dark circles and brightening the skin, although it does not give great coverage for redness and blemishes.
There are many powder concealers available to choose from online. Websites such as eBay are a great place to start browsing, as there are a variety of brands available in different shades to suit all skin tones.
Choosing the Perfect Powder Concealer
Choosing the perfect powder concealer can be a difficult task, but it does not have to be that way. By shopping online, on websites such as eBay, it is easy to find sample pots of powder concealer available from most of the main mineral make-up brands. This is the perfect way to test an expensive concealer before purchasing, and the full-size product is often available for an affordable price.
When choosing powder concealer, it can be difficult when testing samples on skin – try blending the concealer into problem areas with a brush and looking at skin in natural light; the concealer should look invisible. Most women need a concealer which is slightly lighter than their natural skin tone (or a shade lighter than foundation), in order to provide a flawless finish. By choosing a powder concealer that is too light, skin can look chalky, and by choosing a shade which is too dark or yellow, attention will be drawn to blemishes and the finish will be patchy.
Buying Powder Concealer Accessories
When shopping online, on websites such as eBay, it is easy to find powder concealer accessories to allow for the perfect application of mineral make-up. Kabuki brushes, small concealer brushes, eyeshadow brushes (an ideal size and shape for powder concealer application) and even cosmetic sponges can be found on eBay, as well as a small dishes or tubs for distributing the correct amount of powder in before applying it to the face.
When shopping online, products are often much more affordable than on the high street, and can be bought in bulk for even more savings. Kabuki brushes by brands such as Bare Escentuals and Avon can be found at reasonable prices. These brushes are often very expensive to buy. Cosmetic sponges can be found for sale in bulk, meaning that they can be switched for a fresh sponge more often, keeping the skin protected from dirt and bacteria.
How to Buy Powder Concealer on eBay
The easiest way to buy Powder Concealer online is to explore eBay. Just visit eBay and go to the drop-down menu of categories, which you will find at the left-hand side of the page. Select Health and Beautyand this will open up a list of sub-categories. Go to Make-up & Tools and select Concealers from the menu. From here, 'Powder Concealer' can be typed into the search box at the top of the page.
Searches can be narrowed using a certain term if looking for something specific. Just type the words related to the search, such as 'Bare Minerals Concealer' into the main search box. For further tips on how to search eBay, go to the Search Tips page.
Conclusion
Powder concealer is a great option for anyone looking for a high level of coverage with a natural finish, in a formulation which is kind to skin. Thanks to its gentle formulation, mineral make-up is suitable for even sensitive and acne prone skin, and it provides a buildable level of coverage which still looks natural.
Powder concealer is also a very versatile product – it can be applied with a small brush, Kabuki brush or a damp cosmetic sponge to create the perfect finish, and light reflecting powder concealers are perfect for the under eye area. By shopping online, on websites such as eBay, it is easy to find the perfect powder concealer sample pots, to allow the product to be tested at home before the full size version is purchased.