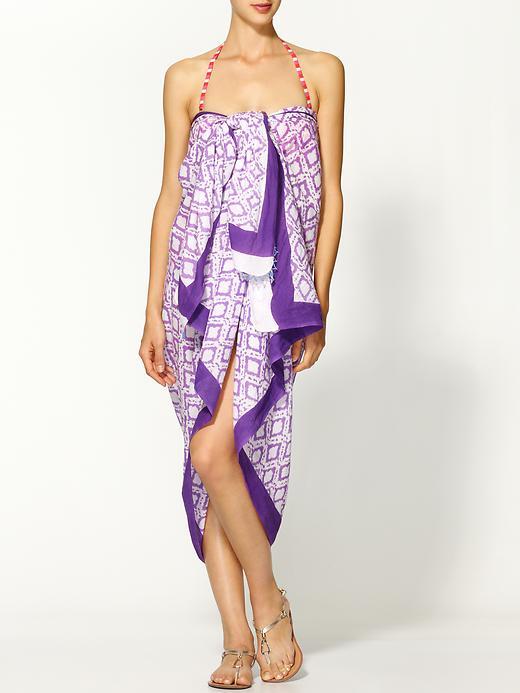 Sarongs are used in many cultures due to the ease of wear and the versatility it gives the wearer. The sarong is also called a pareo depending upon where in the world you are located. The look is cute, the fabric is lightweight, and the sarong can be worn in so many different ways. The trick to wearing a sarong, is to know how to wear it and which fabric looks best on you. There are several styles of sarong that you can wear. There are also many fabrics that you can use for a sarong. Sarongs can be worn by both men and women as either a body wrap or a skirt. Due to the popularity of the style, there is a variety of fabrics, colours, and styles to choose from. There are also many ways to achieve new looks with your sarong and tips to create your own look.
Fabrics and Colours for Sarongs
Sarongs come in many colours and shades. The organic fabrics will dye a more vibrant shade than the man-made fabrics. Sarongs are flattering for all body types and shapes. They come in all colours and a variety of patterns. More formal fabrics such as silk, batik, and charmeuse are used for dressy sarongs, while cotton and other man-made fabrics are preferred for bathing suit cover-ups and everyday use.
There are several types of fabrics that are especially popular with the sarong style. These fabrics include batik, silk, cotton, chiffon, charmeuse, crochet, ombre and some man-made fabrics.
Batik
Batik is the traditional fabric that is associated with sarongs. This fabric is woven linen that has been treated with wax. The fabric has been dyed with either an organic or manufactured dye and then treated with wax to make it virtually waterproof. Batik sarongs have always been worn by the masses but the patterned fabric was reserved by nobility. The fabric may be more expensive than other fabrics due to the specialised wax treatments.
Silk
Silk is also a very popular fabric for sarongs. The materials are easy to dye, very lightweight, and drapes beautifully. Silk that has the addition of manmade fibres to reinforce the fabric will not snag and tear like pure woven silk, so this should be considered for a beautiful look that is not as expensive as batik.
Cotton
Cotton is the fabric that is used in most modern day sarongs. This fabric is cheap, easy to wear, easy to clean, and easy to dye. It is also easily laundered and handles wear well. It is the perfect material for modern day fashion although it lacks the attractive sheer qualities that batik and silk allow.
Chiffon
The last of the popular fabrics used in sarong fashion are chiffon, charmeuse, and some other man-made fabrics. Chiffon is another sheer fabric like batik and silk. It can be made from cotton, silk, or man-made materials. This fabric is usually found underneath evening gowns as a scratchy type of netting. The chiffon that is used for sarongs has a slightly different fabric composition that can be dyed easily, but like silk is easy to damage.
Charmeuse
Charmeuse is an interesting choice because it can have two types of finishes. The fabric can be dull or it can have a lustre finish that is similar to satin. The fabric can be manufactured from silk or synthetic materials. The synthetic version of the material is much cheaper than the version manufactured from silk. The silk version of charmeuse is preferred because the fabric is easier to dye and drapes much more elegantly.
Charmeuse is not recommended for use as a beach sarong cover-up. This stylish fabric is perfect for formal dresses and skirts. There are other man-made fabrics that can also be used for sarongs. These fabrics include polyester and rayon. These fabrics are inexpensive and easy to manufacture. They allow for patterns to be woven into the material but are not as elegant as the other natural cloths.
Ombre
Ombre is especially exciting because it is a new dyeing technique that is similar to tie-dye but much more elegant. This technique creates a look where the colours are blending into each other. This creates a unique effect that is very popular. The look can only be found in Italian fabrics. Crochet is the other look that is relatively new for sarongs. This is an alternative to mesh or chiffon. The fun thing about wearing a crochet sarong is the hints of metallic thread running through the material. Many of the companies that are creating this are adding these threads so that the sun or light will pick it up and add some sophistication to the style. Most of the new crochet sarongs come in only three colours: natural, silver, and gold. They can be worn to formal events, on vacation, or even as a bathing suit cover-up.
Fashionable Ways to Wear a Sarong as a Cover-up or Outfit
There are many ways to wear a sarong fashionably; the possibilities are limited by imagination. The following chart describes a selection of the most common ways to tie and wear a sarong.
| Name of Style | How to Get this Style |
| --- | --- |
| Draped Dress | This can be worn as a cover-up over a swimsuit or as a dress. The look is achieved by taking two corners on the longer side of the fabric and tying them at the back of the neck in a loose fashion. Allow the fabric to drape like a cowl neck. Hold the edge of the sarong fabric below your waist and gather a few inches of the fabric to wrap behind you. Double knot the edges of the fabric once it is moved around to one of your hips |
| Bandeau Cascade Dress | This looks best over a swimsuit. This look is made by taking the corners of the two longer sides of the fabric and wrapping the fabric around your body like a cocoon. The loose ends of the fabric should be in the front of your body. Tie the edges of the fabric in a double knot at your bust line and allow the loose fabric drape in front of you. |
| Toga Dress | This is also a great look for a cover-up over a bathing suit. This can be achieved by wrapping fabric around your back and bringing one corner up around your back and over your shoulder. Pull the other side around the front of your body and tie the two corners together. Allow the fabric to drape down the front of your body. |
| Wrap Dress | Wrap the fabric around your body with the two loose ends in the front. Pull one loose end up over your shoulder and pull the other loose end around your waist. Tie the two ends together at the shoulder. |
| Long Skirt | Wrap the fabric around your body so that the ends are in front of you. Take the two ends of the long sides and tie them. Move the fabric so that the knot is positioned over one hip. Firmly secure the knot and fluff the fabric that is at the ends of the knot. The fabric should drape so that the skirt will show your leg as you walk. |
As the chart shows, there are many ways to wear a sarong. From casual to formal, a woman should be able to find a way to wear a sarong that suits her taste in fashion.
When and How to Wear a Sarong
A sarong is basically a rectangular sized piece of fabric. It can be wrapped in different formations to form different types of clothing pieces such as a dress, a skirt, a shawl, a top, bathing suit cover-up, and a scarf. A sarong does not always have to be worn; they can also be used for table coverings, curtains, wall hangings, beach blankets, and covers for furniture. More eclectic households enjoy mixing things up by using sarongs as coverings for all types of furniture. The fabric is bright and colourful, and it can be waterproof if using the batik fabric.
Sarongs can be mixed and matched in an outfit. For a casual look, tie a sarong as a skirt and pair it with a tank top. Add in silver or shell jewellery for a more exotic look and an outfit that is both versatile and functional. Sarongs have also been used as a sling to carry a baby on the back or in front. No need to buy an expensive carrier when you can use a sarong to keep your baby close. There are booklets and detailed instructions available online that explain how to wrap a sarong to get many different looks. There are over fifty different ways to wrap a sarong so the possibilities are many.
There is also great accessory that can help with styling called a sarong tie. This is a small carved piece of shell that will help to gather fabric and create stability while styling the sarong. This can ease the worry of the knot slipping and moving while wearing the garment. With a sarong tie in place, there is no need to worry of the knot coming untied. One other thing to think about is using two sarongs to create a full length outfit. The two sarongs can be tied together to create a more secure and modest look that can be worn as a full length dress or robe. Sarongs can also be tied together to be a jacket and skirt to wear over a bathing suit or as an outfit.
Sarongs can be worn at all times. Depending upon the type of sarong and the fabric it is made out of, they can be worn anywhere. Sarongs that are made out of more formal material such as batik, silk, ombre, chiffon, and charmeuse can be worn to weddings, graduations, and other formal events. Sarongs that are made out of cotton, crochet, and rayon can be worn at the pool or sunbathing at the beach and then worn at an informal meal by tying the sarong as a dress or skirt.
Sarongs are preferred by many nationalities that live in warmer climates because of their ease of use, casual look, and ability to keep the wearer cool. The sarong is an everyday part of dress in many Eastern locales such as Malaysia, India, Hawaii, and Indonesia.
Both men and women can wear sarongs. The style can be worn anywhere at any time. Women that live in Eastern locales prefer to wear the sarong as a skirt with a blouse for formal events. They coordinate their jewellery to match the material. This type of outfit is still worn today in places such as India and Pakistan. In Western cultures, the sarong is worn more as a cover-up to go to the beach or to the pool.
How to Find Sarongs on eBay
eBay has a large selection of sarongs available in all colours and styles. To begin your search for sarongs, go to the eBay home page. Depending upon what you are searching for, enter "sarong" into the search bar. You can also use other words to describe the sarong such as "batik sarong" or "silk sarong". Sarong may be called other names in other countries, so use these words as well. To find the high quality fabrics and styles, a search for pareo, sarung, sri, kanga, salwar kamez, or toga might also be helpful depending upon how the seller listed the item. There are sellers from all over the world that sell fabrics and sarongs in all materials and styles.
Before purchasing from a seller, check out the policies of that seller. Each seller has differing policies for refunds and exchanges. If you cannot find this information on the seller's profile, then you may contact the seller through the contact details area of the seller's page. Also, check the seller's feedback and other comments that buyers have left. This will often tell you a lot about the quality and service of that seller. Many retailers sell colourful sarongs made out of various types of materials and it is difficult to make an informed decision based upon a picture and description.
Conclusion
Sarongs are fun outfits that can be worn in many different ways. The most popular styles to wear are the draped dress, the bandeau cascade dress, the toga, the wrapped dress, and the long skirt. These fashions are easily styled by the wearer and can be paired with various types of accessories to take the look from day to evening. Men and women can wear sarongs, although in the West, sarongs are often worn as a bathing suit cover-up than for a fashion statement.
The fabrics that sarongs are available in are beautiful and vibrant. These fabrics range from batik and silk to cotton and rayon for a more casual look. How the sarong will be worn should play a major role in the type of fabric that is to be used. If the look to be achieved should be more formal, a more expensive organic fabric such as batik or pure silk should be used. If the sarong is to be worn casually then a cotton sarong will suffice. Someone looking for a great selection of fabrics, textures, and styles of sarong should look at eBay. There are styles and fabrics available that cannot be found in your local area.