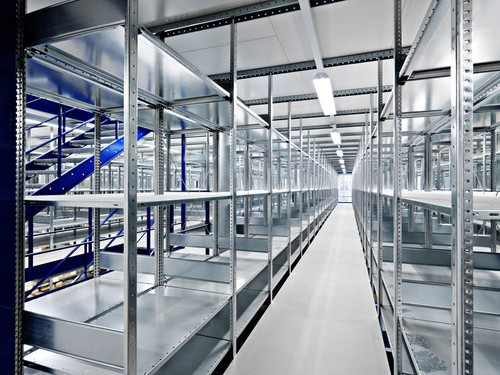 Shelving and racking is one of the most important purchases for any business selling goods. The display and storage of items can affect how they sell, how well and how long they keep, as well as the professionalism of a business. Every type of business from restaurants to crafters can utilise shelving, which is just one of the reasons why it is vitally important for everyone to know how to find and purchase shelves and racks. Other reasons range from convenience to more space, so shelves can be quite important.
Considerations when shopping for racks and shelves online or offline range from size, material, and appearance to weight and price. Many stores catering in business hardware might sell shelving and racking, but online stores feature shelves and racks as well. Buyers must decide the features they are looking for in shelves or racks, the quantity they need, and then set a budget and decide where they would like to make a purchase.
Basic Types of Industrial Shelves and Racks
There are many types of industrial quality shelves and racks, but the following list includes common and popular types. Many shelves are meant to either display or hold items in a different way, while some, such as pallet racking, are meant to hold specific or specific size items. Most buyers can get a good idea of what kind of shelving they need by looking at the items they have and how they want to display them.
Bay Shelves
Bay shelves are a type of adjustable racks that are most often used for storage purposes. These shelves come in metal such as aluminium or steel or and plastic and offer access from all four sides of the shelf. These shelves are most frequently made of slotted steel angle for use in large scale storage of heavy items, but can be made of other materials including circular posts made of wood or even plastic. Bay shelves can be used as centre displays but are limited for sales purposes as the shelves usually limit the view from top to bottom.
Angle Racks
Angle racks include any type of adjustable shelving made of angle, which is cornered steel or aluminium. Angle racks feature slotted holes that can be used to peg or bolt shelving in at intervals according to the owner's preference. Variations include bay shelves, wall strips, and open-end shelves with angle brackets attached to the wall. Angle racks are common industrial shelving for storage and display.
Wall Strips or Brackets
Wall strips can be a type of angle rack or a type or rack on their own. These racks can also be attached to the wall using a bracket, can be made up of a bracket against the wall, an angle frame with affixed brackets, or even a wood or cardboard backing with affixed brackets. Angle racks with wall brackets are a common type of shelf used in grocery stores and for multiple goods display. These are perfect for fixing pieces of furniture and TV to your wall.
Pallet Racking
Pallet racking is normally a form of angle rack using heavy duty steel or very heavy duty aluminium. Pallet racks are designed to store very heavy items including full pallets of goods, furniture, and other large items. Pallet racks are mostly only suitable for use in warehouses as they are quite large, do not offer much versatility for small objects, and sometimes do not have shelving between the racks.
Floating Shelves
A floating shelf is any type of shelf that is only affixed to the wall using brackets or screws. This type of shelf is not very common in industry but can be utilised for small storage, storing items for display behind counters, and for personal in-office use. Floating shelves come in a variety of lengths and with different attachment methods but almost always require a sturdy wall to be affixed to.
Mobile Shelves
Mobile shelves, wheeled shelves, rolling stacks, or rolling racks are very popular for businesses because the shelves are adjustable, can be moved from place to place, and often offer versatile storage. Mobile shelves are very popular in offices, bookstores, and anywhere that a great deal of files can be used, but are also excellent for storing organised and labelled stock. Mobile shelves can be purchased in large units with wheels affixed to the floor, or as actual rolling racks that can be moved literally anywhere.
Sizing Shelves
It is very important to measure for shelving and racking before making a purchase. The size, including the height, width, and depth of the shelf, can affect where it can be placed, so it is important to measure the available space. Most businesses also want to utilise the available space to the maximum and measuring can help with this as well. While there is no real shelf sizing standard, it is possible to measure the length, width, and height of the area that a shelf should fit in and then look for a shelf that has those measurements. Grocery stores and goods stores might require lower shelves that allow customers to see and be seen over the shelves while storage facilities can put shelves to the ceiling, as long as the contents are still within reach. Importantly, anyone storing large items should check the average size of items stored and look for a shelf with wide enough shelves.
Choosing a Material for Shelves and Racks
Most shelves are made of wood, metal, glass, or plastic, although the first two are the most durable. For display shelves meant to show the objects under the shelf, glass is an excellent option. Plastic shelves should usually be avoided for both cosmetic and strength reasons, unless they are being used in an out-of-the way location such as a closet, and to store lightweight materials, such as linen. Wood shelves are popular for books, papers, files, and some other items, but not usually optimum for anything else as they are heavy and expensive.
Aluminium is one of the most common materials for industrial shelving and racking because it is lightweight compared to steel and wood, and very durable. Aluminium can also be used to create adjustable angle racks and shelves, which are very popular in both small and large businesses because the shelves can be adjusted to suit the size and height of the products. Aluminium angle racks are most commonly used in large chain grocery stores.
Purchasing New or Used Shelves
Another decision to make when purchasing racking and shelving is that it is highly possible to purchase used items. From local stores that are going out of business to online sellers with used racking, it is very easy to find a variety of used shelves. Used shelves are often cheaper than new items but might suffer some cosmetic damage. For the most part, buyers can easily make a decision by choosing between the cosmetic appearance and the price of the shelves, as well as any other factors such as whether or not the size, colour, and type of shelf needed is available in the condition wanted.
Considering the Weight of the Shelves
While not the most important factor for shelving and racking, the weight of the shelf does affect what it can be used for. Very heavy shelves are more stable, likely do not have to be bolted down, and are often more durable, but if purchased online, might require either expensive freight shipping, or that the buyer go and pick them up. Lightweight shelves are more cost effective to ship and easier to move and handle, but might require bolting or mounting to a wall, or even not be strong enough to support heavy items.
Buying Shelving and Racking on eBay
After deciding on the material, height, weight, and type of shelf you are looking for, you can search for and purchase shelving and racking on eBay. Some shelving types are very easy to find, while for more complex and expensive systems such as a rolling shelf setup, you might have to search for the specific names, such as 'rolling shelf' or 'mobile shelf'. Another consideration is that there are both new and used items available on eBay, so it is important to read the description and check the condition of the item you plan to purchase.
Try comparing multiple shelf listings until you find an option that you like and then read the item's description provided by the seller. Very heavy shelves might have to be picked up, and some eBay sellers are located internationally, so it is also a good idea to pay attention to shipping time, restrictions, and shipping fee estimates. Once you are happy with your options, you can purchase the item following eBay's guidelines.
Conclusion
Purchasing shelving and racking requires that the buyers look into the space available in their business, that they decide which type of shelf is best for their business, and then settle on a material and weight suitable to what is being stored on the shelf. Many shelves are adjustable, especially angle rack shelves, which means that they can be changed and altered to accommodate different sizes of goods and stored items. However, any items stored in a public view should be on shelves that are all the same height and have the same shelving for cosmetic reasons.
Shelving and racking can be purchased on eBay, in stores that offer business supplies and furniture, and sometimes at auctions or estate sales. Buyers must decide whether they would like a new or used shelf based on their preferences and then look for a purchase. It is always important to check the size, weight, location, condition, and material of the shelf before making a purchase.