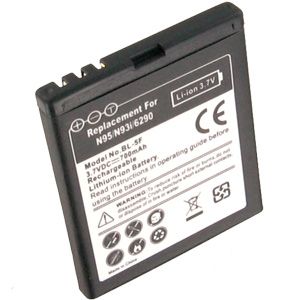 It is a commonly experienced problem that mobile phones quickly run out of charge, or show critical battery level, when the device is most needed. In some situations, this is fine and the phone can simply be plugged in the mains charger and the phone will be juiced up again before too long. In other situations, however, power sources aren't so readily available to take advantage of, and in these situations, having a portable power pack is a great relief. When the power goes out in the home, or when someone is away on their travels, a portable power back will help to power up a mobile phone in an emergency, and this can be more than useful at times.
Choosing a Portable Power Pack
Portable power packs are great for those who travel frequently. Most people have regular access to chargers in their day to day lives: they have their mains chargers at home, car chargers for when they are behind the wheel, and USB chargers for providing their phones with power from their laptops and desktops. When they have to spend a lot of time on trains, planes, or out and about in areas with no access to power sources, portable power packs come in very handy. They are also extremely useful during power outages. Anyone who lives in an area prone to regular power failures may want to invest in a portable power pack to keep their phone ready to go when needed. No-one can ever tell how long a power outage will last, so this can be important. When picking an appropriate power pack, there are several things to consider:
Phone Recharge Levels and Times
The time it takes to recharge the phone is of paramount important, and this will vary significantly from product to product. Often recharge times are linked to the size of the unit - larger units will allow for more powerful recharges, while smaller ones may fail to provide full charge before needing to be recharged themselves. As such, it is important to closely look at the power level of the power back while shopping. Some chargers will provide several hours of talk time, and this may refer to only a 40 or 50 per cent charge. Others will provide one full charge, 2 full charges, or even 10 or more charges. The length of time it takes to recharge the phone will also vary, and will often be similar to recharge times provided by regular phone chargers.
Power Pack Recharge Times
Once the power pack has been depleted, it will need to be recharged itself. Again, this will take time. Larger chargers that provide multiple recharges will take longer to regenerate themselves: this could be up to 12 hours or more depending on the product. On the other hand, smaller chargers with limited power will recharge themselves fairly quickly. Those which take longer to recharge than they do to deplete are generally poor options.
Compatibility
Many power packs will be compatible with a variety of devices and phones. Once again, the time they take to charge the device, and the amount of charge they provide, will vary depending on the device being charged. For example, a power pack may provide an iPhone with full charge, but an iPad with only half charge. People who have several different devices that need charging may want to look at getting a power pack that is compatible with all of them. Many power packs use USB and micro-USB ports and connectors, and these are compatible with a range of different devices, such as iPhones and iPads, Androids, HTC phones, Amazon Kindles, and so on.
Size
Power packs vary in size from a couple of inches up to 6 or 7 inches in height. The size of the unit will generally dictate how much charge the pack can provide for different devices. While larger units provide better charge, they are less portable, heavier, and more cumbersome. Smaller units will be a lot lighter and sleeker, however, and can easily be popped into a pocket or slipped into a handbag when being transported. Personal preference will, therefore, dictate what sort of power pack is chosen.
Shareability
Some power packs only work with one device at a time. Others, however, can be used to charge 2 or more devices at once. So, for example, someone with an iPhone and an iPad could potentially charge both at the same time if they are running low on charge. Naturally, this will drain the pack more quickly, but it can be useful when needed.
Simultaneous Recharging
Another feature of power packs is that they can be recharged themselves, and recharge the phone or tablet, at the same time. Plug in the power pack, and then plug the phone or other device into it and they will both be re-juiced simultaneously.
Environmentally Friendly
Many people like to do their part in helping to limit the negative effect of global warming by buying products made from sustainable and environmentally friendly materials. When shopping for power packs, therefore, it may be important to look at how they are made and what they are made with.
Price
As expected, the price of portable power packs will be dictated by the features they include. Prices will range, though generally there are options available in keeping with most people's budgets. The prices tend to vary depending on how powerful the battery packs are, whether they are compatible with multiple devices, whether they can be used to charge different devices at once, and so on.
Buying Portable Battery Packs on eBay
When it comes time to buy a portable battery pack, eBay will be the best place to shop. In order to find suitable listings on eBay, there are a couple of ways to go. First of all, simply use the search function at the top of the page. This is the quickest, way of listing all of the most appropriate products for any given search. Type 'portable battery packs' into the search box and a series of results will appear. To get more specific, add extra keywords, such as 'portable battery packs of iPhones'. The other way of finding listings is by shopping by category. To do this, go to the category called Electronics & Technology first - there should be a link down the left on the main page. This will now load the subcategories within this section, so next click on Mobile & Home Phones and wait for the page to load again. After this, look for Mobile Phone Accessories,, and a longer list of small categories will appear. There is no specific category for portable battery packs, so the best one to click on will be Chargers & Docks.. Now look through the listings to see if there are any for portable power backs. If not, go back to the accessories page and check through some different sections, such as Batteries. If this continues to fail, simply return to the search function - in general, this is smartest way to find products anyway.
Conclusion
When choosing portable power packs,, it is important to buy one that is entirely fit for purpose. Anyone who needs their phone to be fully recharged several times before the power pack needs a recharge itself should go for the more powerful and expensive options. However, these are larger, and therefore less travel-friendly. As such, if having a relatively small power pack is important, a compromise might need to be made. In addition, always pay careful attention to seller when it comes to buying any product on eBay. In particular, check their overall ratings - if they are poorly rated (and poor will mean anything lower than the high 90s) then other sellers and retailers should be chosen, if there are a range of choices available. The more research that goes into the search, the more likely the shopper will walk away with a portable power pack that fully suits their needs. When all is said and done, getting a high quality pack that delivers on its intentions should be everyone's top priority.