The flared sides of a frying pan make them great for cooking everything from omelettes to stir-fry. Shoppers in the market for this cookware should know a few of the differences in the construction and design of frying pans available for purchase.
The Metal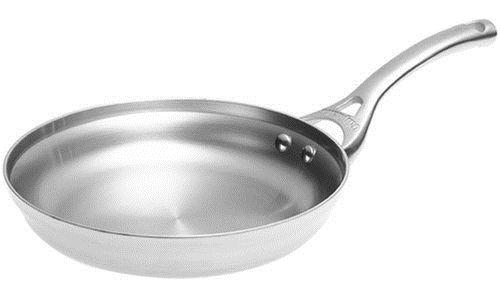 Most of these products come with some form of stainless steel or tin accentuated metal or metal alloy. More pricey options typically include a largely copper construction lined with one of these materials. Other popular choices feature ceramic, aluminum alloy or cast iron. The stainless steel and aluminum frying pans usually meet the needs of everyday use, while cast iron cookware works well for preparing hardier foodstuffs and quickly creating more of a crunch.
The Frying Pan Handle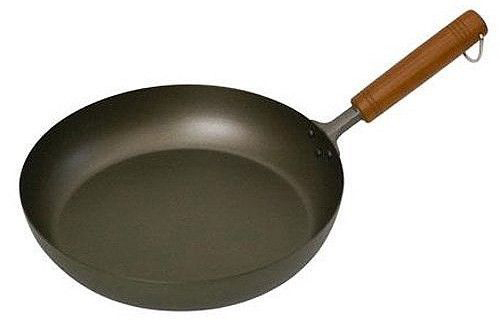 A good frying pan comes with a handle made from different materials than the rest of the item so that it heats up at a slower rate than the pan itself. Wooden-handled options conduct the least amount of heat during cooking, but shoppers can not use these products in the oven or dishwasher. Frying pans made completely from cast iron easily survive higher oven temperatures but require hand-washing. Notice where the handle meets the side of the pan. Sturdier, longer-lasting products should feature a strong bond between the two pieces. Weak screws, for example, might loosen over time, and gingerly adhered metals might break apart. Smart shoppers read all information regarding a specific product before making a final purchase. Most items advertise a range of tolerable temperatures for their successful use as well as warnings as to oven safety. They also typically provide cleaning instructions. In the end, do not compromise the desired utility of the pan, and consider browsing options for converting the handle to a cooler temperature if desiring a fully metallic product.
Non-stick Options
Many of these products feature non-stick cooking surfaces. These frying pans allow for less use of fats during food preparation, but they generally only handle moderate heat. The manufacturing of these non-stick products involves applying a layer of coating to the outside of the pan or building a coated metal into its construction. Special cleaning instructions usually apply to the use of these frying pan options.
Size, Weight, and Shape
Shoppers can find frying pans in all sizes, with small frying pans usually measuring between 14 cm and 22 cm in diameter, while larger frying pans can range from 26 cm to more than 30 cm in diameter. While many frying pans are round, some are square or rectangular, and some may also offer differences in the surface texture. However, weight generally serves as the best tactile indicator of quality. Better performing products should weigh more than inferior products due to the thickness of their bases.

It is important that when buying frying pans that you look for the best fit for you, a popular choice amongst buyers are the Jamie Oliver Tefal pans as well as a great range from Morphy Richards.