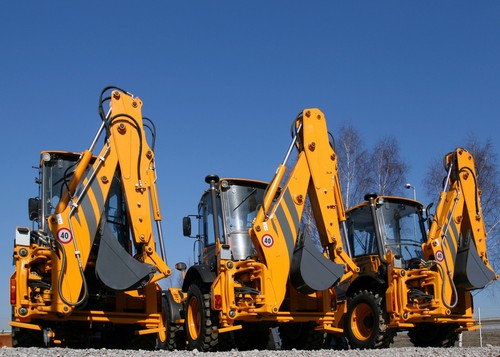 Whether embarking upon a do-it-yourself landscaping project at home or something even grander, such as helping build a new home, construction diggers are extremely useful to have. Simply put, construction diggers are designed for digging, shovelling, pushing, and transporting very heavy things, such as dirt, gravel, or other miscellaneous items. Most diggers have an enclosed cab where the driver sits, steers, and operates the machine. The digger has an arm, or boom, that moves the attachment. The attachment does the majority of the desired work and can be a bucket, shovel, blade, ripper, or forklift.
Construction diggers come in various shapes and sizes. Choosing the right one all depends on the purpose for which it will be used. With so many choices, it is helpful to know about each type of construction digger. Once the model is chosen and inspected, consumers have the option to consider purchasing new, refurbished, or used construction diggers from a variety of locales.
Types of Construction Diggers
There are several types of construction diggers available, and the correct model varies by the demands of the job as well as the terrain of the job site. Before buying anything, make sure the digger matches the consumer's desires.
Excavators and Mini Diggers
An excavator, also called a mini digger, is a type of digger that has one arm at the front with a bucket at the end. The digger is operated by a person who sits in a cab on top of a revolving platform. There are wheels or tracks on the bottom of the excavator for movement. Although the smallest of all construction diggers, they are powerful. In fact, some newer models boast advanced hydraulic systems, which increase their strength. An advantage of their small size is their capability to work within tight spaces. Some are so compact that they can fit through doorways.
Additionally, mini diggers are extremely mobile and can rotate in a circle, which gives the driver complete freedom of movement. Larger construction diggers are not as mobile and have to be repositioned to perform different jobs. Mini diggers are ideal for jobs such as digging ditches, demolishing pavements and patios, setting up pools or ponds, trenching for pipes and cables, and general landscaping jobs.
Backhoe Loader
This type of digger was invented in the UK in 1953 when Joseph Cyril Bamford, founder of J.C. Bamford Excavators Limited, attached a farm tractor with a backhoe and a front-mounted loading bucket. It is commonly known by the JCB initials and still looks very much like the original design as a heavy tractor with a shovel and bucket on the front used for loading and a small backhoe on the other end for digging. When the front bucket and hydraulic stabilisers are lowered, the backhoe gains extra stability, which allows the vehicle to exert more force and dig more quickly.
Although a backhoe loader is larger than a mini digger, it is not as big as other construction diggers, making it is a good choice for city engineering and small construction projects. Another advantage of using a backhoe loader is it can be driven along roads and jobsites, which makes for easy transferring and positioning. Most large diggers must be loaded onto trailers or taken apart before being transported.
Bulldozer
The bulldozer, which was developed from the farm tractor in the late 1800s, is another type of construction digger. On the front of the vehicle are huge, heavy steel blades that are used for pushing objects and shoving away sand, soil, and other debris. On the rear of the bulldozer is a ripper, which is a long claw-shaped device that is used for breaking through hard surfaces. The entire body of the bulldozer sits atop of wide caterpillar tracks. These tracks give bulldozers the ability to manoeuvre through rugged terrain.
In addition, because the tracks are so wide, the weight of the bulldozer is more evenly distributed over a large area, thus preventing the bulldozer from sinking into sandy or muddy ground. Most bulldozers come equipped with hydraulic steering and all-wheel drive, making it easier to drive and operate. Because of its versatility and strength, bulldozers are useful in many construction projects, such as in mines, ports, quarries, military operations, engineering projects, and large farms.
Loadall
Also known as telescopic handlers, loadalls were created by JCB in 1978. Loadalls are like forklifts in appearance and function. They have booms that extend and pivot. On the end of the boom is an option for attachments, such as a bucket or other forklift equipment. The most common attachment is a pallet fork which allows for loads to be moved from one place to another. Loadalls have the capability to reach high places, making them able to transfer cargo from rooftops and other high spaces. Loadalls are seen in mines, warehouses, construction sites, and on farms.
Dragline Excavators and Bucket Wheel Excavators
The largest construction diggers are dragline excavators and bucket wheel excavators. Dragline excavators operate a huge bucket with ropes, cables, and chains. Bucket wheel excavators have a large wheel with bucket and scoop attachments that are designed to gather dirt and deposit it onto a conveyor belt or grader. Both types of excavators usually come with large hammers, shovels, and other accessories. These are commonly seen in road building, civil engineering, and mining.
Factors to Look for When Buying Construction Diggers
When preparing to purchase any type of construction digger, consumers should consider several factors. For example, consumers should not only limit themselves to new diggers; instead, they should look at used and refurbished models as well. In fact, buying second-hand construction diggers is an excellent option because they cost so much less than brand new ones. Often times, buying used or refurbished machines saves consumers from 25 to 50 per cent; however, it is important to inspect any used machinery thoroughly before committing. Some factors to look for when buying new, used, or refurbished construction diggers are: price, practicality, ease of use, exterior and interior condition, and operational condition.
Price
After seeing the price ranges for various construction diggers, it is a good idea to create a budget to avoid paying too much. Because of its small size, a mini digger costs much less than a huge bulldozer. However, comparing a used backhoe loader with a brand new mini digger may reveal that the larger machine is cheaper because it is second-hand. It is worth shopping around to find the best deals to meet the needs of the jobs for which the construction diggers will be used.
Practicality
Users who only need a digger occasionally to break up cement or dig up soil for a garden should not choose a backhoe loader or bulldozer. They should instead opt for a mini digger. However, professional builders or cement layers who need equipment for daily use, a loadall or bulldozer may be the best choice. Usually, dragline excavators and bucket wheel excavators are only seen in large-scale operations, such as road building, civil engineering, and mining. Also keep in mind that proper storage is important to protect construction diggers; make sure there is adequate space to house the machines when not in use.
Ease of Use
Investing in a construction digger that is easy to manage is preferred. Too many confusing controls or complications with operations are time-wasters. It is a good idea for the person shopping for the excavator to be able to try the machine out so he or she is familiar with it and its functioning.
Exterior and Interior Condition
A thorough inspection of the construction digger's exterior and interior is necessary, especially those excavators that are refurbished or new. When checking the engine compartment, look for any signs of soot. If soot is seen, it can mean that the engine overheats and smokes, thus requiring an expensive overhaul. Also look for any leakages underneath the machine. Check out the battery for signs of corrosion. Then, inspect the cooling system's belts and make sure they are tight.
When looking at the exterior of the construction digger, check for any obvious signs of wear and tear, such as rust or loose or missing components. Closely inspect the body of the digger for any welding and patching jobs; this could indicate that major repairs were once performed. When checking the attachments and boom, ensure that nothing is bent.
Finally, inspect the tracks and undercarriage of the construction digger. See if there are any individual metal plates that are broken or missing. Replacing these is expensive, so factor this into the cost of the digger.
Operational Condition
After performing a physical inspection, do an operational analysis. Ask the seller to turn the machine on and demonstrate all of the components, especially the movement of any of the attachments. Beware of any slackness in the movements; instead, it should move with precision.
Check the hydraulic cylinders and tubes for leakage. Also confirm that the cylinders are not bent or damaged. Then, check to see how well the tracks perform. Make sure that both tracks rotate simultaneously when moving. If they do not have the same amount of rotation, there is a problem with the drive motors.
Finally, inspect the gears. The controls should be able to rotate the cab smoothly without any lurching or stopping. Anything other than this indicates that something may be wrong.
Buying Construction Diggers
To find construction diggers, check out local construction companies, industrial auctions, and online retailers. One of the best places to locate a large selection of construction diggers and parts is on eBay. Numerous makes and models to fit any budget are available from sellers all over the world on eBay. Best of all, using eBay saves time and money.
Searching for Construction Diggers on eBay
To start a search on eBay, type in exactly what you are looking for in the search box on eBay's home page. Whether you want to find a new, used, or refurbished construction digger, enter "digger" to find a wide variety of choices to suit all your construction needs. For a more refined search, be more specific in your search criteria and enter the brand, make, or model of the construction digger for which you are looking.
After checking out the listings, you can narrow down your options with the available refinements. Using this approach is especially beneficial if you are feeling overwhelmed by too many choices. You may discover that construction diggers are too large to be shipped, so be willing to travel to pick it up from the seller. Parts and accessories, however, are often available for shipment.
Purchase Construction Diggers on eBay with Confidence
Many advantages afford consumers when using eBay, such as limitless shopping opportunities all under one, safe and secure username. Best of all, registering for an account is free and easy. In addition, eBay's partnership with PayPal protects personal financial information and saves time when completing transactions. All of this, combined with over 100 million users on one the world's largest online marketplaces, benefits buyers who wish to shop from the comfort of their homes.
Conclusion
No matter what size of construction digger is needed for a job, there are so many choices available that consumers are sure to find the perfect one. Whether one needs a digger for DIY landscaping, a backhoe for a small construction project, a loadall or bulldozer for a farm, or a giant excavator for a road project, there is a construction digger for everyone's needs. When buying construction diggers, attention should be given to new, used, and refurbished models.
Taking the time to carefully inspect the machines is worthwhile and may save consumers money. When ready to purchase a construction digger, be sure to check out local merchants, online retailers, and eBay. eBay boasts an abundance of deals on a large selection of construction diggers and parts from local sellers right next door and all over the world.