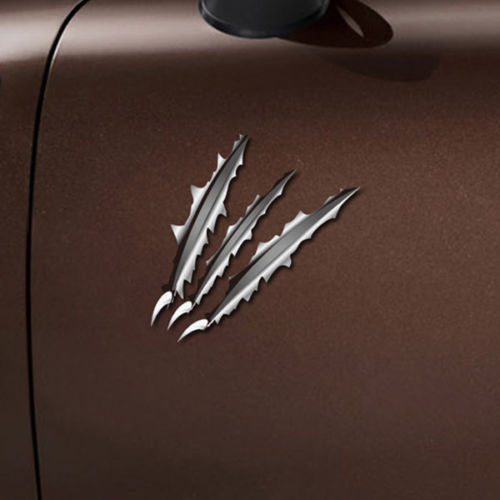 For many people, especially young people who have just begun to drive, a car is an ultimate forum for self-expression and individuality. This is because the owner of a car is in complete control, from the radio station to the route taken. Similarly, the exterior of the car is a way for drivers to express themselves to other drivers on the road with paintjobs, rims, and other accessories, such as exterior styling graphics.
A driver can affix these decals to the outside of the car in order to bring personality and individuality to the vehicle. They are an affordable way to add style to a car's exterior appearance. Exterior styling graphics for any type of car or truck are available at speciality automotive accessory retailers as well as online on eBay. Following these tips concerning the various types of graphics and their application is a great first step towards choosing the perfect exterior styling graphics for any car, no matter what the personal tastes of the driver may be.
Do Use Vinyl Graphics
When choosing exterior styling graphics for a car, the material from which the graphics are made is of the utmost importance. No matter where a car is driven, its exterior is undoubtedly exposed to the elements, which means any decals applied to the exterior need to stand up to moisture and harsh conditions. Choosing vinyl is the best way to ensure that styling graphics do not disintegrate, run, or peel when exposed to inclement weather.
Types of Vinyl
The type of vinyl used for exterior styling graphics does have an impact on how those graphics appear once applied. For instance, matte vinyl appears specifically non-shiny, in contrast to most vehicle paint jobs, which are reflective. Glossy vinyl decals, on the other hand, have a reflective shine to them, and carbon fibre vinyl decals have a textured finish. The right vinyl choice for any motorist depends purely on his or her personal preferences since the surface vinyl does not affect how the decal is applied.
Don't Use Paper Decals
Stickers and decals that are not intended for use on cars are generally not appropriate as exterior styling graphics. Often, these types of stickers are made from paper, which clearly does not stand up to harsh conditions. Paper decals and stickers can not only peel and bubble when wet, but the colours can quickly fade when exposed to direct sunlight, making for a less than attractive addition to any car's exterior.
Do Consider Turning the Car into an Advertisement
Adding exterior styling graphics to a car is an aesthetic choice in most cases. These types of graphics offer an affordable way to spruce up a car's exterior without the expense of a new paint job. However, some people choose another route when it comes to this type of decor and use their car as a mobile advertisement.
Exterior graphics can be used to advertise a small business with a company logo, phone number, web address, and other information. These types of graphics mean that wherever the car is driven, the business is being advertised. Advertising graphics can go on the door of the car or on the back for maximum exposure.
Magnetic Vehicle Signs
It is possible to put an advertisement on a car without the use of adhesive as well. One of the best ways to do this is with a magnetic vehicle sign. This type of signage comes in many different sizes and is usually placed on the door of the car for visibility. The benefit of this type of graphic over an adhesive decal is that a magnetic sign can easily be moved. This means the driver can remove the sign when not using the car for business purposes and can even transfer the sign from car to car when necessary.
Vehicle Wraps
For a mobile advertising solution that is much more permanent and involved than either a custom decal or a magnetic sign, consider a vehicle wrap. These exterior graphics cover a large portion of a car or truck in advertising. Some vehicle wraps even cover the entire exterior of the car. This is certainly a way to get a business noticed but may not be ideal for many drivers.
Don't Forget Custom Options
While customising graphics in order to advertise a business is certainly one option, not everyone that has a car has a business to advertise. But that does not mean that custom graphics are unnecessary or unavailable. Instead, it can be fun to create a custom graphic simply to express a unique idea or affection, much like one would with a tattoo. For instance, it is possible to create a custom graphic that has the name of the driver or the driver's child in order to display that on the car. Customising exterior styling graphics is one way to ensure that a car is unique.
Do Opt for Personal Expression
For drivers that do not share their car, adding exterior styling graphics can be a way to make that vehicle all their own. Using vehicle graphics for personal expression, for instance with political bumper stickers or images of favourite characters, is a great way to personalise any car without investing a lot.
Don't Use Static Cling Decals for Exteriors
It is possible to put exterior styling graphics on windows, as long as the graphics do not obstruct the view of the driver. However, it is not a good idea to use static cling decals on the exterior of a car. These are decals that adhere to a windowpane using static cling. While this adhesive mechanism is fine when used in an interior space, it does not hold up on the exterior of a car and is prone to falling off or becoming damaged in that environment.
Do Accessorise Tyres
While most exterior styling graphics are applied to the body of the car or to the windows or windscreen, there are also graphics available for the tyres of a car. These tyre decals are designed to be applied to the wheel rim portion of the cars tyres. Some people choose to outline the tyre in a certain colour while others apply small graphic details for aesthetic purposes. These graphics are a unique way to style a car without applying decals to the paint.
Don't Get Sloppy with Application
When applying exterior styling graphics, the application can have a huge impact on how the decals appear. It is important not to let any bubbles underneath the vinyl remain. If the graphics do not come with specific instructions, be sure to apply them slowly so that every part of the graphic is firmly adhered to the car.
Do Learn How to Remove Graphics
While it is a good idea to choose exterior styling graphics that are durable and can be appreciated for a long while, there may come a time when the owner of the car wants to get rid of them. This may be because they are selling the car or because they simply do not like the decals anymore. For this possibility, it is a good idea to learn how to remove exterior styling graphics. There are many tutorials online that can assist in this process. The most common ways to remove exterior styling graphics without causing damage to the car's paint job are with an adhesive solvent or with heat.
Adhesive Removal Options
The table below lists the most common ways to remove exterior styling graphics from a car without causing damage. Keep in mind that not all solvents are appropriate for use on a car, so be sure to read all directions and warnings before using any adhesive solvent.
| | | |
| --- | --- | --- |
| Type of Adhesive Remover | Used For | Cost |
| Solvent | Exterior styling graphics | ££ |
| Heat | Exterior styling graphics | £ |
| Razor | Decals affixed to windows | £ |
Adhesive solvent has instructions for use whereas the other two options do not. Heating up a styling graphic by using a small heat source, such as a hair dryer, makes the vinyl easier to remove. Peeling slowly should bring off the bulk of the graphic. The razorblade method is only appropriate for graphics that are affixed to glass since using it on the car's paint can cause damage. Use the razor to carefully peel away the graphic and adhesive.
How to Buy Exterior Styling Graphics on eBay
Once you have chosen the right exterior styling graphics for your vehicle, you can more effectively search for these special accessories on eBay. Use the search box on any page of the site to enter the terms most relevant to your vehicle graphics search. This may be " rear styling decals " or " VW styling graphics " both of which yield many results. Narrow down your options easily using the eBay filters to find the right style and price.
When you find the graphic you need, be sure to ask the seller any relevant questions before completing your transaction. For instance, if a decal needs special application tools that are not included, or if the graphic is available in multiple colours, you want to be sure to double check the specifics before agreeing to the purchase. The eBay interface makes it easy to interact with sellers directly so that you can complete your transaction with confidence.
Conclusion
Exterior styling graphics can be a fun and affordable way to bring a new personality to any vehicle, no matter the age or condition. While getting a new paint job can be costly and inconvenient, not to mention difficult to change, adding exterior styling graphics is just the opposite.
With the variety of graphics available from retailers and from eBay, virtually any driver is sure to find a suitable way to dress up his or her car. Whether a driver prefers to make a political statement or simply wants to brighten up an older model, there is an exterior graphic available somewhere. Still, it is best not to rush out and purchase a graphic without putting some consideration into the matter. Instead, spend some time researching the different types and styles of products that are available. Armed with this information, it should be easy and fun to select exterior styling graphics for any car or truck.