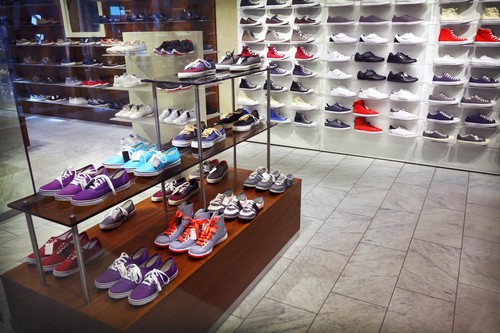 Increase sales by drawing attention to key products through the use of retail display equipment. Creating the right environment to display one's wares can encourage shoppers to buy the product, making the business a success. Some of these display equipment are traditional ones that have been used for centuries, while others are modern versions that make use of the latest technology.
When deciding how to purchase retail display equipment, there are many do's and don'ts that must be remembered. At the end of the day, the goal is to make sure that the retail shop is selling its goods at maximum efficiency. Shoppers should make sure that they understand the different kinds of equipment, brainstorm the theme, and make sure everything reflects the brand. The focus should be on the product. By doing all of these and ensuring that they have the right retail display equipment, shoppers can ensure that they attract walk-in clients that browse and purchase from the store.
Do Understand the Different Types of Retail Display Equipment
There are a wide variety of display equipment that can be used for any retail shop. Below are just some of these along with a quick description.
| Retail Display Equipment | Description |
| --- | --- |
| | Typically shaped like a person's shoulders; often made from wood, wire, or plastic; used to hang clothes |
| | Indicates the price, size, code, and other details pertaining to the product; may be used to indicate discounts, alterations, layaways, and more; typically tied to the clothing using string or a plastic fastener |
| | Used as a hanging space for clothes, display space for literature, hats, socks, ties, and other products; may come in circular, half-circular, spiral, straight arm, and other configurations; adjustable or fixed in height; may include wheels for easy mobility |
| | Sometimes referred to as slotwall; horizontally-grooved panels used to attach display fixtures like shelves, hangrails, faceouts, scan hooks, spinners, label holders, baskets, bins, sign holders, and more; may also be freestanding and adjustable |
| | Used to attach display fixtures like the slatwall except in mesh panel form; portable and freestanding; best for temporary set-ups like conventions or fairs; typically made from steel wire; can also have roller balls for easy portability |
| | Typically used to enclose pets if in mesh steel wire form; also used to display decorative items, books, apparel, and other items if made from clear glass acrylic |
| | Flat surface in a horizontal position; used for storage and display; may be made from tempered glass, wire, plastic, and wood, among others |
| | Typically used to showcase clothing, jewellery, and bags; comes in a variety of heights, sexes, skin tone, poses, ages, and faces; may be headless or legless; flexible mannequins are also available; display hands, heads, and torsos can also be purchased |
| | Adjustable lighting that can be modified based on the merchandise location; attached to a track device that runs across the ceiling; lighting may be LED or halogen |
| | Informs shoppers that there are sales, discounts, clearances, openings, rules, guidelines, and other announcements; signs may be in plastic, sticker, paper, LED, and more |
| | Typically made from clear acrylic, rectangular tubing, and chrome, among others; may be vertical or in slantback position; |
| Security Chains | Used to loop around the hangrail to prevent shoplifting; typically made from steel or nylon; may also come with a key |
| | Also referred to as closed-circuit television (CCTV), monitors the shop activity; useful deterrent against shoplifting; simulated CCTV cameras with blinking red lights powered by AA batteries are also available |
| | Used to view hidden parts of the store from a particular area; shoplifter deterrent; normally convex in shape to give the person a 180-degree view |
| Ticket Dispenser | Used in combination with a digital LED system to manage long queues in a retail space; customers take a ticket and wait for their turn |
| | Acrylic, glass, or plush black velvet in material; can be in the form of cubes, risers, holders, easels, rotators and more; normally used for shoes, mobile phones, jewellery, watches, and eyewear, among others |
These are just some of the equipment that can be used to display one's wares in a retail shop. Choosing from the many types of equipment available out there depends on the retail shop. For instance, clothing shops benefit greatly from mannequins, while nearly all shops should think about investing in security cameras or mirrors.
Do Plan Ahead Before Purchasing Display Equipment
Many shop owners make the mistake of purchasing display equipment without a plan, which almost always leads to purchases that they regret later on. This is why it is important to have a good idea of the shop's theme before haphazardly purchasing display equipment. For starters, begin by creating a floor plan of the space to find out the appropriate size of the display units. Leave breathing room between product displays and resist the urge to cram everything in a single location. Customers normally end up feeling overwhelmed when faced with too many choices.
Think about the brand but make sure to strike a balance between customer experience and aesthetics. If there is enough budget, consider hiring an interior designer specialising in crafting retail shops. This saves time spent wondering if this particular type of display equipment is the best choice in showcasing product. Keep in mind that there is a lot riding on the interior decor and display equipment of the shop as it is the owner's chance to make a good first impression on the potential buyer. While it is tempting to cut back on costs in this area, it is often not advisable.
Don't Rule Out Buying Used Retail Display Equipment
For those who are working with a tight budget, purchasing used retail display equipment is a great idea. There are many shops out there who need to dispose of old display equipment because they have renovated their shop or they simply purchased too much. There are also some being offered by shop owners who have had to cease their operations because they simply were not making enough money. There is a plethora of used display equipment available. Just make the effort to really go through different items to find those that are in tiptop condition.
Don't Neglect Product Placement
In their efforts to make their space look beautiful, some shop owners may end up downplaying their own inventory. This is a problem because the goal of a shop is precisely to sell to customers. In fact, the golden rule of retail is to make the store merchandise the focal point of the customer experience. When creating displays, make sure that the merchandise that one wishes to sell as fast as possible can be seen on eye level. Stack products up in interesting configurations and make sure to invest in quality lighting.
Also, if the shop relies on foot traffic, use colourful and dramatic display windows to draw in the customers. Lastly, don't be afraid to change things up according to holidays or seasons. Having this type of variety is a great way to bring in new customers who would have otherwise ignored the shop.
Don't Make the Customers Guess
While being creative is a fantastic way to entice potential buyers to come in the store, it is not a good idea to overdo it. Shoppers normally expect products that are properly displayed, a knowledgeable and courteous salesperson, as well as a variety of payment options. Changing the way things are done in the name of creativity can lead to confused customers who may just give up and walk out of the shop. Should there be a need to tamper with the traditional way of displaying products, for example, make sure that it increases sales.
Do Consider Purchasing Retail Display Equipment on eBay
Shoppers who are in the market for retail display equipment should start their search on eBay. The first thing to do is type "retail display equipment" in the search box found on every page of this website. Pressing enter should run the search and turn up hundreds or thousands of listings from interested sellers. While some people are lucky enough to find relevant results immediately, others need to type in additional search terms to find what they need. Because "retail display equipment" is such a general term, it may be advisable to look for something more specific like "straight arm racks" or "track lighting". After you get the results, you may trim this down even further by clicking on the refinements available. Typically, this includes condition, price, and item location, among others.
An alternative method of going about searching for retail display equipment is by using the eBay's Advanced Search functionality. Before you even begin the search, you can indicate what you need in your retail display equipment. For those who prefer to deal with local sellers, eBay can help you locate sellers within a specific radius based on your postcode. Some sellers may even allow you to collect the item from their shop or residence. This helps save on postage fees along with giving you a chance to personally inspect the items before buying them.
Conclusion
Purchasing retail display equipment can be tricky because there are many things to consider. The first step, however, boils down to understanding the different kinds of retail display equipment that are available to choose from. These are the hangers, tags, racks, slatwalls, gridwalls, cubes, shelving, mannequins, track lighting, signs, security equipment, and countertop display, among others.
Before purchasing any of this equipment though, it is advisable to do some planning so money is not wasted on the wrong things. Next, when budget is tight, scouring eBay for secondhand equipment is also a great idea since many items can be found that are in great condition. Lastly, when designing the store, make sure to focus on product placement while crafting the sale experience such that prospective buyers do not leave without making a purchase. When it comes to retail display equipment, consider the ease and convenience of shopping online on eBay.