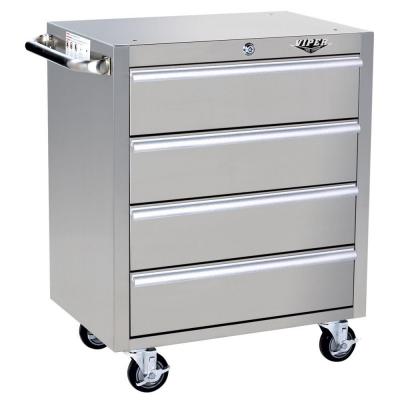 Tool storage accessories can be very useful in organising tools for easy retrieval when working on cars or doing other projects. The list of tool storage components runs from toolboxes themselves to socket and wrench holders. Professional technicians can have thousands of pounds invested in a toolbox and accessory attachments, not counting the cost of the tools themselves. While there are some key tool storage accessories that are must-have products for the serious craftsman, there are also some tool storage components that don't perform well and are a waste of money. Understanding which tool storage accessories are helpful in terms of organising tools and making them easily accessible can help buyers select the accessory components best suited for the type of work they do.
One can purchase tool storage accessories at tool stores, tool vendors, automotive parts stores, home improvement warehouses, and some department stores. Sellers on eBay also offer a large selection of tool storage accessories at competitive prices, with a simple, convenient buying process.
Common Tool Storage Accessories
There are some tool storage accessories that are popular and commonly found in many professional technicians' tool inventories. The following list of accessory components provides a description of the storage unit and explains how the storage device is used.
Toolboxes
The most practical method of storing tools is with a toolbox. Toolboxes for use in a shop may be as simple as workbench models with an upper tray, lid, and three or more drawers. Larger toolboxes include roll cab tool boxes with multiple drawers, stackable upper cabinets, cabinets that attach to the rolling box, and even bolt-on lockers for holding computer trays, diagnostic equipment, and personal items. Tool boxes should be equipped with a lock for each section: tools are expensive and must be secured when not in use.
Hang On Tables
A convenient tool storage accessory is a hang on table for the side of a toolbox. The table provides an additional workspace for component repairs or intricate jobs that are a part of the project being worked on. The table also serves as a holder for tool storage items such as magnetic bars and screwdriver holders. Magnetic bars attach to the side of an add-on table and the magnet is powerful enough to secure the tools so they don't fall to the floor or interfere with the project. Simply pull the tool off the magnet and it is readily available for use. Screwdriver holders also attach to the table; the holder has multiple holes of varying sizes so that screwdriver blades can be slid in, the screwdriver is held handle-up and ready for its next use.
Magnetic Trays
Using a magnetic tray helps to keep tools easily available yet out of the way. Magnetic trays are very useful when working on vehicle: one can attach the tray to a body part such as a fender and, when using multiple tools, use the tray to hold the tools not currently in use, conveniently within reach. The tray helps prevent sockets from getting loose and falling under the vehicle, and also makes a great place to store nuts and bolts during a part replacement project.
Drill Bit Cases
Drill bits are a difficult item to keep organised, especially by order of size. Drill bit cases are often folding leather pouches, metal boxes, or plastic bit holders. Holders that provide incremental sizing storage are the most helpful.
Drawer Accessories
There is a large assortment of drawer accessories to help store tools and make them more accessible. Nothing is more frustrating than having to sort through every wrench or socket sliding in a drawer to find the right one for the job.
Drawer Liners
Drawer liners fit in the bottom of a toolbox drawer to keep things from sliding around when the drawer is opened and closed. Usually made of rubber or a spongy plastic, the liner also protects tools from banging together and getting scratched up.
Wrench Organisers
Wrench organise rs allow wrenches to be set in slots and organised in order. Often formed in a V shape to accommodate wrench sizes from small to large, the wrenches are positioned progressively by size for easy selection.
Socket Holders
Some of the most useful socket holders have the size of the socket clearly identified on the holder. The two most common types of socket holders are a rack with progressively sized holes to which one slips the socket in an upright position and a rack with spikes onto which one slips the sockets are slipped. With the spike design, the base of the spike accommodates the specific size of the sockets so they do not rattle around; the top of the spike is usually identified with the size of the socket it holds.
Drawer Organisers
Drawer organisers are usually made of heavy plastic and are divided into sections for holding different-sized tools. The organiser is made to slip into a specific sized drawer; it may take up the whole drawer space or just a portion of it. Some drawer organisers are removable with the tools remaining in place so one can take them to the work area for easier access.
Cut-Out Foam Drawer Liners
A cut-out liner is a foam block the size of the tool box drawer, which may have sections cut out of the foam to hold a tool in its own cushioned section of the drawer. While cut-out foam is not a common tool storage accessory, it can be very useful for precision instruments and sensitive test equipment that could be damaged knocking around inside of a toolbox drawer.
Pouches, Bags, and Hand Carry Boxes
On occasion, it is advantageous to take tools to a remote location, and hand carry boxes, tool totes, or tool bags can be useful when transporting a large selection of tools. Pouches, often attached to a belt, store tools during a job when there is not a convenient place to set tools down. Pouches also work well when one needs to keep tools immediately accessible.
Workshop Storage Accessories
Craftsman with small workshops and a limited number of tools often choose to store tools on the wall of the workshop. Pegboard hangers, hanging bins, magnetic strips, and wrench and socket caddies are all workshop tool storage accessories that do not require a toolbox to keep tools organised.
Tool Storage Accessory Buying Do's and Don'ts
There are a few do's and don'ts when buying tool storage accessories. Whether the tips are safety-related or just good common sense, buyers can avoid potential problem situations by following the do and don't suggestions.
Do Buy Quality Equipment
Quality lasts longer, and buyers, especially those who make their living with tools, want dependable equipment. One example is drawer liners: flimsy toolbox drawer liner material does not hold its position and tools can still slide around and gather at the back of the drawer. Thick, non-slip or self-adhesive drawer liners stay in place and offer better protection to toolboxes and tools.
Do Buy With Common Tasks in Mind
A technician who uses wrenches and sockets continually during a work day benefits from storage accessories that keep those tools organised. A workman who performs tasks all over the house may benefit from a tool pouch or bag in order to avoid frequent trips back to the toolbox.
Do Purchase Enough Tool Storage
Putting too many tools in a toolbox or overloading a toolbox drawer is a sure way of slowing down productivity. The ability to easily locate a needed tool is essential for professionals and appreciated by part-time craftsmen. Tools also stay better organised when there is sufficient space in which to properly store them. Expandability for future tool investments is also an important consideration.
Don't Ignore Safety When Purchasing Tool Storage Accessories
Stacking a toolbox with a small footprint too high invites the potential for the box to topple over when being moved. Likewise, hanging a tool that is too heavy for a pegboard hook could have serious consequences. One should buy the right equipment for the tools one wishes to store.
Don't Forget to Check Accessory Measurements Before Buying
Not all toolboxes have drawers the same size, so make sure to check sizes on storage accessories to be sure they fit the storage area in which they are going to be used. Not all pegboards have the same size holes: tool storage hooks are made for both small and large holes in the different sizes of pegboards.
Don't Fail to Buy Tool Cleaning Supplies
A neatly organised toolbox, tool bag or wall storage space is not going to stay that way if tools are put back into storage greasy and dirty. While not often considered a tool storage accessory; having a box of shop wipes and a can of spray cleaner available helps to keep tool storage accessories clean and performing as intended.
Popular Brands of Tool Storage Accessories
There are a number of different tool storage accessory manufacturers on the market. Several companies have brands that are well recognised and have gained a reputation for quality products. The following chart lists popular brands of tool storage accessories and information about the products they make.
| Tool Storage Brand | Featured Products |
| --- | --- |
| | One of the most recognised names in tools and tool storage; professional-quality products |
| | Professional-grade products; not as well known as Snap On |
| | One of the largest shop suppliers in the UK |
| | A popular brand throughout Europe; sold in retail stores |
| | Specialising in tool organization, Ernst designs are marketed by some of the brands listed |
Snap On and Mac products are available for purchase from tool vendors whose primary market is professional technicians. One can purchase Silverline products at retail outlets such as hardware stores and home improvement stores.
How to Buy Tool Storage Accessories on eBay
Sellers on eBay list a large number of tool storage accessories for sale, both new and gently used components. At eBay's online marketplace one can easily find brands such as Snap On and Mac, which are not readily available at retail outlets.
Searching for tool storage is convenient when you use keywords, such as 'socket holders', in any eBay search bar, and the results display all the listings for that particular product. You can narrow the search by using specific keywords, such as 'Snap On socket holders', to show only products for that brand. You can buy with confidence from eBay sellers by consulting their feedback ratings. Feedback is provided from buyers who have previously purchased from that individual seller and who rate the seller on their satisfaction with the transaction. eBay allows you to shop from home and have purchases delivered directly to your doorstep. Pay for purchases with PayPal and be assured of the safest and most secure way to transfer funds to an eBay seller.
Conclusion
Digging through a drawer looking for a specific sized socket is not only a time-waster, it is frustrating as well. Well-organised and properly stored tools make their users more efficient, and tools that are clean, organised, and well maintained provide a lifetime of valuable use to their owners. Tool storage accessories help to address all of these points when it comes to keeping tools in a place in which one can easily locate them and then restore to its place when the project or job is finished. Buyers who wonder how to better organise and store tools benefit for knowing the options that are available on the market, as well as how best to use those storage accessories.
Having the right tool storage options is almost as important as having the right tools for the job. Equipping a toolbox or work area with the proper tool storage accessories help to prevent lost and misplaced tools as well as making sure tools are always ready for use when needed.