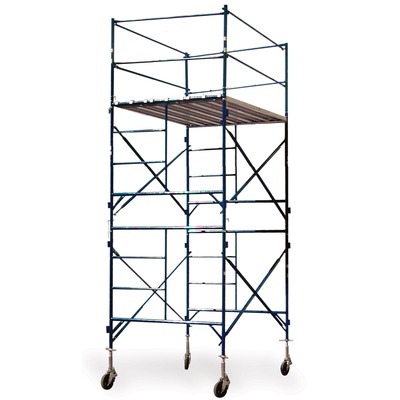 Scaffolding and ladders are very useful tools in a variety of job environments. These items help to not only ensure that a job is completed efficiently but also that the worker is safe as well. One of the downfalls of this type of business equipment is that it is often very expensive; however, there are ways that the cost of these items can be defrayed.
Buying used is one of the ways to save money when purchasing scaffolding and ladders. Purchasing used scaffolding and ladders on eBay only adds to the value of the experience when a person finds the right ones at a great price. There are some precautions that do need to be taken, however, when buying these types of items. Before the do's and don'ts of scaffolding and ladders are touched upon, it is helpful to know more about these two items. Knowing the do's and don'ts of buying used scaffolding and ladders on eBay can help make the purchase not only more affordable but also safer as well.
What to Do When Buying Scaffolding
One very important thing that should be done in advance of buying scaffolding is to really understand what scaffolding is and how it is used. This is important to obtain the right scaffolding for the job without creating hazards. Not all scaffolding is appropriate for all types of jobs, and purchasing the right equipment is important in reducing the possible hazards that could present themselves.
Do Acquire Background Knowledge
Scaffolding is a temporary structure that is placed on the outside of a building or other tall object that is being built or repaired. Because of the height of the scaffolding involved, often multi-purpose ladders or steps are common and necessary pieces of scaffolding equipment. They are commonly used in construction work environments but may be used in other places as well.
There are three main components used in scaffolding: couples, tubes, and planks. These items can be constructed from various materials depending on the type of scaffolding purchased. Knowing the purpose of scaffolding and the various types that are available can help alleviate some confusion when looking at the do's and don'ts of this type of item.
Do Know the Purpose of Scaffolding
One purpose of scaffolding is to hold heavy materials so that workers do not have to constantly climb ladders with large materials that may be not only heavy but awkward as well. Placing these materials on scaffolds makes it safer to store building materials and other objects for the worker and anyone who might be below them. When designed correctly, a scaffold weighing just over 20 pounds can be erected to reach very tall building and other objects.
Scaffolding is not only used to hold large materials, but it is also used to hold the workers in position as well. Scaffolding is often raised to great heights above the ground that allows workers to reach areas that a traditional ladder could not. Scaffolding also provides a safe environment for workers versus standing on a ladder that could potentially tip and fall over injuring the worker. Understanding what scaffolding is and how it is used can help a person determine what to look out for before investing in such equipment. There are various types of scaffolding available for purchase and as well as things to look for before they are purchased.
Do Understand the Need of Scaffolding and Ladders
There are various types of scaffolding and ladders that are used and the type a worker needs depends mainly upon the job that is being performed. There are federal regulations that govern how particular types of scaffolding and equipment are assembled at a construction site. These regulations must be adhered to for the safety of the people using the scaffolding materials as well as any people who may come in contact with it, so it is a good idea to become familiarised with those regulations before attempting to erect or use scaffolding at a site. The table below lists some of the types of scaffolding along with the notable characteristics of each.
| Scaffolding Type | Notable Characteristics |
| --- | --- |
| | Poles, planks, guard rails, and ladders are constructed of wood |
| | Constructed from aluminium or steel |
| | Features prefabricated ladder and other parts welded together |
| | Features wheels for easy of mobility |
There are a variety of materials used to construct scaffolding and ladders. It is a good idea to always make sure that used scaffolding and ladders of any type are in good condition. Even if the scaffolding materials are new, it is wise to check each part for any defects or flaws in construction.
Do Buy Used on eBay
Many people enjoy buying scaffolding and ladders on eBay because it is a convenient and affordable way to shop. There are a multitude of sellers who use this online marketplace to sell this equipment and because of this there are usually a wide variety of prices at which a person can buy them for. One of the attractive aspects about using eBay to fill the need for scaffolding pieces is the option to buy used ones. Purchasing items that are used is a great way to save money.
Do Know Item Specifics
When browsing for used scaffolding and ladders on eBay, it is important that buyers read the full item description. The item specifics give information that verifies its condition. The description may also list the materials that the scaffolding and ladder assembly is constructed from so that a buyer is aware of what they are purchasing.
Some people may make the mistake that just because additional items are shown in a picture that all of those items come with the one that is listed. While reading the item description, also take a look at the options available for the item and see if there are additional materials sold separately from the listed item. This section should alert a prospective buyer to the additional items that may be necessary to have a complete unit.
Do Read Seller Feedback
In addition, there is a section where the seller can leave their own comments about the items. This is one of the places that a person should pay the most attention since it gives the seller room to notify the potential buyer about other details that are not included in the listing. If there are any flaws or missing component, the seller would make it known here.
Do Check Items upon Arrival
After buying scaffolding and ladders, make sure to inspect the items carefully. It is important to do this as soon as the items arrive so that any missing part or damage to the item can be made known to the seller. If there is an item that is missing or damaged, the seller has the time to remedy the situation and locate any missing parts that did not get shipped with the order.
What Not to Do
Finding items on eBay is easy once a person knows what they are looking for and where specific information about items is located on this website. Becoming familiar with the don'ts of buying items from a seller is just as important, if not more important, than just locating the proper item with a good price tag.
Don't Ignore Shipping Information
There is a section in a product listing that gives the prospective buyer information about shipping; however, because scaffolding materials can be very heavy, many sellers add additional information about shipping in the listing details, such as comments that the buyer must pick the items up due to the weight involved. It is important to not assume anything when it comes to buying this type of item. If the description does not mention something important, make sure to contact the seller and ask before buying it.
Don't Buy Sight Unseen
Don't disregard the picture or pictures included with the item listing. Regardless of what the item description says, a person should be getting the exact same scaffolding and ladder equipment that is shown in the picture. There is truth in the saying that what a person sees is what they get. Inspect the photo for any damage or missing parts. If the photo is not clear, ask the seller to clarify the information or send additional pictures if necessary.
Don't Overlook the Returns Policy
This is a very important aspect of any major purchase. Most buyers state what their returns policies are before making a final purchase. Even though an item listing may say that the seller accepts returns, do not assume that there is a large window in order to do this. It is the responsibility of the buyer to find out more information about the seller's return policy.
Finding Used Scaffolding and Ladders on eBay
One of the most convenient places to shop for construction equipment, such as scaffolding and ladders, is eBay because of how easy this website is to use. In order to find the right equipment for the job, a keyword search is usually the best bet.
Type in words that are relevant to the items in the search query box that is located at the top of the eBay home page. For example, if you need a used trestle made of steel, type in "used steel trestle". Returned in the search results to you is any item tagged with any of those keywords.
You may also use the advanced search feature option and include more filters such as location, item number, seller, and price range, just to name a few filters. Once you find an item that you are interested in, simply click on it and additional information about the item is made available to you.
Conclusion
Scaffolding and ladders are equipment that is commonly used in the construction industry but can be used in other work environments as well. There are various types of scaffolding and ladders, such as wood, tube and coupler, framed, and mobile versions. Buying these types of items in a good used condition is a great way to save money.
One of the easiest ways to find these types of items is on eBay. Care must be taken to read item descriptions before purchasing them to ensure that all the necessary parts are included and are in good working order. It is also important to inspect the picture of the item and contact the seller before a final purchase decision is made and to also be aware of the terms of the seller's return policy. Buying used scaffolding and ladders on eBay is affordable, but only if all precautions are taken in advance and buyers follow the simples do's and don'ts of the buying process.