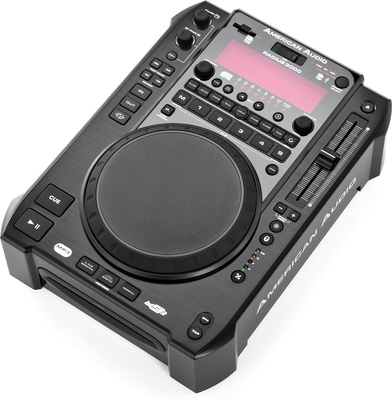 DJs' audio component choices are profoundly personal. Vintage analogue fans construct their systems around a core set of turntables, while digital fans choose virtual media players. Those who need pitch control, multiple effects and scratching of audio files make DJ CD players the foundation of their system. Lossless file formats are capable of generating clear, crisp sonic tones with precise frequencies across all three ranges. In most cases, virtual DJs exploit the cool tonal qualities typical of digital files, while others try to replicate vinyl's warmth without losing out on the high tech features of CD-based set ups.
Don't Underestimate the Digital Effects of a DJ CD Player
DJ quality CD players can achieve the same professional effects that turntablists do with vinyl. Pitch control and scratching are the most common features that cross the boundaries between vinyl and digital audio, but the latter provides access to some effects that are limited to CD players.
| | | |
| --- | --- | --- |
| Effects | Functions | Features to Look For |
| Scratching | In the days of vinyl, records were manually manipulated to achieve this effect. With CD decks, this can be achieved with a scratch wheel. Higher volumes can be achieved through digital systems than with record players. | Touch-sensitive scratch wheels that are shock proof are less likely to skip. Braking technology that mimics vinyl techniques helps turntable users to adapt easily to digital scratching. Sensitive platters achieve greater precision and LED markers provide visible reference points. |
| Cueing | To prevent moments of silence, cueing features help DJs to begin tracks only when audio begins. | Automatic cueing that can be turned on or off allows a higher degree of manipulation. At times, mixes need to be cued according to precise second increments. |
| Looping | The repetition of selected bars without the alteration of pitch. | Adjustable loop-out functionality allows DJs to use a variety of creative effects during transitions. |
| Master Tempos | Tempos can be altered without impacting the speed of vocal performances. | Master tempos on the DJ CD player should allow disabling to make room for software-based master tempos. |
| Samplers | The use of mathematical calculations to recreate sound at a different pitch and speed. | High resolution low pass filters cut out high frequencies to generate a rounder, more resonant sound. Look for CD players with resonance control and self-oscillation capacities. |
| Pitch Control | Variable rotation speeds cause changes in pitch. | Players should allow a minimum increase of 6 per cent. High end players can manage up to 100 per cent leaps in range. |
Adapt Features for Home or Club-Based Mixing
Single platter CD players can achieve the effects of double decks using software, making single decks increasingly competent. The features of decks' motors, circuitry, and platter materials have thus become more relevant than the number of decks available. Nonetheless, those who have been using vinyl for years find it easier to transition from turntables to dual players.
| | |
| --- | --- |
| Torque | Direct Drive motors give DJ CD players the feeling of using a turntable, often by building the CD platter directly on top of the turntable. Some players incorporate vinyl and CD capacity into the same player. A more muscular motor has longevity, but vibration needs to be minimised using anti-shock technology so that compact discs don't skip. Direct drive motors need to be manufactured with a buffer material above them to reduce vibration. High torque reduces noise by accelerating at a higher speed. |
| Platter Design | Tabletop players are often easier to master by those who are technically adept with software, since mixing needs to be done using computer interfaces. Traditionalists and those who are talented with their hands can work more intuitively with dual players. |
| Rack mount models | These models are optimised for creative scratching effects used by live club DJs. Their features are designed for improved portability and skip protection. |
| Data Storage | Mobile DJs need the storage space to carry entire libraries with them. Thumb drives are easily portable, with new models allowing 256 GB of storage at an affordable price. Cloud-based storage demands uploads that can be too cost-prohibitive for those with large music collections. This option is impossible to misplace and updates can be managed automatically. Bootable drive backups have off-site security. They are affordable, allowing automated backups to be controlled by software. |
| Jog wheels | Accurate virtual jog wheels allow precise scratching suitable for recordists. Digital vinyl job wheels are also capable of high levels of accuracy but with a higher degree of portability. Software-based scratch techniques cannot replicate the authentic sonic warmth of vinyl. |
| USB-Powered connections | Club DJs gain a high level of portability with USB connections that omit the need for external power supplies. |
| MP3 capacity | While the compression involved in creating MP3 files has its negative impacts on audio quality, most DJ DC players can play MP3 CDs. |
Don't Underestimate the Value of Inbuilt Mixer
Complete DJ systems that have a variety of file compatibilities, software, CD decks, and mixers can come at a price high enough to scare many DJs into buying individual components. The value of specialised universal systems comes through their intricate navigation controls, interfaces, and extreme compatibility with almost all audio media. Investment pieces such as this often deliver sufficient returns to make their cost well worthwhile. Constructing a system from components is a complicated task, which makes all-in-one packages a good buy for novices.
Gain Return on Investment Through Complete DJ System Features
| | |
| --- | --- |
| Multiple media capabilities | Audio sources such as MP3s, CDs, and USB files can be combined creatively in real time for live performances. |
| Multiple Channels | Inbuilt mixers dedicate individual gain and equalisation to every input channel so that all incoming audio sources are customisable and expressed as high quality audio. |
| Touch sensitivity | Platters that have superior sensitivity allow for intuitively accurate manipulation of tracks. Performance can be set to mimic the sonic character of vinyl or digital media. |
| LED interface | The ability to manage several sound media at once makes mixing a highly complex task. A user friendly LED screen interface makes the process easier to achieve successfully. Output levels can be observed constantly and preferences are programmable. |
| Tempo Control | An excellent mixer should allow DJs to manually enter their tempo for beat and pitch matching. Automatic tracking of original tempos gives DJs more control over harmonic mixing. |
| Ease of Navigation | Live performances demand that DJs be constantly aware of several aspects at once. File navigation thus needs to be streamlined, with multiple screens dedicated to different functions. |
| Dual Deck Uniformity and Visibility | Because panels on dual decks need to be easy to operate intuitively, controls should be identically arranged on both sides. They need to be back-lit so that they are visible in dark conditions. |
Don't Neglect the Technicalities of DJ CD Players
The sturdiness, texture, and size of a DJ CD player's components and buttons contribute to its scratch-worthiness, durability and user-friendliness.
| | |
| --- | --- |
| Chassis Material | Heavy duty die cast aluminium or metal enhances stability so that noise is minimised and sound resolution is optimised. Separate chassis for dual players enhances accuracy while silencing background distortion, |
| MIDI Mapping capacity | High definition MIDI mapping allows DJs to save hardware generated messages into software commands for repeat performances in high resolution audio formats. |
| Jog wheel texture | Jog wheels are easier to manipulate during beatmatching when they have a textured surface. |
| One to one mapping | When performing rapid, complex scratching techniques, one to one mapping ensures that there are no delays that would otherwise mar the tempo. |
Conclusion
The art of turntablism will probably never cast vinyl aside entirely, but digital technology has evolved sufficiently to make CD mixing and effects production a highly creative medium. One of the greatest advantages of DJ CD players is the fact that they allow stereophiles to work with several audio formats at once. Technology continues to make improvements on the effects that CD players can generate through professional software and better materials. Damping is achieved mechanically with specialised rubbers such as neoprene. Clamp systems and dedicated axis stabilisation keep CDs stable, allowing for high resolution digital effects. The durability of compact discs keeps them in mint condition far longer than vinyl. New players can now digitally record and write sound signals to hard drives so that no performance need ever be forgotten.