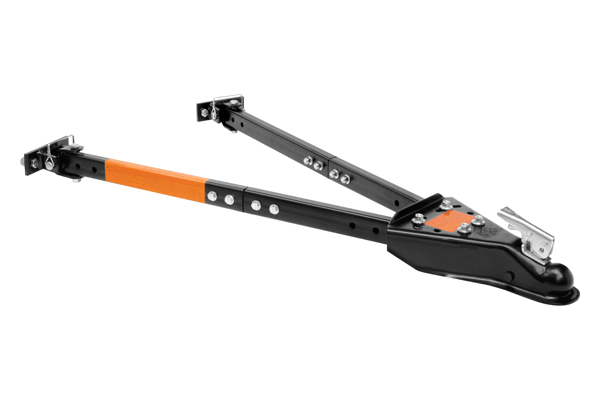 Towing bars make it possible for an ordinary car or truck to become a hauling machine. With a towing bar, the family or farm vehicle may take a caravan on holiday, haul a boat on a trailer to the shore, and even bring a horsebox to the vet. Towing bars are designed for cars, vans, and 4x4s, as well as commercial vehicles.
Since the late 1990s, towing bars and the vehicles that haul them have been subject to new EC regulations. Driver licensure for those who use tow bars has also been revised in that period. Tow bar technology has also improved, with new stabilisers and detachable tow bars, swan-neck tow bars finding their place in the U.K. market, and the ISO 13 pin electric reducing the complexity of caravan hook-ups. Towing bars are offered by car dealers, in motor accessory shops, and by various online markets including eBay. A driver who knows what needs to be hauled, how heavy the load is, and what kinds of electric are needed is in a good position to select a towing bar suited to the vehicle that is driven.
Do Consider What Needs To Be Towed
The selection of the correct tow bar requires, in part, knowing what is to be towed. The most traditional flanged tow bar is the most versatile. It allows for hauling virtually any kind of load, provided the correct attachments are selected and the vehicle has sufficient horsepower. The chart below summarises different tow bars and attachments in relation to common items that people may wish to haul.
| Item Being Hauled | Appropriate Flange-Type Tow Bar | Appropriate Swan-Neck Tow Bar |
| --- | --- | --- |
| | Consider EC approved tow ball with built-in AL-KO stabiliser or ball and pin with blade stabiliser | Use with AL-KO or long reach ball |
| | Permanent, not detachable; consider ball and pin with blade stabiliser | Permanent, not detachable |
| | Permanent, not detachable; consider ball and pin with blade stabiliser | Permanent, not detachable |
| Generators and Other Commercial Items | EC approved ball and pin type with capacity of 3,500 km | N/A |
The correct tow bar matches the item towed to the height of the towing vehicle as well, so there is no needless drag. Ball mounts are designed for drop, rise, or both to correctly match the height of a trailer or horsebox.
Do Choose the Right Tow Bar for the Vehicle
In Britain, several kinds of towing bars are most frequently chosen. Each has specific advantages, and the section below summarises some of the key points related to each.
Flanged Tow Bar
In the flanged tow bar, a flange plate is attached to the vehicle. The tow ball and towing electrics are mounted to this plate, which is usually permanently attached in place. Because the tow ball is bolted onto the plate, it is possible to select the kind of towing system desired.
| Towing System | Features |
| --- | --- |
| Standard | 50 mm tow ball |
| Extended neck | Allows for caravan stabiliser hitches |
| Commercial | Towing jaws, ball and pin |
Various accessories may be bolted to the flange plate for additional convenience. These include rear steps for vans and minibuses, cycle carriers that may be used while towing, and bumper protectors.
Detachable Flanged Tow Bar
The relatively uncommon detachable flange tow bar is made for vehicles where a fixed tow ball may not be installed because of the vehicle design. A typical example is a truck with an unusually low tailgate. U.K. manufacturer Tow-Trust Tow Bars introduced this model to the market in 2009.
Fixed Swan-Neck Tow Bar
The swan-neck tow bar is typical throughout most of Europe and continues to gain ground in the U.K. In its favour is a visually appealing design that is unobtrusive and compatible with the aesthetic of top of the line vehicles. For a nation of caravanners, the disadvantages are the inability to fit it to a traditional blade stabiliser and the limited number of caravan accessories that may be attached to this style of tow bar. Nor is it able to tow commercial equipment designed for a pin-and-eye system.
Detachable Swan-Neck Tow Bar
The detachable swan-neck tow bar is likewise appealing with top-end autos. When the tow ball is detached, it becomes virtually invisible since like all swan-neck models, its electrics are located below the bumper. Its limitations include those of the fixed swan-neck tow bar. In addition, there are reported some incidents of certain variations on this model coming detached on curves, thereby releasing its load.
Comparing Tow Bar Types
Each tow bar purchaser has priorities based on how he or she intends to use it. To help focus on issues of interest to many owners, some key points of comparison among the different types of tow bars are noted in the table below.
| Feature | Flanged Tow bar | Swan-Neck Tow Bar | Detachable Tow Bar |
| --- | --- | --- | --- |
| Degree of protrusion | Extends from rear of vehicle | Barely extends vehicle length | Varies by type |
| Degree of visibility | Tow ball and electrics always visible | Housing and electrics fit under bumper | Varies by type |
| Stabiliser compatible for caravanning | Depending on tow ball, compatible with AL-KO, blade stabiliser, or both | AL-KO compatible; blade compatible only with adapter | Varies by type |
| Parking sensor compatible | Some sensors "see" tow ball; others miss it | Can cause problems with some sensors | Fewer issues when tow ball is removed |
| Carry cycles whilst towing | Yes | No | Varies by type |
| Versatility | Accepts widest range of tow balls and accessories | Incompatible with many accessories | Flanged detachable useful where low tailgate prevents standard tow ball |
Detachable tow bars are made in both swan-neck and flanged designs. Flanged models are still relatively uncommon and offered for a limited number of vehicles. When selecting a detachable tow bar, be aware that the tow bar may attach and detach vertically or horizontally. Those attached vertically fasten to a module that is largely hidden within or behind the bumper. Those fastened horizontally attach to a module that is more easily seen. Some detachable tow bars have come detached in use when towing an unstable load, taking a curve, or pulling a heavy load. It is important to be sure these tow bars are used with care and at appropriate speeds.
Do Choose the Right Electrical Connection
The electrics mounted on the tow bar provide power for road lights, at a minimum. For caravanners, or those towing horseboxes or tipper trailers, tow bar electrics also provide power for lights, refrigeration, and the trailer's lift. The three kinds of electrical connections available are as follows.
Seven-Pin (12N)
This is the most common and longest used type of electric connection on towing systems in the U.K. It suffices for standard road lights on trailers, road light boards, horse boxes, and other items that are often towed.
Seven-Pin (12S)
The 12S connector is also of long standing and proves its value for the interior power of a caravan, inside lights of a horse box, and electric lifts for tipper trailers. Its switching mechanism provides power to lights when the engine is off and charges the battery and supplies baseline power to the caravan fridge when the engine is running.
ISO 13 Pin
This connector accomplishes the functions of the 12N and 12S connectors in a compact housing that is similarly sized to the seven-pin connector. Caravans manufactured since the 2008 season have this connection as standard.
When selecting a tow bar, it is important that the electrics support the required uses. Some tow bars are sold with electrics provided. If the electrics in the kit are not those needed for the proposed use, it is important to select and install the correct electrics to get the best use of the tow bar.
Don't Attach an Illegal Tow Bar
EC94/20 sets a number of standards for tow bars and how they are attached to vehicles registered on or after 1 August, 1998 or new models that came onto the market after 1 January; 1996. It is illegal even to fit a tow bar to vehicles registered or introduced after those dates unless the vehicle manufacturer has met certain criteria. Before selecting a towing bar, confirm that the specific vehicle is legal for towing, that the specified towing capacity meets the planned usage, and that any tow mounting points are suited to the kind of tow bar needed.
Tow bars also must meet standards and those that are legal to purchase are stamped with a "D" value that combines vehicle and gross trailer weight and an "S" value indicating the maximum static vertical load. A tow bar that does not have these markings on its tag may not have been properly tested to EC standards.
Do Consider a Tow System for an Executive Car
If the weekends involve towing a boat trailer to the marina and weekdays require looking smart amongst the other executives, garaging a second vehicle may not be required. Swan-neck tow bars with detachable tow ball arms are virtually invisible on many executive cars, such as Jaguars, BMWs, and Mercedes.
Do Know Laws About Tow Bar Usage
In order to operate a vehicle with a tow bar, it is essential to have the correct license. Laws regarding the operation of vehicles while towing must also be learned in order to keep both those in the vehicle and others on the road safe.
Licensing
Licensing provisions related to the use of tow bars and trailers are somewhat complex. Those with only provisional licences may not tow any trailer. Those aged 18-21 may tow trailers where the combined weight of the vehicle driven and the towed equipment does not exceed 7,500 kg.
For adult drivers over age 21, the licence required varies according to the total vehicle weight, the number of seats in the vehicle being driven, whether the trailer has overrunning brakes, and the date of original licensure.
Speed Limits
Speed limits are reduced for vehicles with anything in tow, whether on motorways or on other roads. The specific speed limit varies by the weight of the combined vehicle and trailer.
Marking and Protecting Oversized Towed Items
Regulations require that items that protrude from the trailer on which they are carried be protected and marked. When an outboard motor is carried already mounted on the rear of a boat, it is particularly important that the blades be protected. Drivers who have failed to do so have been prosecuted.
Items that protrude more than 1 metre from the rear of a trailer require a red or orange marker rag or plastic bag. An item protruding up to 3.05 metres requires an end marker board of a type specified in government regulations. Items extending further require additional marker boards and prior notification of local authorities.
Buying a Towing Bar on eBay
The driver who wishes to equip a vehicle with a towing system may find a range of towing bars suited to any passenger or commercial vehicle. Searching for "tow bar" or "towing bar" brings the same results. A driver looking for a tow bar able to haul a 3.5 ton load may specify that in the search, although by so doing would miss tow bars that could carry heavier loads or those specified at "3-7K tons". Several similar searches may best find the right tow bar in that case.
Additional Useful Items for Towing Systems
It may be useful to purchase any of several additional items to complete the towing package. Depending on the intended use, a different tow ball and coupling may be important. Stabilisers are essential if caravanning or pulling any heavy load is anticipated. If electrics are not part of the tow bar package, they need to be purchased, and this may include lamps and lenses. Moreover, if the vehicle or trailer is dated, new electrics may be necessary to bring one or the other up to the convenient ISO 13 standard.
Conclusion
When buying a towing bar, the first consideration is always what the driver needs towed. Weight and the balance of that weight influence the kind of stabiliser that is needed, which determines in part what kind of tow bar should be chosen. The traditional flange mount allows flexibility for the widest range of towing attachments, including attachments designed for extremely heavy loads. The swan-neck mount is visually appealing and supports many kinds of loads. Detachable mounts are very convenient but must not be used with unstable loads or loads exceeding their rated capacities. Whatever kind of mount is chosen, today's electrics allow all of the electrical systems of a caravan or horsebox to flow through a single, 13-pin system instead of the two sets of connections previously required.
The range of criteria to be considered in identifying the best towing bar for a given situation is extensive but so too is the range of towing bars offered on the market. Finding a tow bar that meets the needs for hauling a caravan, boat, horsebox or commercial gear, and then fitting it up with stabiliser, up-to-date electrics, and any other accessories is an easy prospect thanks to the extensive eBay marketplace.