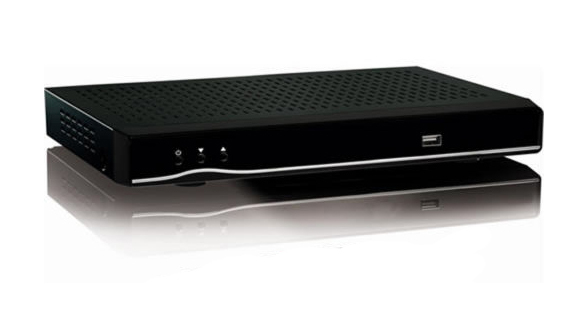 Hard drive recorders are set-top boxes which connect to an input signal and capture the video data being transmitted. The video files are recorded and stored on the device's internal hard drive. Unlike DVD and VHS recorders, the data is not saved to external media. When purchasing a used hard drive recorder, it is important understand the basic features and technical specifications of the different makes and models available.
About Hard Drive Recorders
The most common use of a hard drive recorder is to attach the device to either an aerial or satellite dish to record television shows. However, some models can also be connected to other external devices such as camcorders and digital cameras. Hard drive recorders are managed via an interface displayed on a television or other display unit. Users can navigate the interface to locate their data, delete unwanted files and playback recordings. Although all hard drive recorders can record and capture a digital input signal, some devices also have other technical details.
HD Ready
High definition (HD) television channels broadcast at a much higher resolution than standard channels, resulting in a more vivid and detailed picture quality. Hard drive recorders which are HD Ready are capable of receiving and recording these high definition channels. Although a small number of high definition channels are available through Freeview services such as BBC and ITV HD, subscription television packages offer many more premium channels in high definition.
Single and Twin Tuners
A hard drive recorder with twin tuners is able to receive two input signals. This means that one channel can be watched at the same another channel is being recorded. Although twin tuners are a common specification for most hard drive recorders, some older models only have a single tuner. Single tuner hard drive recorders can only receive one input signal at a time and only one channel can be viewed or recorded.
Hard Drive Capacity
The capacity of a hard drive recorder is the amount of space it has to save and store recorded files. Although top of the range hard drive recorders have a capacity of 1 or 2TB,, most models have a capacity of around 500GB. This is enough to store approximately 220 hours of standard definition recordings or 70 hours of high definition recordings. Some hard drive recorders allow users to downgrade the quality of recordings so they have a smaller file size. This is similar to the LP function of VHS players. Although video quality will be reduced, the device can store more hours of recordings.
Playback Controls
All hard drive recorders allow users to capture and watch recordings, but some models have additional features that make it easier to navigate and playback saved files.
| | |
| --- | --- |
| Live TV Playback | The hard drive recorder caches the channel being watched and saves the programme as it is being watched. This means that users can pause or rewind live television. Most recorders can perform live TV playback functions for up to an hour, but some models offer a larger cache with longer playback time. |
| EPG | Electronic programming guide (EPG) is an interface which displays the upcoming television schedule. Most hard drive recorders retrieve programme information for a 7 day period. The EPG can be used to set reminders or record upcoming programmes. |
| Series Link | Series link automatically records all episodes of a selected programme. Once set, the intuitive series link feature can record a programme even if it is in a different time slot or on a different channel. |
| PIP | Hard drive recorders with Picture in Picture (PIP) can display two different programmes on screen at once. The devices uses twin tuners to receive and display two different signals. |
External Media Support
Hard drive recorders which support external media can read and copy files from a USB memory stick or SD card. Some models can also export recordings to external media so they can be played or backed-up on other devices.
Wi-Fi
Some hard drive recorders support the use of a Wi-Fi connection so they can access apps for online services like Facebook, YouTube and Netflix. Wi-Fi connectivity also means that content from other Wi-Fi enabled devices, like PCs and tablets, can be streamed to the recorder and displayed on the television or stored on the hard drive.
On Demand
Several UK broadcasters have launched an On Demand service. Users can catch-up with missed episodes of their favourite television programmes and even access entire series of older television shows by accessing the On Demand service. Some models of hard drive recorders have On Demand integrated, but they require an active Internet connection to download and buffer the shows.
Choosing a Used Hard Drive Recorder
There are many different makes and models of hard drive recorders. Some older models lack the technical specifications of newer devices, but they are much cheaper to buy second-hand. However, while newer models are more expensive, they may be more appropriate for the specifications of the user and are more likely to be compatible with newer technologies. When buying a used hard drive recorder, it is important to carefully consider what features are the most useful and whether the device will be suitable to the user's personal needs.
The Importance of Hard Drive Capacity
The primary purpose of a hard drive recorder is to capture and record a video input signal so the amount of recordings the device can store is an important technical requirement. Carefully consider the storage capacity of a used hard drive recorder before buying one. Low capacity hard drive recorders are suitable for users who don't intend to keep many different recordings on the device. Also, users who don't have a high definition input signal or have few high definition channels won't need large amounts of storage as standard definition recordings have a much lower file size. Conversely, users with a subscription or premium television package should consider a high capacity hard drive recorder so they don't have to worry about running out of space when recording high definition television programmes. Users who also want to archive entire series of television programmes or intend to record several different programmes on a regular basis should consider a recorder with a high storage capacity.
Considering Wi-Fi Connectivity
Wi-Fi can be a very important feature for some users, but it does have its disadvantages. A hard drive recorder with Wi-Fi can connect to the Internet and use On Demand services as well as stream and backup recordings to other devices. On Demand services require a high-speed Internet connection to download television programmes. A low-speed connection will struggle to buffer On Demand programming and this can result in low quality video as well as long download times. Also, because On Demand services download large amounts of data, the feature is considered inappropriate for Internet connections with bandwidth restrictions. Streaming content between a recorder and other devices also requires large amounts of bandwidth. When purchasing a used hard drive recorder with Wi-Fi connectivity, it is important to consider whether the device can be connected to an Internet connection which can support large amounts of data downloads for streaming and buffering purposes.
Will Other Devices be Connected to the Hard Drive Recorder?
Although hard drive recorders are primarily connected to television input signals, some models can also be connected to other devices. Recorders which support external media can transfer files to and from USB memory sticks and SD cards. This is important for users who want to easily transfer files from their hard drive recorder to other devices. Some recorders also have AV and DV inputs which can be connected to camcorders or digital cameras. If external media support is a useful function, it is important to look at the device's input capabilities when purchasing a used hard drive recorder.
Find Used Hard Drive Recorders on eBay
To purchase a used hard drive recorder, visit the eBay homepage and click the Shop by Category link. Navigate to the Electronics section via the drop-down box and click the link for Sound & Vision. Choose the TV Reception & Set-Top Boxes category. Type 'hard drive recorder' in the search bar at the top of the page to retrieve a list of active auctions. The search query can be refined by selecting from the different search option boxes in the left-hand pane.
Conclusion
There are a wide range of different hard drive recorder makes and models available and they all have different technical specifications and features. Choosing a suitable used hard drive recorder requires research and careful selection, but an appropriate device will suit the requirements of the user as well as provide optimal video quality and recording performance.