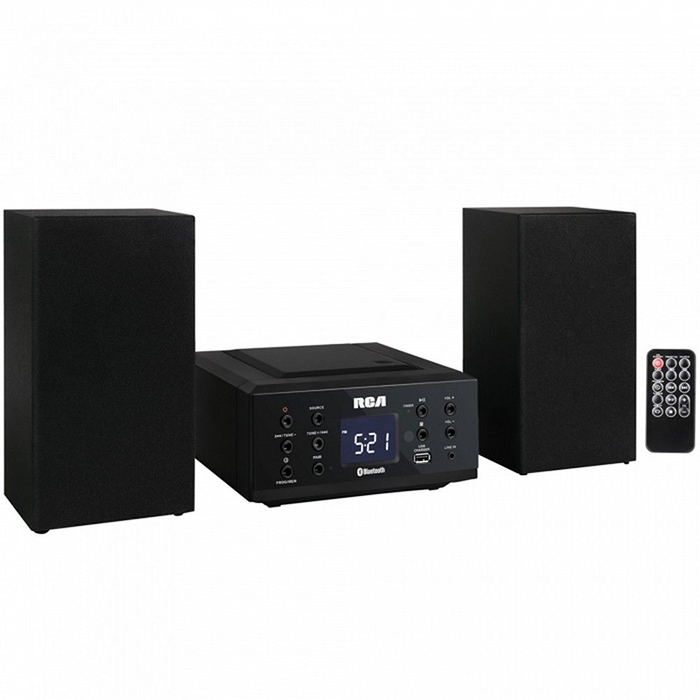 Music reproduction in the home has passed through many phases, with stereo systems first being offered to the public in the 1950s. Giant strides have been made in the field of miniaturisation, with portable music devices small enough to clip to a jacket lapel or shirt pocket. In the field of home-based systems, though, reductions in size have generally been limited by the size of the physical media in use - CDs, cassette tapes, vinyl records - and by the size of loudspeakers required. There appears to be no clear-cut definition of what constitutes a shelf stereo. Some consider it to be a self-contained single unit, with source and amplification components in the same box as the loudspeakers, while others are happy with including systems with a core source and amplification component, and two discrete loudspeakers in their definition. Since the essential functional difference is merely the removal of the loudspeakers into separate boxes, this article will look at advice appropriate to the purchase of both types.
How to Select the Right System
The selection of a stereo system will be governed by budget, available space or living situation, and the extent of the buyer's interest in music. Assuming the buyer to have limited space, a modest budget, and to be one who doesn't place too much of a demand on the system for the highest level of performance, as many shelf systems are built to modest price points, rather than on a money-no-object basis, then a shelf system as described here would seem to be a good choice. Obviously, any shelf system with separate loudspeakers will increase the amount of cabling required, and this may form an important factor in any buying decision.
What to Do
If possible, the seller should be asked to demonstrate the system. The only way to properly judge a music system is by listening. The various sources should be demonstrated tried in turn, ideally with familiar music. This will, of course, only be possible with a local sale, and if the system is being offered under a distance sale, the condition will have to be judged as best as the buyer can from the seller's description, and any photos included in the sale listing. If inspecting the system in person, look at the overall condition, for any external marking or damage, and check the loading compartments for any physical media - CDs, cassettes, and the like - to ensure that there is no internal damage.
Style and Finish
Look at the style of the system, and the finish, to ensure it will fit in with the home and the décor when installed as intended. Systems vary in size, so if the seller doesn't have the dimensions and weight available, consult online sources such as the manufacturer's or other aftermarket websites for a user manual or other specification sheet. It may be relevant and appropriate to verify that any shelf upon which the system will be placed can accommodate the weight.
Sources
Many shelf stereos are built as multi-source units, with common permutations including CD players, radio tuners and/or cassette tape players. It would be good policy to examine the existing media library, which may consist of CDs, cassette tapes, or even vinyl, consider if playback of all of the existing media is required, and look at what media may be used in the future.
CD
It should be taken as read that any CD player fitted to a shelf stereo will cope with commercially-produced CDs, but if it's intended that the unit will be used for the playback of home-produced CDs, such as CD-R or CD-RW types, or if it will be used for the playback of data discs with mp3 or similar media files, then the specification should be examined to ensure that the CD drive fitted will cope with all the required media. All CD players should include the basic transport controls - Play, Stop, Pause and Track Skip, but more advanced models may include some form of programming or playlist control.
Cassette
Once beyond the basic transport controls, the buyer should consider whether or not any cassette replay system fitted will cope with the various tape types available - Normal, Chromium Dioxide, and Metal - and whether or not any noise reduction system is fitted and/or needed.
USB Ports
Many shelf stereos are fitted with USB ports for the connection of iPods, USB sticks and other media players. Exercise some caution here, and don't merely assume that these ports will work with any device fitted with a USB connector. Some shelf stereos of this type are designed to only work with USB sticks, others will work with a limited range of mp3 players, and only the most specific will work with Apple devices.
Networking
A number of manufacturers now offer stereo systems which integrate with home networks, whether through wired or wireless means. The buyer should judge what music media they have available on their network, and whether or not it is a requirement to stream such media to the shelf stereo. Options here could include streaming from a hard drive within a PC on the network, from a NAS (Network Attached Storage) device connected to the network, or directly from the network's internet connection via internet radio services or streaming services such as Spotify.
Packaging
As well as judging the overall condition of the unit as described above, establish if the original packaging is included in the sale. Inclusion of the original packaging often gives a good indication as to how the seller and any previous owners will have treated the unit, and if it is being bought in a distance sale, it will be best transported in the packaging designed for it. Also, if part of a distance sale, it should be established if the seller will be including any extra safety packaging around the manufacturer's box.
What Not To Do
There is a healthy market in used consumer electronics, and generally speaking, any used stereo system that is in poor condition, which shows signs of damage or maltreatment, or which has any non-operational components, is best avoided. In the main, shelf stereos are mainstream mass-production items, and if the first one inspected isn't suitable or in good condition, there'll most likely be another one in better condition not too far down the line.
Don't Buy a Shelf Stereo with Redundant Sources
There's little value in acquiring a shelf stereo with a triple-waveband radio, including DAB, AM and FM, if the only stations listened to are on AM. Likewise, there's little value in a shelf stereo with radio if the only source listened to is CD or mp3 files. The purchase should be tailored to the buyer's requirements, otherwise the redundant components will just be dead weight.
Don't Buy a Shelf Stereo with a Mismatched iPod Dock
The docking system designed by Apple for their iPods and other devices has been adopted as standard by many manufacturers of shelf stereos, and this inclusion is a convenient, cable-free method of replay. However, it should be noted that over 2012/13, the style of the Apple docking port was changed, and the new-style Apple devices are totally incompatible with the old-style docks, and vice versa. Adaptors are available, but these are at best a clumsy solution, and defeat the simplicity of the original design.
How to Find Used Shelf Stereos on eBay
From the eBay home page, select Shop by category, and from the pop-up category box, select See all categories. Select Sound & Vision, Home Audio & HiFi Separates, then Compact/Shelf Stereos. At this point, there's no clear subcategory definition to differentiate between Compact or Shelf Stereos, but the prospective buyer can refine their search by Playable Media -CD and/or Cassette Tape could be popular choices - or by other Features, such as those units which include an iPod dock, or those with a USB port.
Conclusion
There is a healthy market in used consumer electronics, and it shouldn't be too difficult, with the aid of the above guidelines, to find a used shelf stereo in good condition, with the appropriate selection of features to suit a current media library, and with expansion capability for the future.