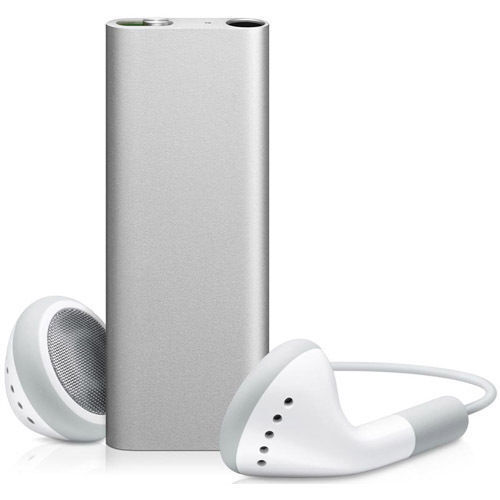 A used iPod can offer all the convenience of a new digital music player for a fraction of the cost. People who are new to digital music may wish to purchase a used iPod to dip their feet into the water and to find out what all the fuss is about. In terms of costs, an older model iPod is often less expensive in comparison to the newer models. A used iPod can provide a purchaser whose cherished vintage iPod has stopped working with an identical replacement. Finally, a collection of iPods can give the owner an opportunity to use different iPods for different purposes. For example, a Shuffle is perfect for the commute to work, a Nano can hold playlists for the gym, and the latest model iPod could be reserved for listening to albums and podcasts. Buying inexpensive used iPods is a perfect way to build up a collection for specialised uses. Follow these dos and don'ts to find a used iPod that will be fit for purpose.
Do: Confirm That the iPod Still Works Well
Digital music players are based on the same technology as USB flash memory drives, and they can continue to work well for many years. However, they do occasionally develop errors or stop working entirely. A used iPod being sold on eBay may have been set aside and not listened to for some time. Make sure that the seller has tested it recently and that it works dependably before buying.
Don't: Buy an iPod With too Little Memory
An audio file typically occupies five to ten megabytes, and an album takes up approximately 100 megabytes of storage space. A one-gigabyte iPod can generally accommodate ten albums. Just divide the number of albums by ten, and that is the number of gigabytes of memory required if the iPod is going to be used for music only. Podcasts take up around the same amount of memory as music; they occupy approximately 100 megabytes for each hour of material. When calculating storage volume, each hour-long podcast is like an album of music. Videos take up much more memory than audio files. Even a video sized for a mobile device will occupy approximately 500 megabytes per hour of material. Decide what will typically be stored on the device and calculate the minimum amount of memory based on that.
Do: Know the Apple iPod Models
Apple has released five models of iPods over the years: the classic iPod, the iPod Mini, the iPod Shuffle, the iPod Nano and the iPod Touch. Each has gone through multiple redesigns, or 'generations.'
| | |
| --- | --- |
| Model | Description |
| | Manufactured from 2001 to 2007, the classic iPod is physically larger than the other models and easier to adjust for people with large hands. The 5th and 6th generation models have small colour screens and can play video as well as audio. |
| iPod Shuffle | The shuffle is a tiny device that simply plays songs in a random order. They were manufactured from 2005 to 2010. Third generation shuffles have the controls located in the earphones, and, therefore, the earphones cannot be swapped out. |
| iPod Mini | The Mini was the precursor to the Nano. It is a smaller iPod than the classic, was only manufactured for two years and is audio only. |
| iPod Nano | The Nano is a smaller iPod than the classic, similar to the Mini. It was manufactured starting in 2005. From the 3rd generation onward, the Nano has a small colour screen and the capacity to play video as well as audio. |
| iPod Touch | The iPod touch is a bit like an iPhone that doesn't make calls. They are wireless audio-video devices, and every model offers a touch-screen interface, a web browser, access to the iTunes Store and access to YouTube. They run iOS and can therefore run iOS applications. The 4th and 5th generation Touches include video cameras. |
Don't: Eliminate Basic Models From Consideration
Basic iPod models can be very useful for specialised purposes and for rough handling. The older, slightly larger, plastic models are very sturdy and are good for active and outdoor use. They are old and inexpensive, as well, so damaging one does not translate into a significant financial loss. Storing activity-based playlists on dedicated iPods is a great way to organise music used for exercise and active hobbies. The Shuffle is more compact than any phone or modern digital music player, and that makes it uniquely useful.
Do: Be Aware of Apple iPod Vintages
Apple introduced the first generation classic iPod in 2001, the first generation Mini in 2004, the first generation Shuffle and Nano in 2005, and the first generation Touch in 2007. Therefore, 'Generation' means different things when it is applied to different iPod models. Use this table to pinpoint the ages of the various iPod vintages.
| | |
| --- | --- |
| Year | Generation |
| | 1st generation classic iPod |
| 2002 | 2nd generation classic iPod |
| 2003 | 3rd generation classic iPod |
| 2004 | 4th generation classic iPod, 1st generation Mini |
| 2005 | 4th generation classic iPod, 5th generation classic iPod, 2nd generation Mini, 1st generation Nano, 1st generation Shuffle |
| 2006 | 5th generation classic iPod, 2nd generation Nano, 2nd generation Shuffle |
| 2007 | 6th generation classic iPod, 3rd generation Nano, 1st generation Touch |
| 2008 | 6th generation classic iPod, 4th generation Nano, 2nd generation Touch |
| 2009 | 6th generation classic iPod, 5th generation Nano, 3rd generation Shuffle, 3rd generation Touch |
| 2010 | 6th generation Nano, 4th generation Shuffle, 4th generation Touch |
| 2012 | 7th generation Nano, 5th generation Touch |
One important thing to note is that the early classic iPods, the first to third generation models, use a Firewire connection to sync with iTunes rather than a USB connection. Purchasers should verify that they have a Firewire port available on their computer before buying one of these early iPods.
Don't: Be Afraid to Buy an Older iPod
For the most part, older iPods will work with newer computers, newer operating systems and newer versions of iTunes. They are inexpensive, elegantly designed and easier to use than the more complex modern mobile devices. They are also a good choice for use with older computers and operating systems, because while older iPods will work with newer computers and operating systems, newer iPods will not necessarily work with older computers.
Do: Consider Other Portable Music Players
Apple iPods are not the only digital music players available. Other brands offer lower prices and more direct access to music and video files. Unlike other digital music players, iPods do not make it easy to work directly with the music or video library, so iTunes or another piece of software designed to work with iPods is a necessity. Early Apple iPods may not be compatible with Windows computers, but other brands are. Apple iPods are well designed, long lasting and easy to use. There are reasons why they became the industry standard. However, buyers who are not specifically set on an Apple may wish to consider other manufacturers' products.
Don't: Stick To the Standard Earbuds
The earbuds that are included with Apple iPods are of decent quality, for standard earbuds. However, earbuds have their limitations, and used earbuds may not be in perfect condition. Earbuds can easily fall out, and they do not offer much acoustic isolation. It is still possible to hear ambient noise while wearing them. In addition, some people find them uncomfortable. Consider spending some of the savings from purchasing a used iPod on a good pair of headphones.
Buying a Used iPod on eBay
In order to find the used iPods on eBay, begin by clicking on the Electronics & Technology menu on the eBay Home Page and selecting Sound & Vision.. Then select iPods & MP3 Players.. To limit the search to used Apple iPods, check Apple,, which is located under Brand in the left-hand column. Then click used, which is further down the left-hand column, under Condition. From the list of used Apple iPods, it is possible to narrow the search to specific models, generations, specifications and features. For example, it's possible to limit the search to iPod Shuffles or to locate a iPod Touch .
Conclusion
Buying a used iPod on eBay is a fantastic way to find an identical replacement for a cherished, deceased piece of hardware or to build up a collection of digital music players for specialised uses. Apple hardware is notoriously high quality and long lasting, and there are many functional iPods of every generation available for sale on eBay. Take advantage of the low prices on used iPods to buy a replacement, upgrade inexpensively or build up a collection.